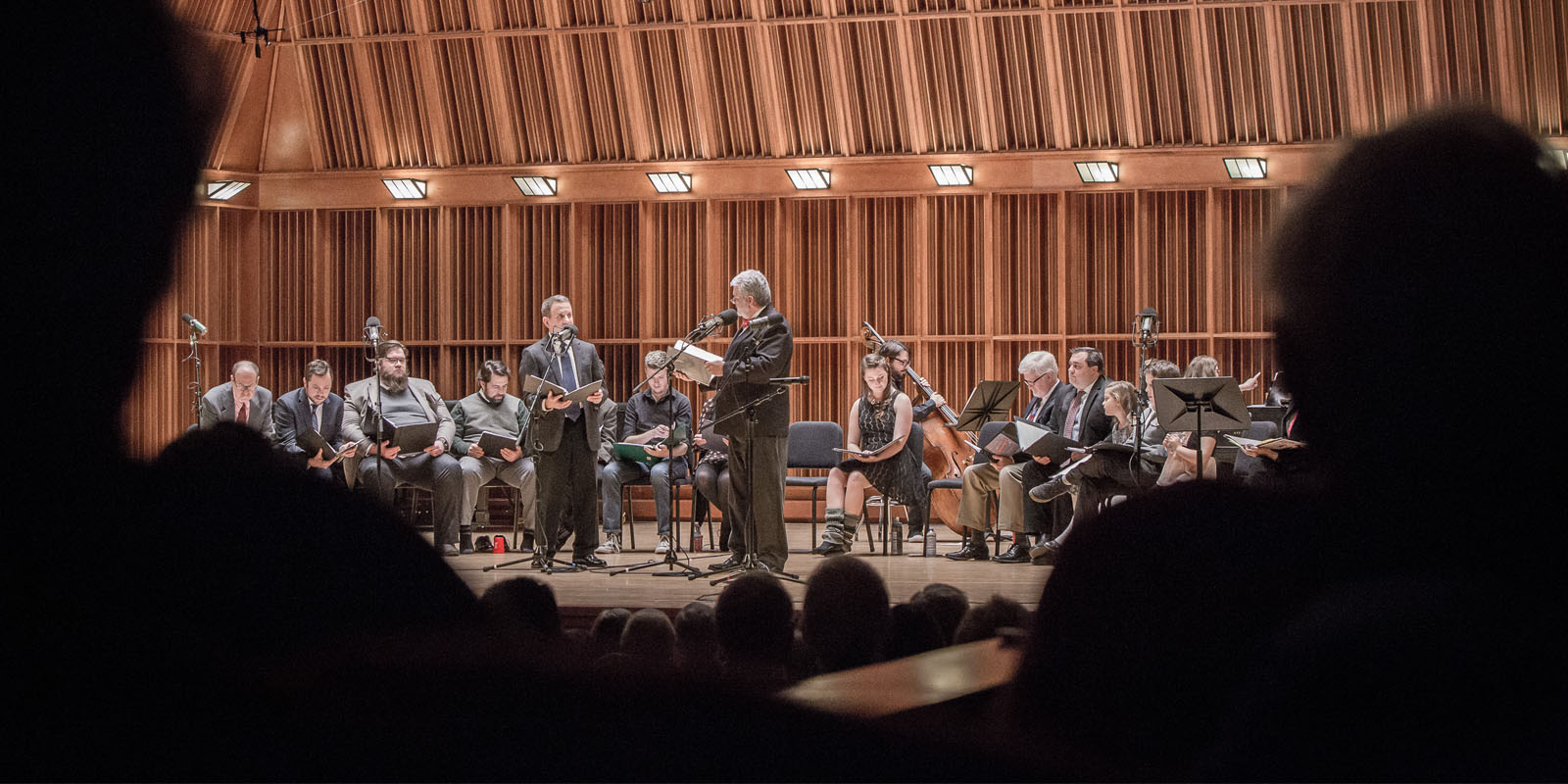 Indiana Public Radio Theatre proudly presents an authentic radio drama on Thursday, Dec. 14, 2023, live on-air and before an audience in Sursa Performance Hall on the Ball State campus.
ALL OUT FOR CHRISTMAS (w.t.) is a new production written by David Taylor Little, assistant teaching professor of theatre directing at Ball State.
It's 1947. The war is over and most soldiers have come home. A small radio studio in the Midwest is in the midst of financial struggles. The owner, Jack Edwards entices his old friend Dorothy Sullivan to come home and do a show to help raise money. He's hoping it will save the station. Her current beau and manager, Henry "Hank" Foster, is hoping to work on a new musical for her to star in on Broadway. So he brings their regular writing partners, Alice Parker and Alvie Evans with him to write a new show, All Out for Christmas. They're all hoping for a hit (hence the out-of-town workshop on a small radio station) since Dorothy's career has hit a slump.
Meanwhile, some of the local talent are all excited to be in a show on the radio with THE Dorothy Sullivan. Millie Scott is a kindergarten teacher who dreams of becoming a star. But since she is all alone in the world, she works to support herself and does shows locally when she has the time. But she can't turn down this opportunity. And hopes that it might propel her to the NYC dreams she longs to fulfill. The station's control room operator, Benjamin Howard, is recently back from the war. He didn't see much action. But is still a bit traumatized from his time overseas. He is also, however, brilliant at his job and is quickly working his way up the ladder. He's particularly interested in helping Jack Edwards to bring some money back to the studio and turn things around. He is also secretly in love with Millie who happens to live in the apartment next to his.
Added to all this, is Ruby Powell, a 16-year-old student in the local high school who has won a small role in the show in a contest set up by the radio station. She is enamored of Dorothy and Henry, both of whom she knows about from Variety. Broadway is her favorite pastime, but has never had a chance to see a show there, or even visit New York. However, she knows EVERYTHING about Katherine Cornell (who she saw in a national tour of Antony and Cleopatra) and Helen Hayes.
The play takes place primarily over one day…the final rehearsal for All Out for Christmas! The characters' problems are eventually sorted out, and romances begin or rekindle as we experience the on and off-stage antics of this ultimately celebratory day in 1947.
Attendees should be seated by 7:30 p.m. and will be treated to a pre-show program including a sound effects demonstration.
TICKETS are available for sale in October.
Information:
Angie Rapp
Director of Audience Development
arapp@bsu.edu / 765-285-2742