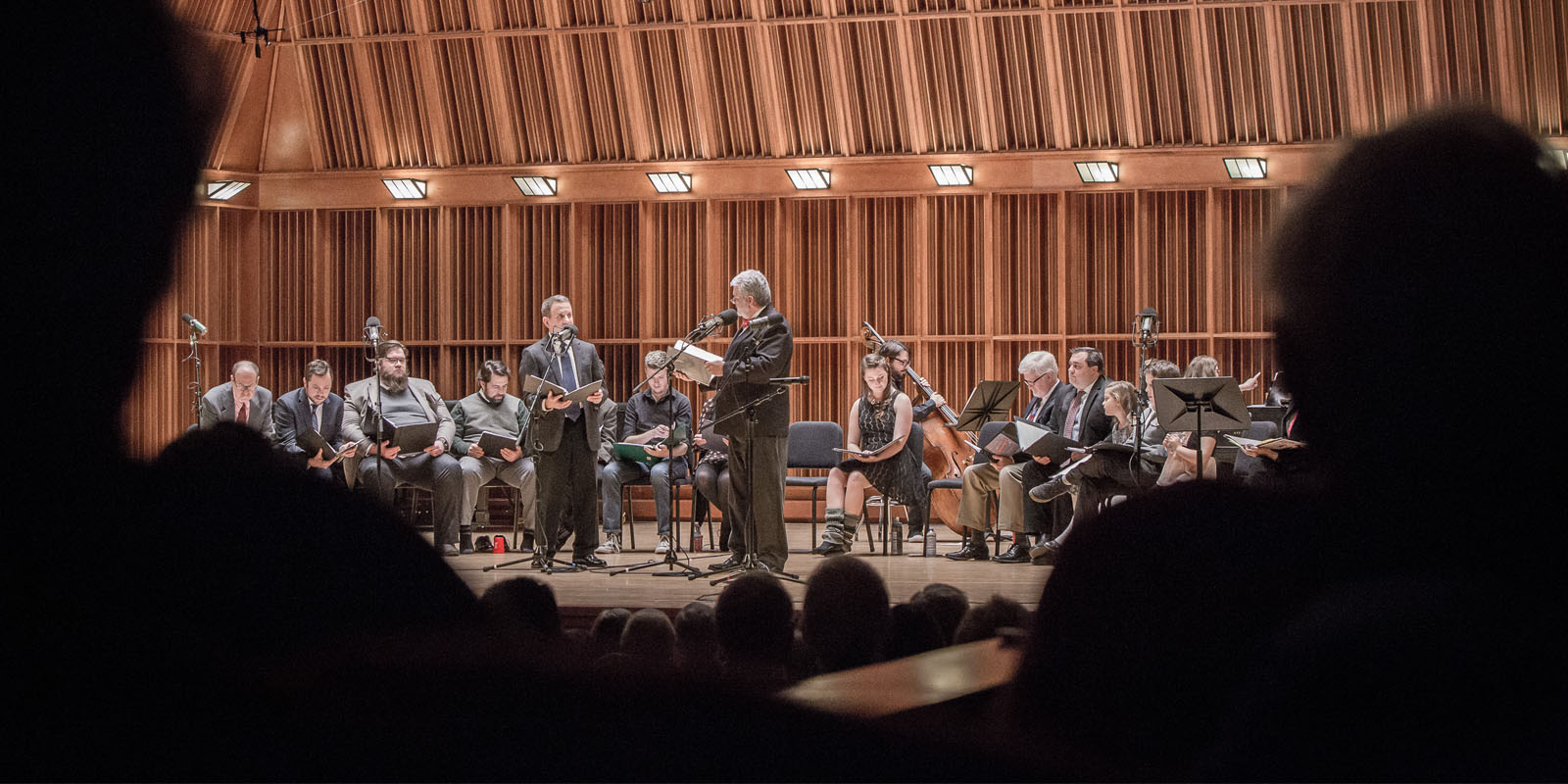 Indiana Public Radio Theatre proudly presents an authentic radio drama on Thursday, Dec. 14, 2023, live on-air and before an audience in Sursa Performance Hall on the Ball State campus.
ALL OUT FOR CHRISTMAS: A SHOWBIZ RADIO FABLE
Will the show go on? It's 1947, and a big Broadway star has come to a small Midwest radio station to be in their annual Christmas radio show. Will her appearance save the radio station from financial ruin? Will the ingenue and the young radio technician be able to compose a catchy melody to sell the show?
IPR Radio Dramas feature community and campus actors, musicians and singers who through their live performance, transport listeners back to a different time, evoking memories of shared experiences, and reminding people of a bygone era when imagination played a more significant role in entertainment. Live music and sound effects help recreate an authentic radio drama reminiscent of the Golden Age of Radio.
Audience members play a crucial role in the radio drama experience by actively engaging with the narrative and reacting to the emotions presented through audio.
Attendees should be seated by 7:30 p.m. and will be treated to a pre-show program including a sound effects demonstration.
Tune in at 8pm for the live broadcast on Indiana Public Radio.
CAST
BENJAMIN – Sean Young
MILLIE – Becca Condolero
DOROTHY – Eva Patton
JACK – Nic Simmons
ALVIE – David Little
LILLIAN – Michelle Kinsey
RUBY – Charlotte Reeder
HENRY – Mark Cabus
Oboe – Madeline Flight
Flute – Tamara Deichert
Clarinet – Joseph Novosel
Playwright – David Taylor Little
Director – Matthew Reeder
Music Director & Composer  – Jim Rhinehart
Executive Producer – Jennifer Blackmer
Producer  – Angie Rapp
Broad
cast
Engineer  – Sean Ashcraft
House Sound Engineer – Jeff Seitz
Sound Effects  – Quincy Carr
Graphics & Video Producer  – Chris Flook
Graphics  – Sonalli Andrews, Tracie Louck
Stage Manager  – Elia Livovich
Audio Engineers  – Ariel Roy, Matthew Vittatoe
Sound Effects Interns  – Leo Blackmer, Clarence Davenport
General Public/Faculty/Staff/Senior:  $15
Student/Child:  $5
Tickets for in-person attendance are sold through the College of Fine Arts Box Office located at Sursa Hall.
Purchase options:
Phone: (765) 285-8749
In-person: Monday through Friday from Noon to 5 p.m., or starting 1 hour before the performance at Sursa Hall
---
Information:
Angie Rapp
Director of Audience Development
arapp@bsu.edu / 765-285-2742