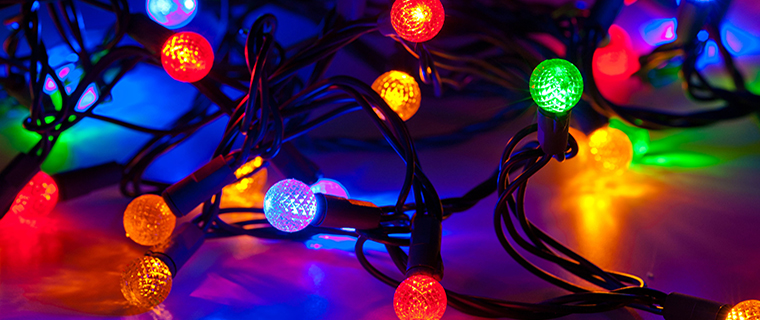 Holiday Programs 2018
Friday, December 14
8 p.m.  A Few Houses Down: A Christmas Play
Matthew Reeder directs a cast of local talent in a live performance of A Few Houses Down: A Christmas Play, an original radio drama written by ­­­­­­­­­­­­­­­Michael Kleeberg. This heartwarming story of two families brought together by Grandpa, who imagines himself as the characters in a classic holiday tale, is presented in Sursa Performance Hall on the campus of Ball State University. (This program may be heard again on December 25 at 3 p.m.)
Saturday, December 16
6 p.m.  Hollywood Holiday
Host Lynne Warfel presents an hour-long musical retrospective of some of Hollywood's most cherished Christmas-themed movies.
Monday, December 17
8 p.m.  A Leroy Anderson Christmas
Celebrate the holidays with the music of Leroy Anderson, including classic Christmas arrangements and original music, including his famous Sleigh Ride.
Tuesday, December 18
8 p.m.  All is Bright
Lynne Warfel hosts an hour of gorgeous, contemplative choral music that tells the traditional Christmas story with songs about angels, the star, and the manger scene. Featured artists include Cantus, Chanticleer, The Cambridge Singers, Bryn Terfel, Emma Kirkby, Jessye Norman, and a variety of choirs.
Wednesday, December 19
8 p.m.  Chatham Baroque: A Jubilant Season
Ring in the holiday season with Baroque music from internationally renowned Chatham Baroque. Each year, the Pittsburgh-based ensemble presents dazzling historically-informed interpretations of 17th and 18th century music at Chatham University.
Thursday, December 20
8 p.m.  A Chanticleer Christmas
This unique one-hour program of holiday music is presented live in concert by Chanticleer. Hear why this superb 12-man ensemble is known as "an orchestra of voices," as they perform holiday classics and new favorites, with commentary by host Brian Newhouse.
Friday, December 21
8 p.m.  Carols and Cheer
Host Scott Blankenship reviews his favorite carols this holiday season. Audiences will love singing along as he shares his top picks for the Christmas season, performed by today's leading artists and ensembles.
Saturday, December 22
8 p.m.  Bluenotes: An All-Jazz Christmas
Join host Larry Beck for the fourth annual BlueNotes All-Jazz Christmas. Hear jazz covers of favorite Christmas carols and popular holiday songs from an eclectic blend of classic jazz, big band swing, jazz vocals, and smooth jazz.
10 p.m.  Joy to the World: A Holiday in Pink
The internationally acclaimed "little orchestra" Pink Martini bedecks the airwaves with festive holiday songs from across the globe. From timeless classics to rarely heard gems, hear a multi-denominational, multi-cultural jubilee, overflowing with enough holiday spirit to warm your entire family. Hosted by All Things Considered's Ari Shapiro.
Sunday, December 23
6 p.m.  Jonathan Winters' A Christmas Carol
An updated version of a public radio tradition hosted by NPR's Susan Stamberg. Master comedian Jonathan Winters presents a distinctive reading of Dickens' holiday classic, with a special performing edition prepared by Dickens for his own presentations. Also featuring Mimi Kennedy.
7 p.m.  Christmas with the Morehouse and Spelman Glee Clubs
One of the great holiday traditions in America, the choirs of Morehouse and Spelman Colleges — two of the most prestigious historically black institutions in the nation — get together to present a spine-tingling concert program. This encore presentation features the best works of the last several years. It's a joyous celebration of the schools' tradition of singing excellence, with their trademark mixture of spirituals and carols. Korva Coleman hosts.
8 p.m.  Messiah with the Pittsburgh Symphony Orchestra
Handel's much-adored oratorio, Messiah, returns to Heinz Hall. Led by Music Director Manfred Honeck and featuring a cast of guest vocalists and the Mendelssohn Choir of Pittsburgh, this work is a religious story of hope, inspiration and timeless expression.
Monday, December 24
10 a.m.  A Festival of Nine Lessons and Carols
The annual Christmas Eve favorite, broadcast live from the chapel of King's College in Cambridge, England, features the King's College Choir in a service of Biblical readings and music. This year's broadcast will be the last service for Stephen Cleobury, King's College Chapel Music Director, who has conducted the chapel choir since 1982 and will retire from his King's College post at the end of the 2019 school term.
7 p.m.  Welcome Christmas!
New for 2018, Welcome Christmas! is a perennial holiday favorite from VocalEssence, one of the world's premier choral ensembles. Join host John Birge for an hour of traditional carols and new discoveries, including the world premiere of two carols from the annual Christmas Carol Contest.
8 p.m.  St. Olaf Christmas Festival
This service in song and word has become one of the nation's most cherished holiday celebrations. The festival includes hymns, carols, choral works, as well as orchestral selections celebrating the Nativity and featuring more than 500 student musicians in five choirs, and the St. Olaf Orchestra. Host Valerie Kahler shares the sights and sounds of this choral favorite.
10 p.m.  All Through the Night
Peter Van de Graaff hosts this special presentation of classical music for the overnight hours of Christmas Eve into Christmas Day.
Tuesday, December 25
8 a.m.  Hodie!  Christmas Morning from the IPR Library
Morning Musicale host Steven Turpin presents three hours of the most beautiful and meaningful selections from IPR's extensive collection of recordings to provide a musical accompaniment to your Christmas morning festivities.
11 a.m.  Christmas with the Tabernacle Choir and Orchestra
The world-renowned Tabernacle Choir continues its tradition of great artistry this holiday season, with touching arrangements of familiar carols, and lesser-known melodies that are fast becoming the new classics. Julie Amacher hosts this annual favorite.
2 p.m.  Tinsel Tales: NPR Christmas Favorites
This program features stories from the NPR archives that touch on the meaning of Christmas, told by David Sedaris, Bailey White, John Henry Faulk, and others.
3 p.m. A Few Houses Down: A Christmas Play (encore)
(See description above at December 14.)
Monday, January 1
11 a.m. New Year's Day from Vienna 2019
The Vienna Philharmonic presents its ever-popular annual New Year's Day concert from the Golden Hall of the Musikverein in Vienna. You'll hear your favorite waltzes, polkas and more – a festive way to start off the New Year!
Support for Holiday Specials is provided by:
Muncie Children's Museum Amazing Elf Adventure
Pazol's Jewelers
Casa del Sol