Take IPR with you where ever you go!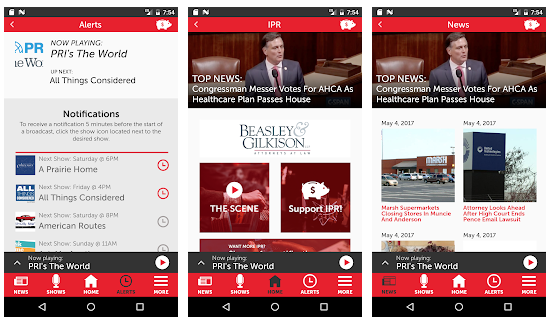 The new Indiana Public Radio app lets you listen to the live IPR broadcast anytime, anywhere!
Stay up to date with the IPR News team, find out what's happening in the community, and catch up on all of your favorite local shows like BlueNotes, Community Connection, The Facing Project,  The Owsley Moment, Morning Musicale and The Scene.
Get notifications when your favorite shows are coming up – like Morning Edition, All Things Considered, Radiolab, Wait, Wait…Don't Tell Me! and more.
We believe public media can empower and connect people through thoughtful journalism, inspiring stories, and lifelong learning. We hope you enjoy the IPR app.
Download the IPR mobile app by searching "Indiana Public Radio" in the Google Play or App Store or simply click on the links below.
---
MINIMUM REQUIREMENTS
The app is designed to work on Apple devices using iOS 10 and up and Android devices using Android 4.0 and up.
Having trouble? Email us at ipr@bsu.edu or call 800-646-1812 during business hours.