Muncie Mayor Optimistic About City Despite Drug Crimes and School Troubles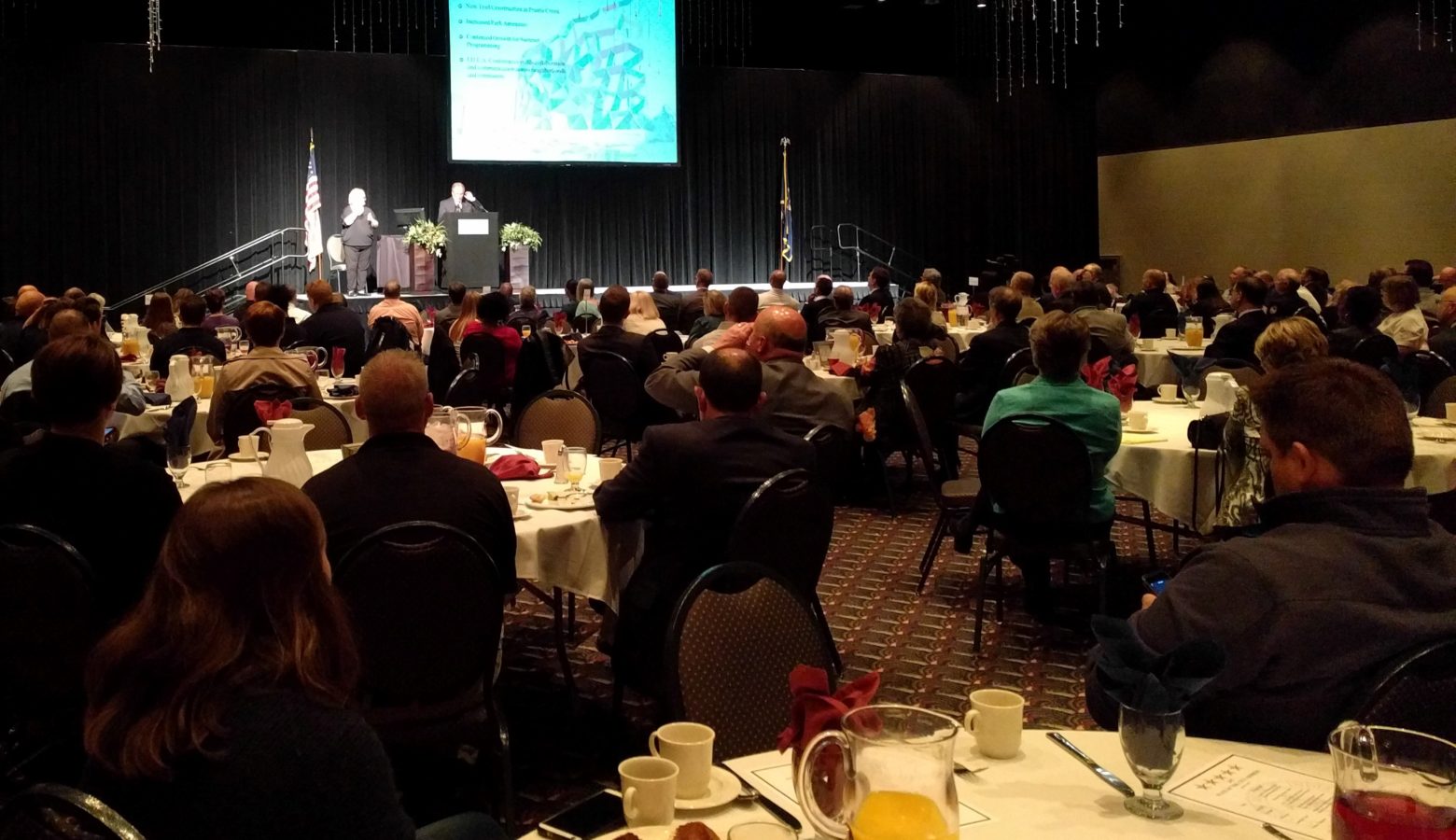 Muncie's mayor touted economic success at this year's State of the City address.  But as IPR's Stephanie Wiechmann reports, the city's work attracting businesses has been overshadowed at times by crime and the financial issues of the city school district.
Crime and Development
A few years ago, Muncie Mayor Dennis Tyler got to announce in a State of the City address that Muncie hadn't had a homicide in two-and-a-half years.  That wasn't the case this year.  Tyler says a heroin epidemic that reaches across the country is hitting Muncie hard.
"Every gun violent death that we've had in our city can be traced back to drug use," Tyler says. "But we're solving the crimes and we're getting it done.  The three fatalities just a few months ago that we dealt with – that our police department and our law enforcement officers solved – cost the city $50,000.  But do we not solve those to save money?  No.  We can't."
Tyler says police and fire departments have already used two-thirds of their yearly overtime budgets.  But, the mayor says a drug epidemic isn't something the city can "arrest its way out of."
"We have to give people hope.  And I'm talking about the people that are using.  Hope that there's another alternative lifestyle."
Despite the increase in drug crime, Tyler was positive about the state of Muncie in his annual speech.
"Muncie is ready for the next generation of citizens that are looking for in Muncie – that has the amenities they are searching for – that create a quality of place that improve their quality of life."
State data shows 183 new businesses opened in Muncie in 2016.  The city is also working on getting rid of blighted homes, with more than 100 houses finally being demolished using federal funds.  And street crews in 2016 filled more than 5,000 potholes, using $90,000 worth of asphalt to do so.
School Financials
Tyler also turned to the local debt crisis for Muncie Community Schools, showing support for the district, telling the crowd that "if they fail, we all fail."
The Muncie community is used to seeing Tyler become emotional when he talks about his grandson CJ and the rest of the students at MCS.  Today was no exception.
"It was a video of our 10-year-old grandson that's autistic.  And he was running track, ladies and gentlemen, at Muncie Community Schools' East Washington Academy."
This year, Tyler shared good news stories about the district.  And he gave an impassioned plea for those employed and served by the schools.
"We have to obligate ourselves to our students and our teachers to give those students the opportunity to learn.  And those teachers the opportunity to teach.  If we don't, we are deserting our children."
That message wasn't just directed at his constituents.  He was also talking to his former colleagues in the Statehouse, who could take a final vote soon on approving a state takeover for MCS.  The district's multi-million dollar deficit came to the attention of lawmakers a few weeks ago and it was added to a bill meant for Gary Community School Corporation, which had asked the state for help.  Since then, local lawmakers and district officials have been fighting to retain local control.  MCS Superintendent Steve Baule and the school's board have passed a deficit reduction plan that will close three elementary schools.
"We've got about a $15 million issue.  But now we're at the point where we have almost $13 million of that addressed.  We just have to address – you know, Representative Brown has said we're looking at probably closer to $18 million as we look at reductions in state aid for next year."
But officials kept open a middle school that had been slated for closure, despite not needing it to hold all of the district's students of that age.  Still, Tyler says the plan is a start.
"What will probably come out of the state is some sort of moratorium – probably isn't the right word – but an amendment that will maybe have a beginning and a stop and they want to see something accomplished during that."
Senate Bill 567 will go back to the Senate floor once more before the session's end on April 28.