Indiana Challenged By China's Ban On U.S. Recycling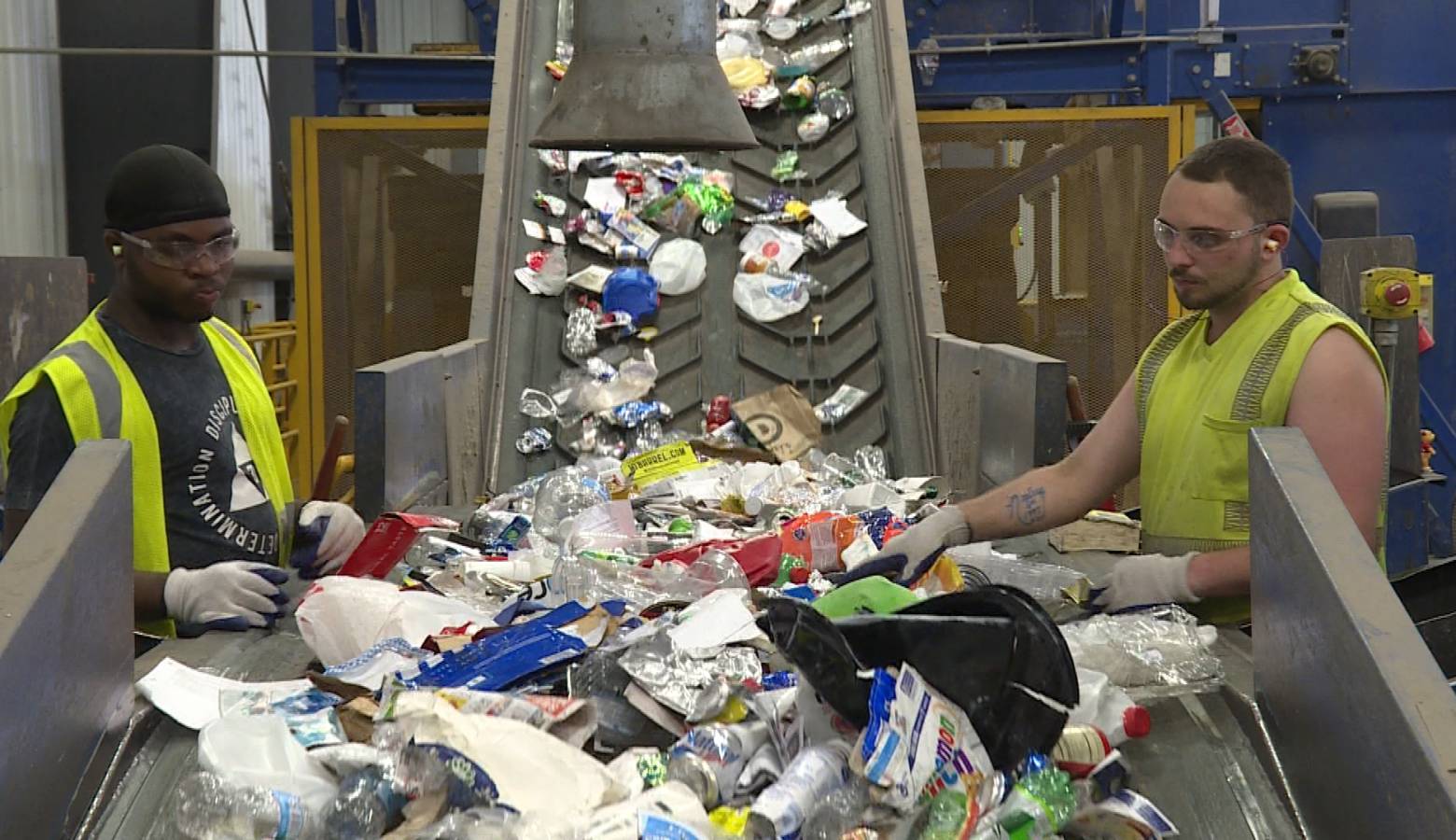 China isn't going to take trash from the U.S. anymore. Last year, the country announced it will no longer import America's contaminated recycling. And with nowhere to go, the question is what becomes of all that material. People in Indiana are searching for ways to prevent potential recyclables from ending up in a landfill.
How China's Recycle Ban Is Affecting Indiana
For some folks in rural Johnson County, the drop-off bins were the only way they could recycle. But today, they're not there anymore. The county discontinued them July 31. The Recycling District couldn't afford to pay haulers to take them.
Executive director Jessie Biggerman says no one supervised the bins, so the recycling often got contaminated with things like greasy pizza boxes. Now that China won't take low-quality recycling, Biggerman says, the material in bins like these isn't valuable anymore — and if no one wants it…
"Then unfortunately those items will sit idle and at some point they will find their way, either contaminating the environment around them or going back into a landfill," she says.
Few recycling districts have had to stop service, but others have decided that — like China — they simply can't accept some items anymore. Greene County stopped taking glass and Monroe County won't recycle plastic bags and shrink wrap.
"There's too much and the recyclers who handle that do not want to deal with it cause they don't have any place for it and we don't have a vendor for it," says Elisa Pokral, community outreach coordinator for the Monroe County Solid Waste District.
While the value of U.S. recycling is low, the cost to process it has gone up — and that cost gets passed down to Hoosiers. Brownstown, which has less than 3,000 people, only had to increase its rates by 50 cents a month. But Clerk-Treasurer David Willey says the town just raised them two years ago to get larger recycle bins.
"The time before, when we went to the carts, a lot of people didn't like that big of an increase," he says.
Some of Indiana's recycling gets sorted at Rumpke's material recovery facility in Cincinnati, Ohio. Steve Sargent is the company's director of recycling. He says China's standards are much stricter than what the U.S. recycling industry is used to — no more than 0.5 percent of the material can be contaminated.
"Can our industry hit that on a consistent basis? No, we can't," says Sargent.
How Your Recyclables Get Contaminated
There are many opportunities for your recyclables to get contaminated — especially in a single-stream system. Single-stream recycling is where people are allowed to throw all of their recycling — paper, plastic, glass, and more — into one bin for collection. Some cities and towns have dual-stream collection, which requires residents to separate paper and other fibers from the rest of their recycling.
When you can throw everything in the same bin, there's a greater likelihood that the last drops of soda in your aluminum can will drip on to a piece of scrap paper in your bin.
Then, when recycling trucks pick up your bin, your recyclables often get compacted with other recyclables that have been picked up in that same truck. That means even if your recycling has been thoroughly rinsed, it can get squashed next to more contaminated recycling from your neighbor.
All of that can happen before your recyclables even reach the material recovery facility where they're sorted.
What We Can Do — Indiana's Big Opportunity
Sargent says U.S. consumers need to start treating recyclables less like trash and more like what they are — products. Take cardboard, for example. By itself, recycled cardboard is very valuable — especially with the rise of companies like Amazon. Sargent says when that cardboard gets jumbled together with other things it becomes dirt cheap, mixed paper.
"The value of mixed paper today on the index — which we sell against — is zero. Now you can't make much money when you're selling 30 percent of your recycling mix in a recycling plant at zero," he says.
Sargent says he gets it, people want to recycle as much as they can. But when folks throw the wrong items in the bin, they risk sending more recyclables to the landfill.
Sargent says the industry needs to find a better way to teach people what's recyclable and what's not — perhaps by simplifying their messaging.
"A very basic message. So we want plastic bottles and jugs — small mouth, large body. We don't want tubs, we don't want butter dishes, we don't want all this food packaging waste — that's the material that's contaminating us," Sargent explains.
If Hoosiers can manage to keep their recyclables clean, there may be a silver lining. Allyson Mitchell is the executive director of the Indiana Recycling Coalition. She says, with some improvements, Indiana could process this excess recycling right here — the issue then would become making sure there are markets that want it.
"One really easy way to do that is to support and purchase from manufacturers who use recycled content in their products," says Mitchell.
Sargent says adapting to the China ban won't be cheap, but that Rumpke has invested too much not to give it a shot.
Indiana Environmental reporting is supported by the Environmental Resilience Institute, an Indiana University Grand Challenge project developing Indiana-specific projections and informed responses to problems of environmental change.