A Christmas Scarol Combines Holiday Joy With Terror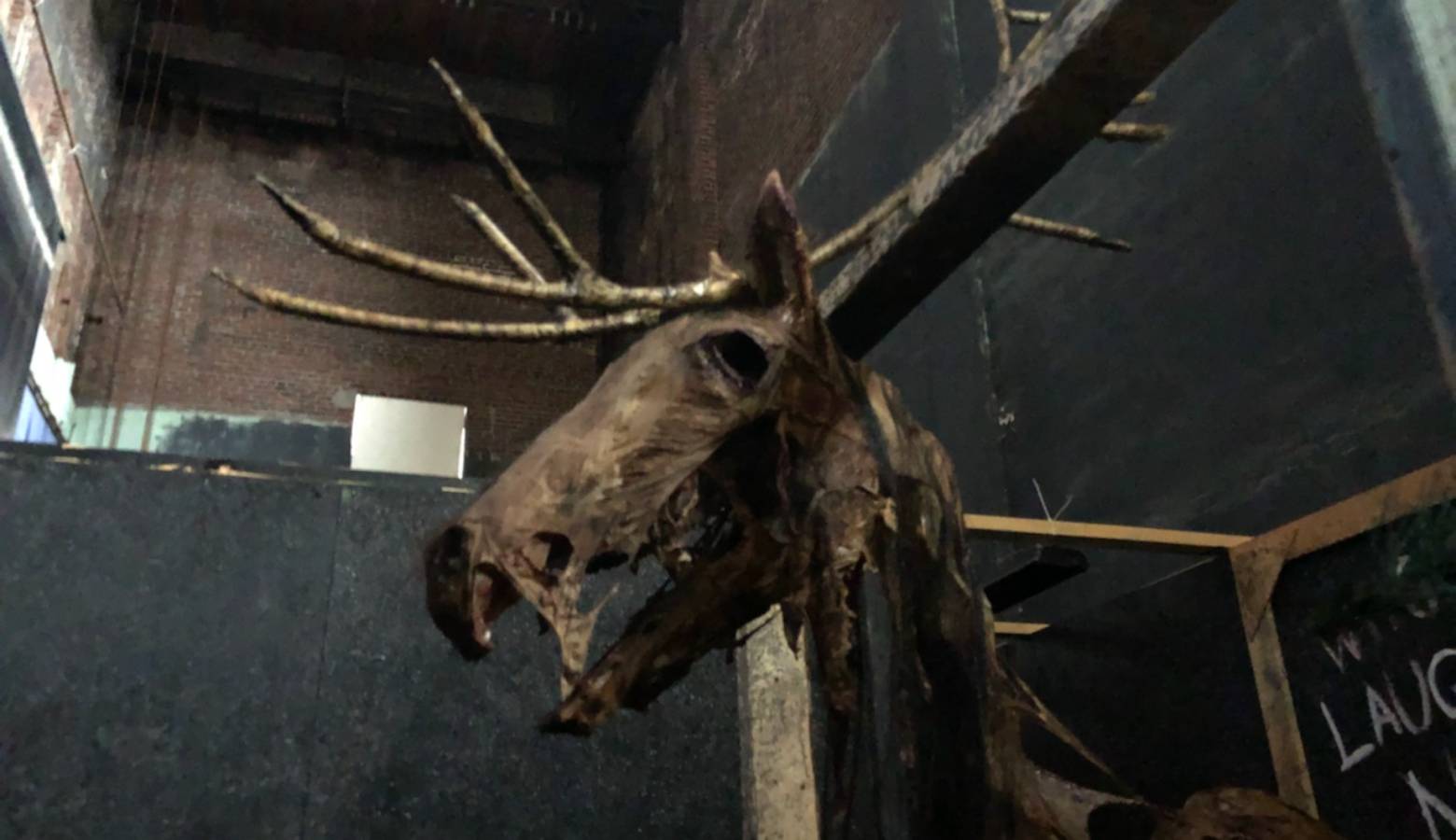 It's going to be a haunted holiday at Cornerstone Center for the Arts this weekend. The Muncie non-profit organization will open the Son of Scarevania Haunted House for a special one night only Christmas-themed scare.
Cornerstone has decked the halls of its "abandoned" third floor with bright Christmas lights and tinsel as well as dark-menacingly creepy props and characters for its annual Christmas Scarol event. The haunted attraction will be open from 7 p.m. to midnight Saturday.
Those brave enough to take on the 10,000-square-foot maze can expect to be startled and maybe even scared while being watched closely by ghosts, clowns, elves and even Krampus, the half-demon, half-goat creature who punishes bad children.
Jeff Robinson, associate executive director at Cornerstone, said an entire section of the haunted house is dedicated to the upcoming holiday. The area will have Christmas music, snow machines, trees, reindeer and Santa's Toy Shop on display.
"It's a festive time. [When] people think haunted house and Christmas, they don't really see the correlation. But once they get here and as soon as they get into the waiting area, they're going to immediately see the Christmas," Robinson said.
A Christmas Scarol came to life last year when Robinson met with Brian Blair, the creative artist behind Cornerstone's Son of Scarevania event, held during Halloween. The two wanted to come up with a unique event that would not only utilize the haunted decorations that are set up year-around but also give community members an opportunity to destress from the holiday buzz.
"Our goal is to provide a good time for people," Robinson said. "You know, the holidays can be a stressful time for many reasons. This is really a night that we hope will provide something for people to be able to blow off some steam."
While the event is open to all ages, Robinson warns attendees – particularly parents of young children – to beware of the high-level terror that lies ahead.
Last year, he said some kids didn't make it 10 feet into the attraction before crying and leaving. Others fearlessly made it through with big smiles, ending the night by visiting Zombie Santa Claus.
"I tell people for this particular event that our Santa is not so jolly. He is a scary Santa," Robinson said. "So, kids who still believe in Santa Claus, [parents] might need to have a conversation with the kids before or after they come.
"It really depends on how tough your kids are."
Cornerstone will accept $5 for its programming or donated items from the Muncie Animal Care's wish list to serve as the admission fee. Items such as canned adult and puppy dog food, flea and tick medication, dog shampoo, cat carriers and cat litter will benefit the needs of the local animal shelter. A full list can be found on Cornerstone's Facebook event page.
Robinson encourages those brave enough to take make the trip downtown Saturday and venture through the haunted twists and turns at Cornerstone.
"You will not see anything like this anywhere close to here," he said.
Allie Kirkman is a reporter for a Ball State University arts journalism class.