Made in Muncie Brings Back Christmas Nostalgia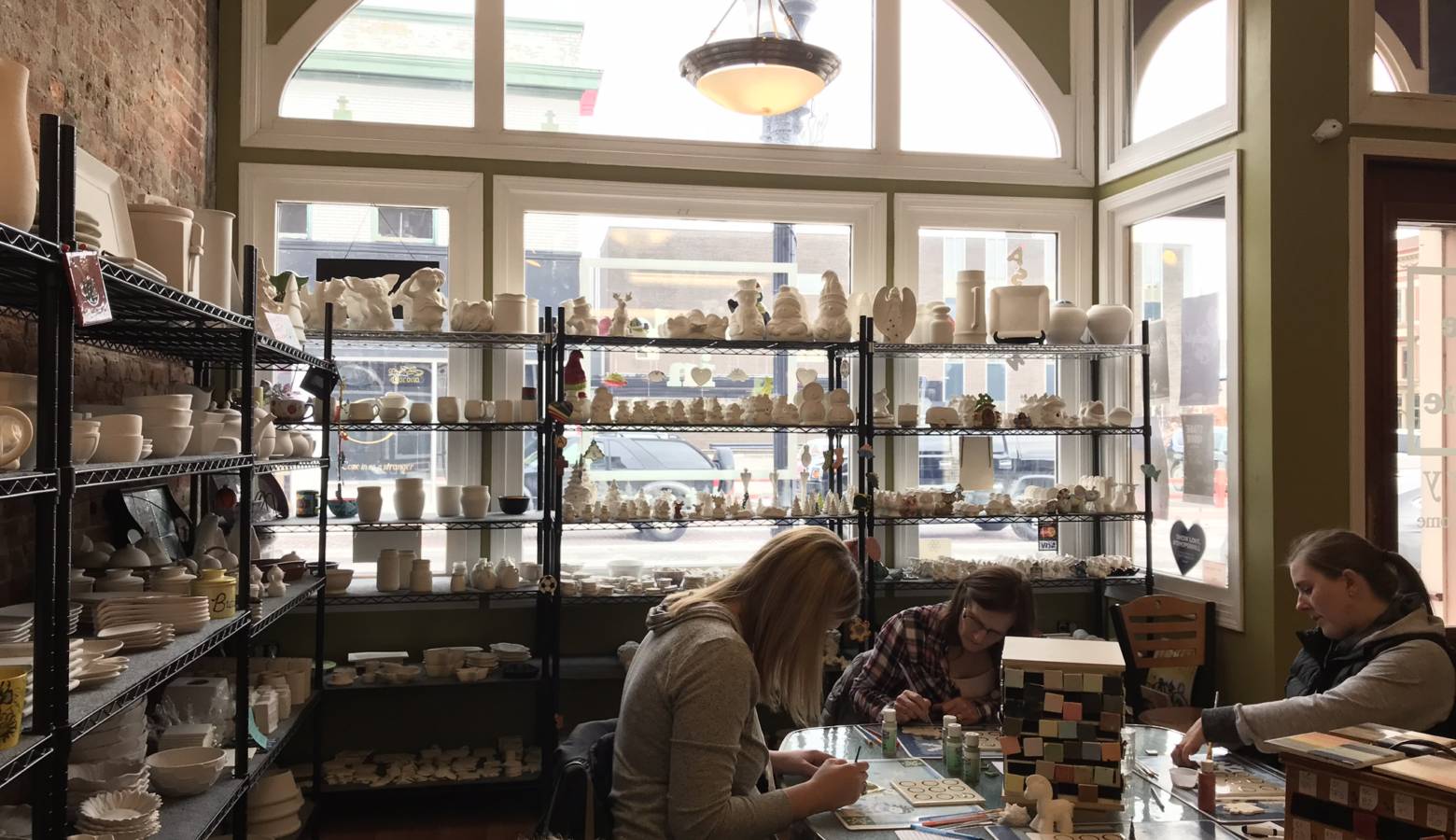 When Rachel Kline started working at Made in Muncie nearly three years ago, the main floor of the two-story ceramics shop had five tables that could seat six people each. Only two metal shelving units toted the store's made-in-house inventory — the rest was imported.
Now, Made in Muncie, 313 S. Walnut St., seats 40 on its main floor and 24-30 people in its party room, and Kline said nearly 25-30 percent of the store's inventory is made in house.
"Another thing that's really, really changed — especially in the past year — is just the quantity of pieces that we make here in house. Which, again, is a huge thing for us. We eventually want to get to the point where there's about 50 percent of our inventory in house," Kline said. "But that takes a little while because we have to get a hold of the molds and everything like that."
Though the store does import a majority of its inventory, which includes mugs, coasters and various figurines, Kline said around 90 percent of its Christmas inventory is made in house.
And while ornaments are usually "obscenely popular," Kline said another piece is rising in popularity this year — ceramic Christmas trees.
"Those are actually straight up in our computer as 70s Christmas Tree. It's always really funny when we have people come in to paint those because I've never, ever had anybody come in to paint them that hasn't said, 'My grandma had one of these,' or 'I'm painting it for my grandma or my mom,' — or something like that," Kline said. "Because it is such an old-fashioned thing."
The tree is available in a 9-inch or foot-tall version. Kline said the trees do take a while to paint, so customers usually get a pint of paint the start with. Since the project is a big undertaking, it does cost more, however, the bulbs and the light are included.
"Every single thing out there, the price, we include all the paint, supplies and firing, so there's no extra studio fees to it," Kline said. "We're small-town local so if we take everything into consideration when we price our pieces, not only does that help keep costs down for the customer, it makes it easy for us as well."
Angie Parrott, who lives in Muncie, said she's been to Made in Muncie multiple times with her daughter, Zoey.
"This is a really neat place. Everybody's very friendly, very helpful. You could have no idea what you're doing, and they will help you through it. It's just nice and relaxing and it's a fun thing to do with the kids," Parrott said.
The last day to paint pieces and have them before Christmas is Sunday, Dec. 16. The shop is open Wednesday through Thursday from 1-8 p.m.; Friday from 1-10 p.m.; Saturday from 11 a.m. to 8 p.m.; and Sunday from 1-6 p.m.
Mary Freda is a reporter for a Ball State University arts journalism class.