Tugboat Crash Causes Coal Barges To Sink In Ohio River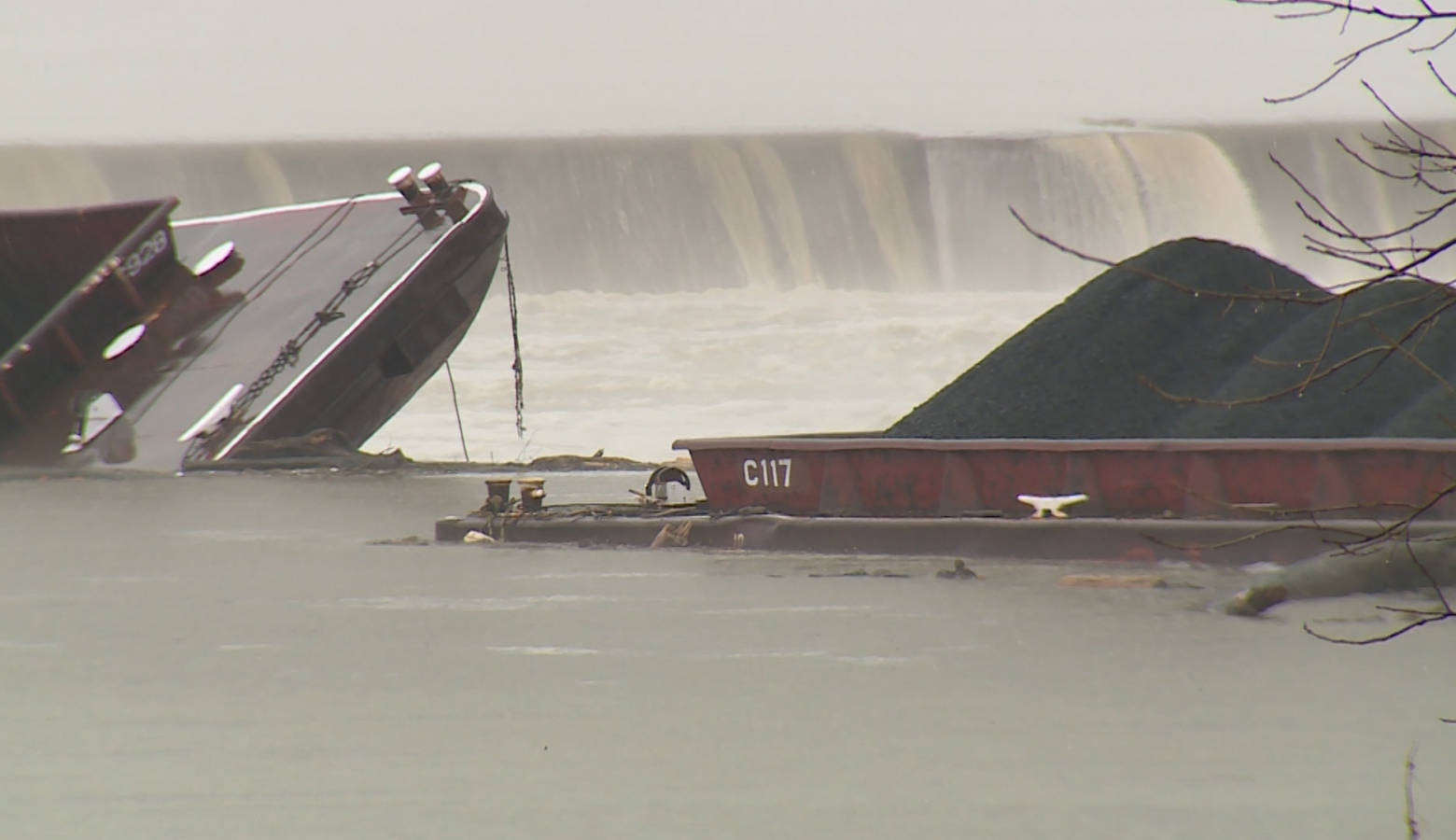 In the Ohio River near the Kentucky-Indiana border, a tugboat crash on Christmas Day has created chaos. The boat collided with a bridge near Louisville, causing several coal barges to break free. As Indiana Public Broadcasting's Rebecca Thiele reports, now nine of the barges are stuck on nearby McAlpine Lock and Dam and seven of them have sunk.
Michael Metz is a lieutenant commander with the Ohio Valley sector of the Coast Guard. He says the agency was able to use boats to pull almost half of the barges off the dam, but may not be able to safely use that method for the ones left in the river.
"Since the water has been constantly shifting and the weather has not been cooperating, the Coast Guard shifted its focus to salvage efforts," he says.
Metz says the Coast Guard is working with the Army Corps of Engineers and the responsible party to come up with a plan to lift the remaining barges out of the water using heavy machinery, such as a crane.
Tennessee Valley Towing dispatched two salvage teams to the scene and expects them to arrive there Wednesday night.
The Coast Guard didn't say exactly how much coal spilled into the Ohio River, but that each barge was carrying about 1,500 to 1,800 tons of it. Coal can contain toxic chemicals like lead and mercury.
But the Ohio River Valley Water Sanitation Commission (ORSANCO), which monitors pollution on the Ohio River, doesn't think it will have much of an effect on drinking water or aquatic life.
Executive director Richard Harrison says raw coal doesn't tend to dissolve in water and any contamination would get diluted in such a big river.
"When you look at the river and the size of the river and the flow of the river, it's not anticipated to cause any problems," he says.
Harrison says the amount of contamination from the coal is probably less than ORSANCO sees coming from the river's tributaries.
So far, the Coast Guard says the barges are not affecting traffic on the river.