Muncie Hosts NFL Draft Pick In Wet Weather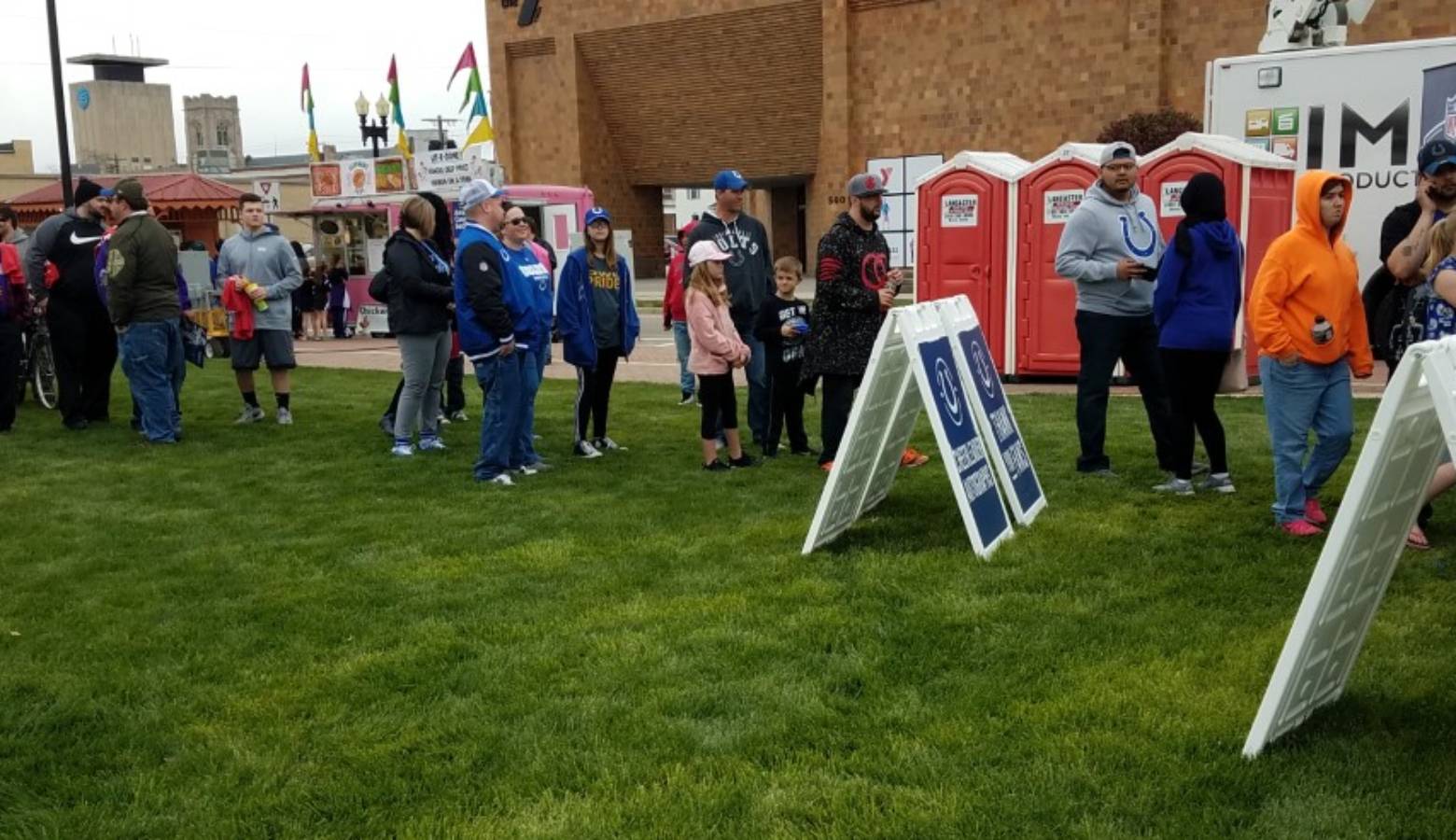 Over the weekend, hundreds of people came to downtown Muncie to look on as the NFL's Indianapolis Colts announced their round six draft pick.  The League is turning 100 years old this year, and as IPR's Christine Hatfield reports, this weekend's event was about celebrating both the NFL's history and Muncie's history.
Even as rain came down, the mood at Canan Commons Saturday afternoon was electric as Muncie was thrust into the national spotlight.  A DJ, lawn games, and food were on hand as the city had the chance to host two NFL Draft picks.
Muncie was the home of one of the founding teams of what eventually became the National Football League.  The Muncie Flyers only played in the League in its first two seasons.  But as the NFL celebrates their 100th anniversary, they're honoring the communities the founding teams called home.
The event was the culmination of months of planning.  Muncie Mayor Dennis Tyler says the city knew about it just after the start of this year.  That's when the NFL started reaching out to the towns that had founding teams.
"They were going to make this happen in some of the towns if the towns wanted them there, and we certainly did."
In conjunction with the anniversary, Muncie organizations are also honoring the history of the Flyers.  The Delaware County Historical Society had an exhibit about the team, also known as the Congerville Flyers.
But for some people who watched the day's events, the ties run even deeper.  Robert Cornell came to the event to share photos of his grandfather, who played for the Congerville Flyers in the 1910's.  Cornell says he has a long history with Muncie.
"Both my grandparents are from, their parents were from here, so it has a long history with my family."
Hours of excitement led up to Indianapolis Colts alumni Bill Brooks announcing Gerri Green of Mississippi State as the Colts' round six draft pick.
But the Colts draft pick wasn't the only one made in Muncie on Saturday.  Technical difficulties meant Ball State football players got the opportunity to announce the round six pick for the Baltimore Ravens as part of the event.
Delaware County Historical Society President Chris Flook says the event was a great way to connect what's happening in the nation now with the events of 100 years ago.
"It just sort of suggests that Muncie has always been sort of a prominent place, and that 100 years ago, we were part of something that has become a national, and in some cases, you know, international interest."