Taylor University Program Pairs Student "Health Educators" With Patients For Preventative Healthcare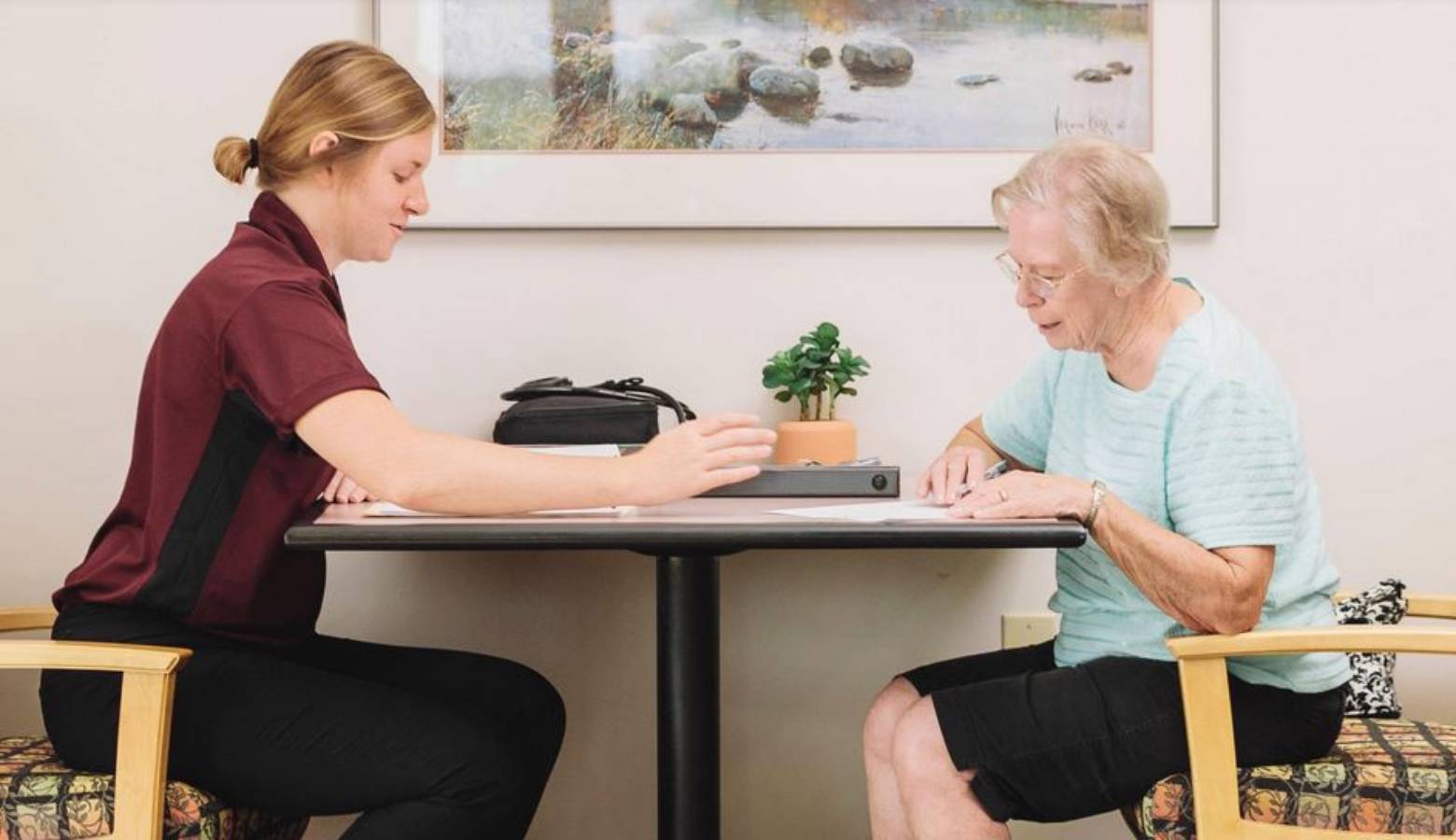 Students at Taylor University in Upland are studying preventative healthcare by helping patients in Blackford and Grant counties at risk for diabetes or other chronic diseases.  As IPR's Stephanie Wiechmann reports, the program turns students into "healthcare educators" who give patients extra support in living a healthier life.
"I remember when I came in, being pretty terrified to start working with people," says Drew Lasley. " And just realizing the responsibility I have in that role, and kind of the authority I was viewed in."
Lasley is about to graduate from Taylor University with a biology degree.  But for the last 10 months, he's been working with patients in Taylor University's InVitATION clinic program, a partnership with Marion General Hospital.  Patients receive advice on healthy eating, exercise, fall prevention, and how to live a less sedentary life.  And students learn how to work directly with patients, with lessons like –
"—kind of coming to realize that it just needs to be about the patient, and not necessarily about what I'm saying or what I'm thinking.  But really hearing the patient and listening to them and providing the care that they need."
Taylor Associate Professor of Kinesiology Dr. Erik Hayes says the student and professional team have worked steadily once or twice a week with more than 30 patients, who have been referred by their doctors.
"Change is really hard," Hayes says.  "I mean, you're talking about people who are in their 60's or even 50's that have been living a certain way for 30 years.  They have ingrained patterns, and we certainly hope that, over time, consistency in a program like this and getting support that, yeah, it'll make a difference in people's lives."
Taylor students working with InVitATION take an entire class the semester before working in the clinic on how to interact with patients.  They then work with supervisors who give them feedback on patient interactions.  Dr. Diane Dungan, Associate Professor of Psychology, says the students are willing to learn, and it shows.
"They really like the interaction with the students and they're willing to listen to them.  And I think it helps that the students come in having been trained for a semester prior to starting their work.  So they get a lot of feedback on what they're doing and how they're doing it and the areas they can improve in."
And for students like Lasley and Madeleine Burkholder, also a Taylor senior, it's shown them the power of preventative medicine.
"Getting to be with them as they complete their goals," says Burkholder.  "Maybe they set a harder goal, and they get to come in and the smile on their face and the joy when they show me their food logs.  And get to say that, 'Oh, I walked this many steps' or 'Oh, I didn't eat this certain kind of food' and kind of celebrate with them."
Hayes says the program is seeing results.
"We have kind of our rock star patient, if you will, whose blood glucose went from 180, which is diabetic, down to 98, which is non-diabetic.  And she lost 20 pounds.  And she went from 2,000 steps a day to 7,000 steps a day.  And those are great results, and those are the ones everybody wants to see.  We have other people that have committed to the program, they come regularly, but they've not seen success in weight loss.  They're maybe slightly more active than they were before, but they're just having a hard time making changes at home.  But they're still coming and they're still trying."
Though Lasley and Burkholder are graduating, more Taylor students are being trained to continue the work.  The professors say though the program has been working with patients in Blackford and Grant counties, anyone who can get to the program regularly is eligible with a doctor's recommendation.
For more information on the InVitATION program, potential patients or doctors can call (765) 998-4325 or email invitation4u@taylor.edu.