Amid Tariff War With China, Farmers Remain Committed To Trump, GOP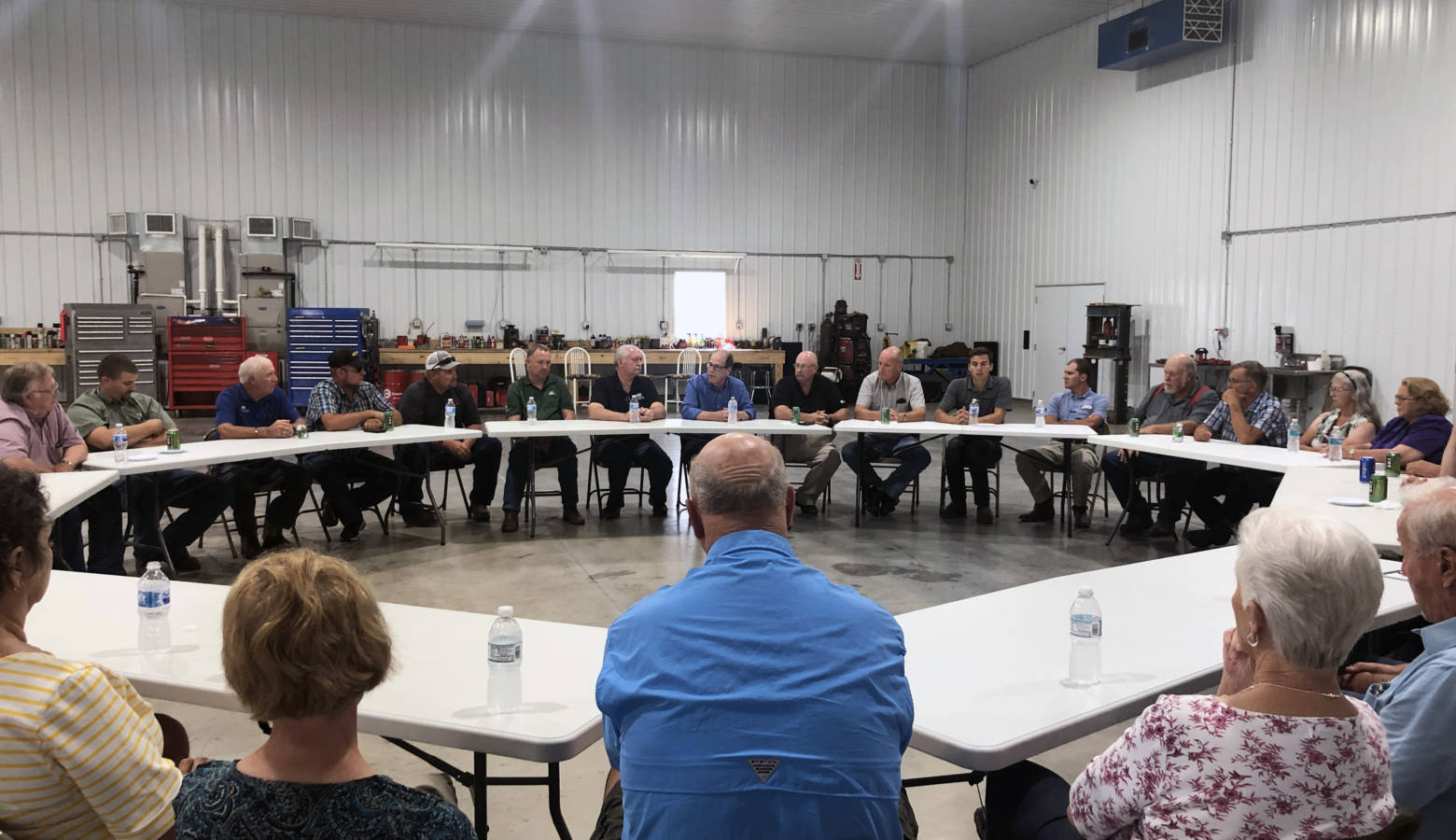 Economists say it could take years for the United States' trade conflict with China to resolve and farmers are caught in the crossfire. With the growing threat of an economic downturn and talks with China stalling, Republican lawmakers are shifting their rhetoric hoping to hold onto the support of farmers.
David Miers has been farming in Decatur County for generations. He supported President Donald Trump in 2016, and serves on the Ag Committee for Indiana Senator Mike Braun.
Tariffs and seasons like these might not be helping his balance sheets, but Miers says he has no intent of supporting another Presidential candidate in 2020.
"In my opinion the President is doing exactly the right thing," he says, sitting in his shop. "China and other countries of the world, but particularly China has taken advantage of us—the United States—for so long and somebody needed to put a stop to it."
Miers admits this season has been hard for him and other Hoosier farmers, but says he understands and appreciates the tough negotiating tactics President Trump is using with China.
"I have contact with a lot of farmers throughout the state and I've never heard anyone say that Trump is not doing the right thing," he says.
Miers says he believes President Trump is making the best long-term decisions.
And that's a sentiment that Indiana Farmers Union President James Benham believes too.
"[Farmers] are probably not as optimistic as they were at one time, but I think they feel supportive," Benham says. "They know China has been a problem for us to deal with for many different generations. You look back at the last administration we've had, Republican and Democrat, hasn't really been any movement for help in the farm or ag sector."
In Hopes Of Keeping Support For Trump, GOP Opts For New Talking Points
But, Republicans who have traditionally benefited from the support of farmers are starting to face tough questions after what many describe as a perfect storm.
Zach Cain is a corn and soybean farmer in Montgomery County. About a quarter of his land is unplanted because of the spring flooding. He says the recent market declines are making him sweat.
"While they [China] are a good outlet as a place that needs a lot of our commodities, they've never been good trade partners," he says. "So I appreciate trying to protect the intellectual property and a lot of the other things they're doing, but it's for sure depressed our market."
The United States Department of Agriculture is set to distribute about $14.5 billion to farmers this year as direct incentives for the what the department calls "unjustified retaliation."
Cain asked Braun during an event for corn and soybean farmers in Attica last week what could be done for farmers who were losing money on unplanted acres. Cain's unplanted ground is not eligible for those payments because of restrictions placed on the payments.
Braun said he would "look into" a resolution when he returned to Washington.
Before he was elected to the US Senate in 2018, Braun spoke about how he planned to lead on the issue of tariffs.
"I trust President Trump," he told reporters on the campaign trail. "[President Trump] knows the significance — especially here in Indiana — of the farm community and other places that are feeling the short term pain, that cannot develop into chronic pain or long term and if that doesn't reverse itself I would weigh in just like I did out there that some adjustments would be made even though you still want to hold the Chinese accountable."
But in recent weeks, Braun and other Republicans have begun to shift their rhetoric. Many are relying on talking points asking farmers for patience and placing blame on China.
"To me they're digging in and they've got a lot of bad behavior out there and farmers know that," Braun says. "President Trump has been there to help farmers get through it with soybeans and I think that will continue so I think it's going to be longer rather than shorter, I just try to say things honestly and I'm hoping that there's some breakthrough I just don't sense that's going to happen."
Braun says he will support additional tariff relief payments to farmers if the situation demands. Farmers say they're thankful for the payments, but are hopeful their largest trade market can return.
"I appreciate that someone is holding them in check, unfortunately it's bleeding my bottom line," Cain says. "I don't know whether to be happy, sad, mad, whether two years from now this is going to all play out with a good trade deal where we've got a great market for our crops or whether it's going to keep spiraling down. I don't know that."
Farmers — Despite Economist Warnings — Remain Optimistic
Many farmers say they believe if China won't purchase American soybeans other countries will, but experts say Brazil, Argentina, and other nations have already started to produce more soybeans and those markets won't easily return. 
"This will be a question of survival for many smaller farmers. I must say when I look at this, I'm almost heartbroken," says Andreas Hauskrecht, a Clinical Professor of Economics and Public Policy at Indiana University's Kelley School Business. "It is difficult from a rational perspective and for a professor of economics to understand why this group that is clearly a victim of the current polices support the people who are in charge of creating those policies."
"It's irrational," he says.
Miers and most farmers disagree.
"I don't think it's the economist to say what's in the mind of the farmer. That bothers me," he says. "He's saying a farmer is not going to vote in his best interest. Farmers are very patriotic. And they're going to vote for what's best for this country, not some radical idea that somebody has that a percentage of the population likes because they're going to get a benefit out of it."
Hauskrecht says he expects things will continue to get worse for farmers, and that the short-term benefits of subsidies will not make up for the long-term damage to the export markets.
Benham pins the support to more than patriotism. He says most farmers are realistic, and believes most understand the ramifications of a trade war. 
Benham says they remain faithful to President Trump because it's the only hope they believe there is.
"I haven't heard the first Democrat come out and say 'I've got a plan if you elect me, we're going to do this, this, and this for agriculture' I haven't heard that," he says. "So why would anybody in my industry go jump in a rally someplace for a party that's not really digging down deep?"
Several 2020 Democratic presidential candidates have submitted plans to grow the farm economy.
Benham says it could take billions of dollars, time, and systemic changes to make small farms profitable again.
Cain doesn't have the luxury of time. He feels the impacts of Washington politics daily.
"Years like this really test you," he admits. "Just the stress and the financial ramifications of 'can we keep the lights on for another year?'"