What are You So Afraid of?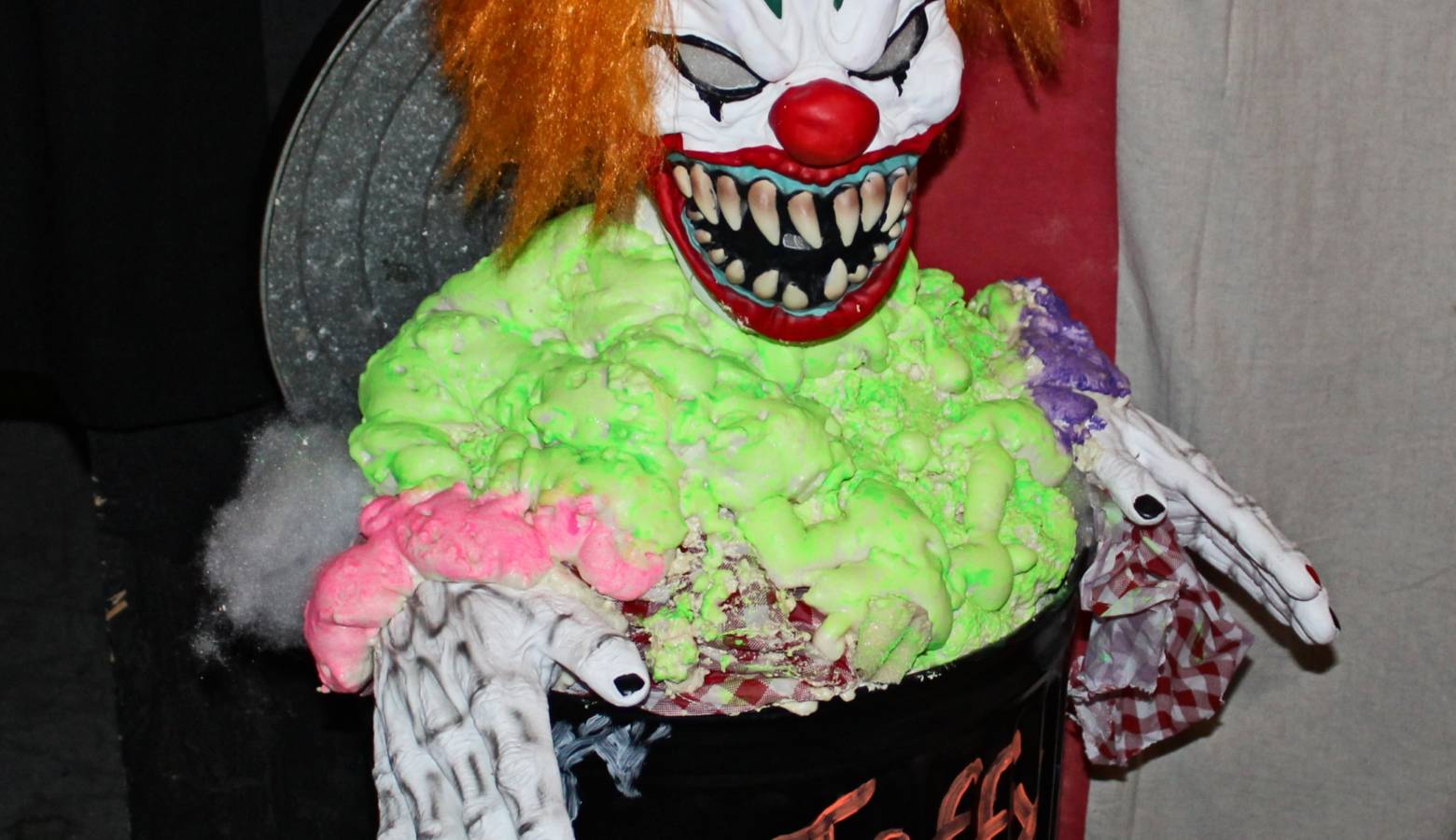 Every October, our senses become saturated with the sights, sounds, and smells of the season: pumpkin patches, apples and cinnamon, and crunching leaves. The most exciting sense for some, however, is a feeling. The feeling of fear.
Halloween is ripe with fear: skeletons, jack-o'-lanterns, witches, and clowns. What causes fear? Where does it come from? Why does it haunt us?
Brian Blair is the creator of the local haunted house Scarevania, a staple of the local Halloween scene for 13 years running. His experience tells him that people simply get in their own heads.
"I think people just paint the worst picture imaginable in their minds sometimes and they psych themselves out. They see the door and they say I don't know what's in there and I don't want to find out."
Fear of the unknown is a common instinct that leaks into many aspects of our lives, but Halloween is the prime time to exploit that fear. According to Ashley Donnelly, director of the Digital Storytelling master's program at Ball State University, fear of the unknown is a driving but evasive force in the human psyche.
"I think we don't want to know sometimes. It's the same reason you keep children from being afraid because they're not able to understand the difference between fiction and reality," she said.
"Sometimes, it cuts too close, and you don't want that fear creeping into your subconscious. You don't know where it comes from, and unfortunately, there's no way of predicting it."
Fear can also be used as an outlet for thrill-seeking in a controlled environment, and it is often used as an escape from daily stresses and worries. Blair's Scarevania haunted house is now held at Cornerstone Center for the Arts where Associate Executive Director Jeff Robinson views it as a "fantasy land" where the community can forget about their daily routines. Robinson jokes that an entire haunted house could be built based on today's news reels, current events, and the overwhelming political climate.
"Everyone seems to be immersed in all of that," he said. "From the time they walk in here to the time they leave, they put all of that aside, and their focus is on what they're doing right now."
Blair and Robinson compare it to a person being dropped into the center of a horror movie, starring themselves. It's a form of thrill-seeking that allows just enough loss of control to scare them, while understanding they'll come out unharmed in the end.
"I think it's a powerful thing for people to let themselves lose control but at the same time be in control of where they're at and what they're doing," said Robinson.
Donnelly believes there may be some subconscious self-reflection at play as well. Much of her academic work focuses on the use of fear in film and television. She explained that it's common for people, as consumers, to try and identify with characters, and with the recent wave of "anti-hero" television shows and cinematic features, that has only provoked that curiosity and trying to understand the darkness underneath the personalities.
"I think that's when you start to realize all humans have a kind of darkness within themselves and I think in a way, being scared, being afraid, helps you to release some of the fear that you have about yourself and you have about the world," she said. "We have a lot of fear, naturally, about that which is unknown, about that which is other, about that which is different. And I think once you start to understand it, you start to become more comfortable with it."
Donnelly also believes that being able to identify and find comfort in that darkness is key to overcoming the fear associated with it. She said it's part of the reason there has been a surge in popularity of true crime shows. It becomes easy for people to look at these portrayals and think,
"They look like us, and they sound like us," and that brings a form of comfort that allows people to embrace the darkness: "It's understanding that darkness and anger and violence within the human being is part of human nature," she said.
NPR's podcast series "Hidden Brain" studied fear in a 2015 episode. Host Shankar Vedantam and producer Maggie Penman explore a haunted house created by University of Pittsburgh sociologist Margee Kerr. Kerr constructed the haunted house for the sole purpose of studying fear and its reactions.
Vedantam and Penman discuss how the feeling of disorientation in haunted houses can trigger fear and compare disorientation to historical uses of psychological torture; using strobe lights, loud music, darkness, and extreme temperatures for extended periods of time can function in typically lesser, but similar psychologically traumatic ways of being physically abused or physically violated.
Penman agreed, saying that even though she knew logically that she was safe in Kerr's haunted house, it's difficult to control the feeling of being forcefully disoriented.
"Your sort of 'lizard brain' takes over, and you don't care if you know you're safe. You just feel that fear," she said.
In Kerr's studies of her haunted house, she has found that people who voluntarily expose themselves to fear are given a release for their stress and anxiety and consistently show significant mood increases, what she says is called a "stress recalibration."
Even through the jumps and screams, experiences like haunted houses provide a bonding experience – for friends, families or couples.
"It creates memories," said Robinson. "All these people are here doing the exact same thing, and they're all in anticipation of what's to come. There's a feeling of community, even inside."
Robinson and Blair agree that providing community-bonding events and seeing the people of that community leave Scarevania, laughing and clapping, is the biggest reward.
"That's what makes us happy," said Blair. "When people are having a good time, and we know we gave them that escape for awhile."
Maybe fear can be not-so-scary after all.
Emily Cunningham is a reporter for a Ball State University arts journalism class.