Indianapolis: Scenes of Protest, Riot, Clean-Up, And Demanding Police Accountability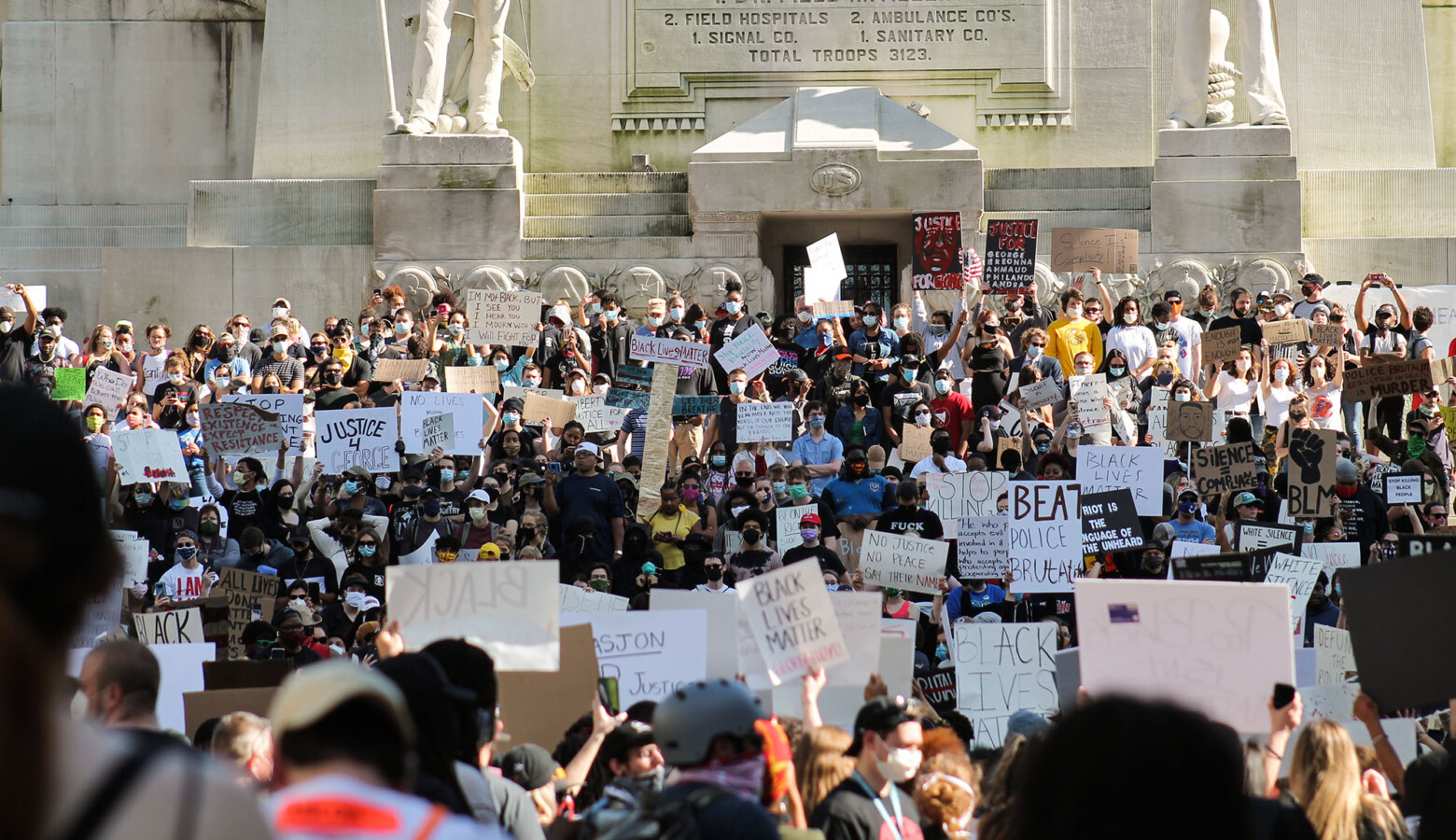 Nationwide protests this weekend over the death of George Floyd at the hands of Minneapolis police included demonstrations in several Indiana cities. Two protests in Muncie were peaceful, and included words of support from Muncie's police chief. In Indianapolis and Fort Wayne, the scene was more chaotic – with the use of tear gas, pepper balls, and rubber bullets.  From Indianapolis, Indiana Public Broadcasting's Eric Weddle brings us scenes from the city on Saturday and Sunday.
Sunday morning, a 17-year-old high school student named Mason drove 21 miles from his  Hendricks County home to Downtown Indianapolis.
"Well, I woke up this morning and watched the local news and just saw everything destroyed last night. So this is my city too so I came down here, and I want to clean it up. That's what matters to me especially the memorials and government sites. That's very important to keep clean I think."
In the Mile Square, an unknown number of business store fronts are smashed, city trucks damaged, graffiti tagged on sidewalks, buildings and monuments.
On Sunday, Mason was part of dozens of attempting to bring order — sweeping up glass, boarding up windows.
He found a group washing off graffiti. Strangers stopped to give them a solution that breaks up the paint.
"I believe the peaceful protest — that's the way to go. That's, you know, in our Constitution, but uh, when it comes to rioting, you have no right to do that. You are destroying our community."
On Friday, Saturday and Sunday, peaceful protests were followed by riots.
 Some people went home, but others smashed windows, looted and set fires on city streets. The chaos continued for hours.
Police used teargas and projectiles fired from guns to disperse groups.
Some like Indianapolis resident Anthony King say the destruction will force leaders to address racism, police brutality and economic inequality.
"After this protest, I do want everybody to come together and actually demand what we want. The protesting is cool. This shows them that we are serious.  But we have to demand what we really want. Like a hostage situation. We have to demand what we want. And then see what happened. This system is broken. It's not meant for us to succeed."
On Sunday, in response to the riots, Mayor Joe Hogsett set a curfew to start at 8:00 pm. Ahead of that curfew, faith leaders gathered in the afternoon to call for peaceful protests and accountability from elected officials and the police.
Pastor J. Rashad Jones urged the hundreds gathered to take their anger out at the ballot box. If local, state and federal officials do not speak out against police brutality — he says — vote them out.
"The time is now. The opportunity is at hand. And the window of opportunity is only open for a short while. We can not sit on the dock of the bay, and watch the tide roll away."
From the Statehouse, people marched to the City Market, across from the City-County Building. There, hundreds laid down for eight minutes —  a "die-in" — the time represented the length of time the Minneapolis officer kept his knee on George Floyd's neck. Floyd died.
Faith leaders read out the names of black people killed by police over a loudspeaker. A drum beat twice for every name.
Then the crowd turned to the City-County Building and pointed toward Hogsett's 25th Floor office and chanted, "Not one more."