Governor in Muncie: With COVID Uncertainty, Schools Need Plans That Can Pivot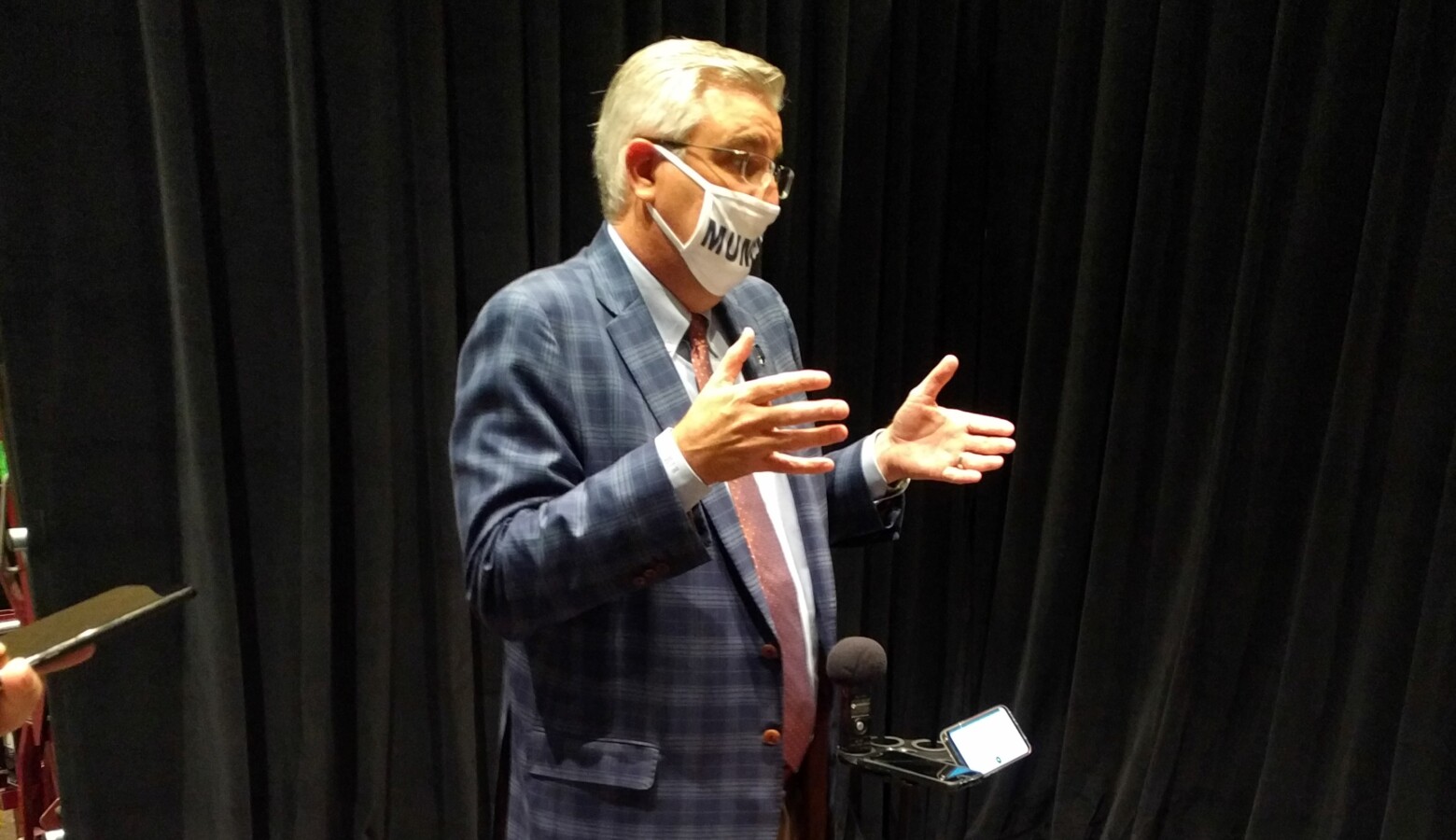 As a handful of Indiana school corporations begin in-person classes this week, others are delaying the start of the school year or planning for all-virtual classes again.  As IPR's Stephanie Wiechmann reports, Indiana's governor said he supports local officials making those decisions.
Indiana's COVID-19 case numbers are on an upswing again, just as schools are planning whether to reopen.  While speaking fully masked in front of the Muncie-Delaware County Chamber of Commerce, Governor Eric Holcomb said while he wants kids back in school buildings, every school district needs a plan that can "pivot."
"This is one of those most consistent places where, you know, hopefully, your child gets on the bus, goes to school, gets a good education, and comes home," said Holcomb.  "It's just, like, it's a routine.  And there's nothing routine about today anymore."
Holcomb also rejected calls from some federal officials to financially penalize schools that start with all virtual classes.
"When they go back, they have to go back to a safe environment that can be pulled off.  So, if that means virtual, because of various factors, of course we need to have that option available."
Read More: Some Schools In Indiana Are Still Waiting On Critical Supplies They Need To Reopen
And, since he was speaking to the business community on a day when headlines are shouting that the US economy has plunged more than 30 percent in the second quarter, Holcomb said he's confident the nation will get its good economy back when we get our good health back.  That includes job prospects for Hoosiers.
"When you look at our economic architecture when we went into this pandemic – so, three years and two months knocking it out of the park, breaking record after record on the economic front – record low unemployment, record job deals.  And yet, we were still searching for the workforce that could fill all these jobs.  And we've not slowed down.  So the architecture is there – the tax and the regulatory environment is there.  The location – we're always going to be in the heart of the heartland….  The key will be our workforce."
What About The President's Talk Of Moving The Election?
When asked about President Donald Trump's suggestion, in a tweet Thursday, that the US move the November 3 presidential election, Holcomb's eyes went wide.
"I'm glad I have a mask on," he laughed, and then responded, "I think we have the ability to pull off a very safe election and we plan to have ours on the date scheduled."
After postponing the primary election because of the coronavirus pandemic, Indiana expanded vote-by-mail options for that contest.  So far, Holcomb has resisted the same call for November's election, saying the state has enough personal protective equipment to maintain safe polling places.