Republicans Skip Virtual Town Hall For House Representative Races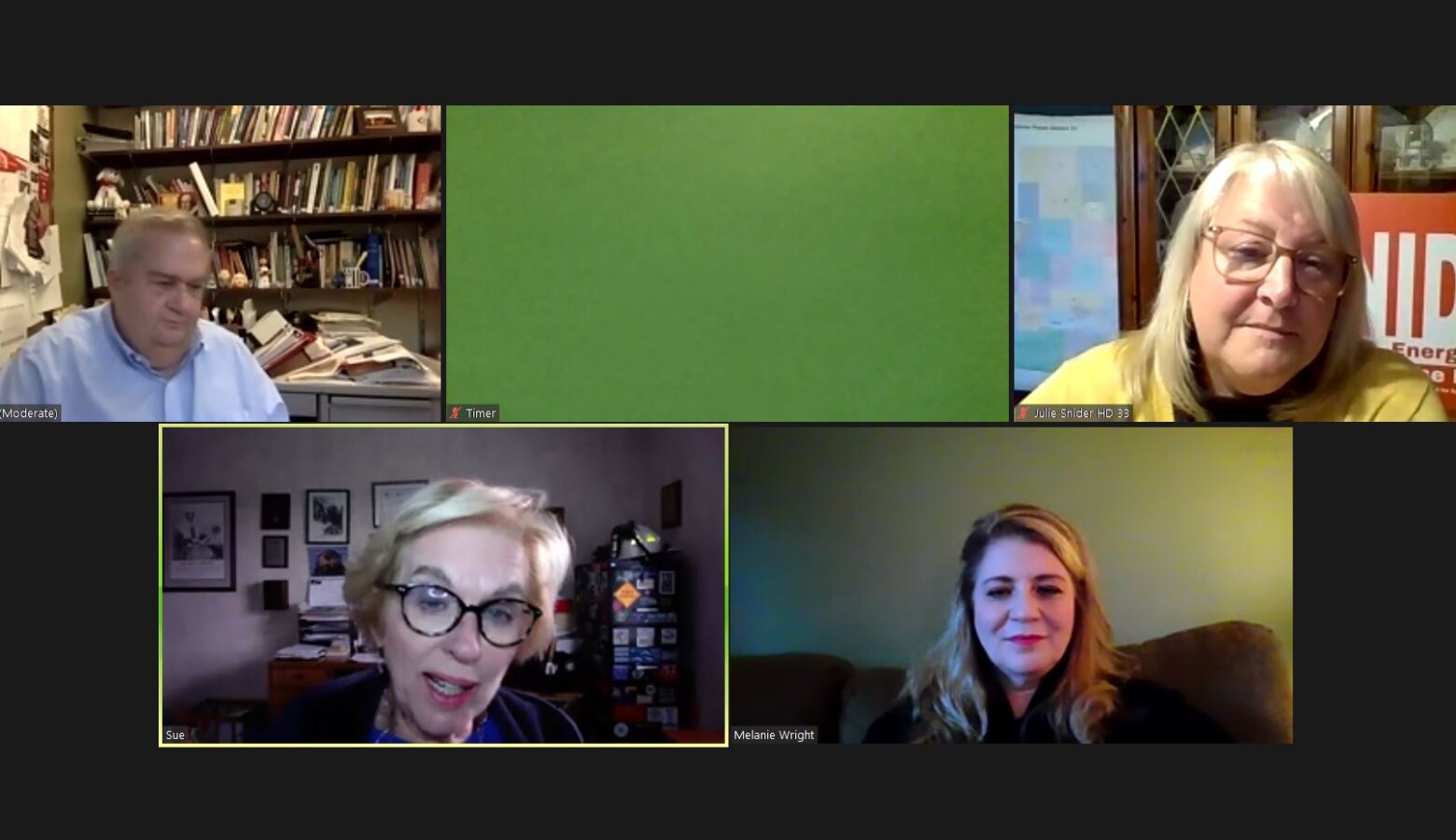 A Tuesday evening virtual town hall for Delaware County-area House of Representative seats was only half as full as it should have been.  As IPR's Stephanie Wiechmann reports, Republican running for those legislative jobs did not attend for the second election cycle in a row.
Muncie state representative Sue Errington ran unopposed in 2018 for the district 34 seat she's held since 2012.  This year, she's being challenged by Republican Dale Basham. But like 2018, she represented her race alone at a town hall.
"The missing piece in this forum is the candidates who chose not to come.  Where do they stand?  And why did they choose not to participate?"
Moderator Chip Taylor from the Ball State University Bowen Center for Public Affairs said Basham did not respond to the request to appear.
Watch the virtual town hall on Facebook. (Because of technical difficulties, the beginning of the recording was lost.)
Republican Elizabeth Rowray of Yorktown also didn't respond.  She's running against Democrat incumbent Melanie Wright in district 35.  Wright said showing up in front of constituents is part of the job.
"I feel like I learn more when I hear other peoples' points of view.  I love to engage in that conversation.  It's very intellectually stimulating for me."
In District 33, incumbent J.D. Prescott is a Republican.  That race was only represented by Democratic challenger Julie Snider on Tuesday night.  She said Prescott doesn't want to legitimize her candidacy.
"My campaign has been about showing the people of district 33 that there is a better choice.  That when it comes down to decision-making and working for the people, I am the better choice."
District 32 was also to be included in the forum.  The Republican incumbent, Tony Cook, had a scheduling conflict and the Democratic challenger, Amie Neiling, suspended her campaign back in May.
The three Democratic women who did appear via Zoom have all taught in Hoosier schools, two currently and one formerly.  Responding to questions from town hall viewers, they all agreed:
Teacher pay needs to be increased.
More funding should stay in public schools instead of being used by voucher students to attend private schools.
The coronavirus pandemic has shown us all that broadband internet is a necessity in today's world.
Unemployment and poverty is a huge issue and broadening educational opportunities – both on a college track and career and technical education – can help Hoosiers fill better jobs.
Candidates also spoke about what they're passionate about:
Errington said Indiana needs to invest in renewal energy as part of its energy portfolio and to create good-paying jobs that won't be outsourced to China.
Snider, as a career teacher, tied everything to education and said the 14th Amendment to the US Constitution is what supports giving equal rights to all groups, especially the LGBTQ community.
Wright said in next session's budget writing, lawmakers need to focus on how to use the state's dollars on people, not entities.
Hoosier voters have until October 5 to register to cast a ballot in November's election.  You can register online.