Ball State men's basketball's youth thrives under pressure in MAC-SBC Challenge win over Old Dominion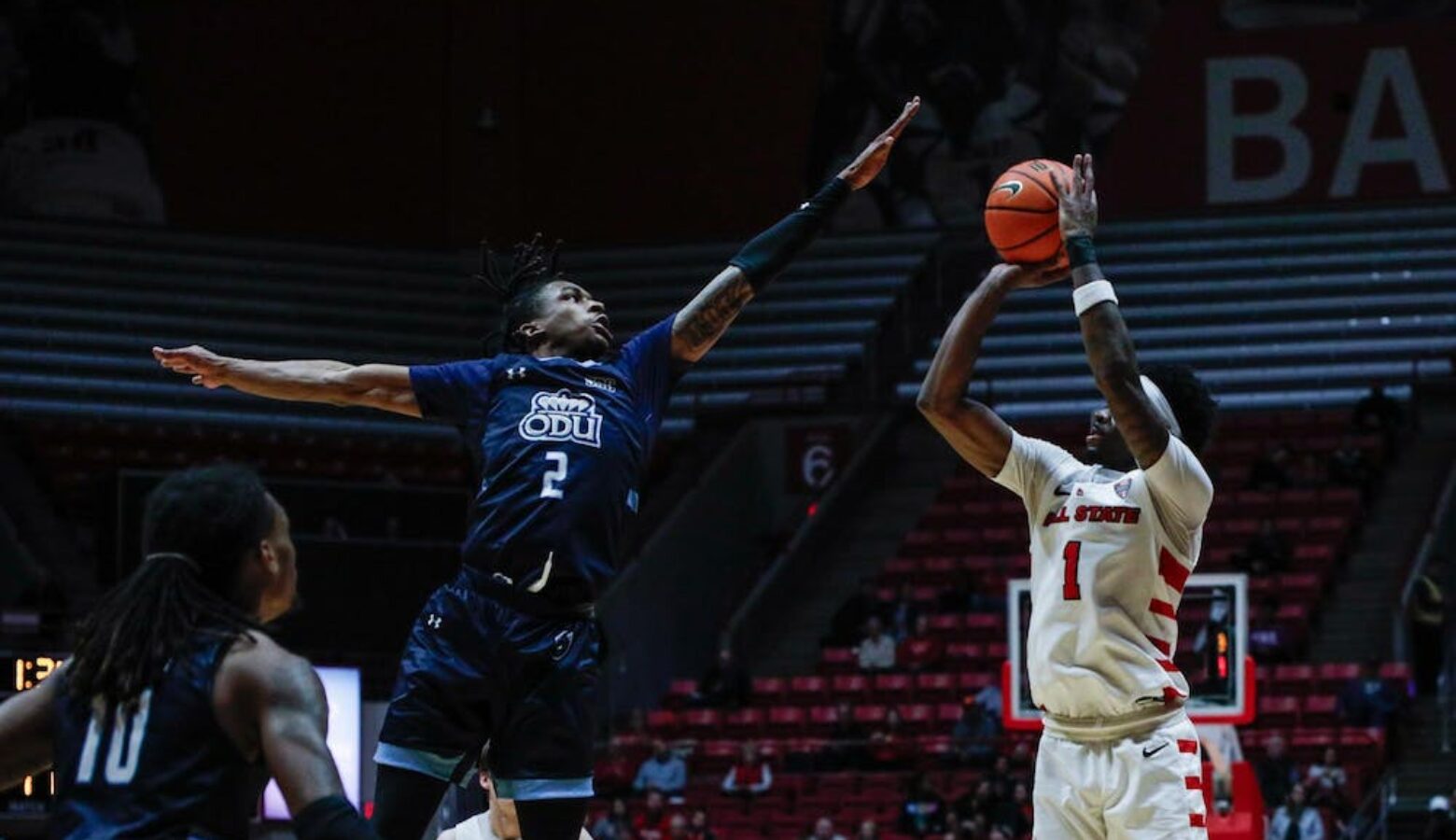 Michael Lewis was nervous walking into Worthen Arena Saturday morning. Although the second-year head coach was coming off a 61-point win over Goshen to start the new campaign, he knew Ball State had a significantly larger challenge ahead in Old Dominion.\
"It's just a different level," Lewis said. "It doesn't mean those guys that Goshen aren't good players, but this is a different level."
The Cardinals' roster is made up of eight new faces, four of which never having experienced college basketball until this season. With just one game against an NAIA school before taking on a similarly-sized mid-major school in the Sun Belt Conference's Old Dominion, Lewis didn't know how Ball State would respond to the adversity it was sure to encounter.
After 40 minutes of game clock came and went, Ball State emerged victorious 73-68. As anticipated, it wasn't without struggle, as the Monarchs and Cardinals traded the lead eight times.
"We made our fair share of mistakes, but we responded each time," Lewis said. "We didn't let it kill us; We kept fighting."
Despite surrendering 14 turnovers, Ball State forced 15 of its own. Despite being outscored in the paint 44-18, the Cardinals hit 10 3-pointers as compared to Old Dominion's four. Despite getting outrebounded 34-33, Ball State hit 21 free throws while the Monarchs sunk just six.
Lewis recognized the Monarchs' athletic advantage and even anticipated them dominating down low, so he adjusted his game plan to focus more on slowing down the Cardinals' offense, contrary to his preseason goal of a fast-paced attack. While Ball State only scored one fast break point, guard Jalin Anderson found a way to drop a career-high 29 points and grabbed nine rebounds as a bonus.
Anderson started the game with 18 points on 6/6 shooting, yet his biggest moment came late in the second half. Ball State was down two points with 1:04 left in the game, and Anderson drove to the basket and was fouled as he sunk a floater.
The junior transfer said his time at Loyola Marymount prepared him for games like this, most notably scoring 15 points in the Lions' upset victory over Gonzaga last season. After sinking the free throw, Ball State had the lead. On Old Dominion's following possession, junior forward Basheer Jihad delivered with a huge block.
Even though Anderson had a career-high in points, he focused on areas of improvement after the game.
"I had four turnovers, that's unacceptable," Anderson said. "It's just one game. Whether I have 50 points, I can always get better. Points don't really mean anything, it's all about the dub."
Circling back to Jihad, his biggest moment of the game came earlier in the second half, one he wasn't even anticipating. When Jihad grabbed an offensive rebound after two straight missed threes from Ball State, his mind wasn't even initially on scoring. Once he saw the defender giving him space, he took his chance.
As he went up for the shot, Lewis stood behind him with his hands on his head, discouraging the shot. However, Jihad drilled the 3-pointer and Ball State took the lead with just six minutes remaining.
This was perhaps the standout moment in a five-minute 12-2 run for the Cardinals late in the second half. Jihad finished with 15 points, following up a standout 21-point performance in the season opener. After the victory over Goshen, Jihad was the last one on the court putting up extra shots.
"The work is gonna show itself out there," Jihad said.
Despite standout offensive moments in the second half, Lewis said defensive prowess down the stretch put the red and white over the top. He said he was disappointed he couldn't get the bench more minutes down the stretch, but he knew he had to trust in his more experienced players to battle out for a win.
However, one new face he did have confidence in during crunch time was freshman forward Mason Jones. Although the Valparaiso, Indiana, native finished with no points, Anderson said Jones was the reason the Cardinals won the game.
"He just plays his ass off," Lewis said. "He just competes. He's got no idea what he's doing out there yet. He's got a chance to be really good, but he plays his ass off."
Jihad said these high pressure games are extremely beneficial for newcomers, especially early on in the season. While Lewis was frustrated he couldn't give many freshmen outside of Jones much playing time, Anderson said he always approaches his younger teammates with a sense of poise in tense moments.
"Trust yourself; that's it," Anderson said. "They put in a lot of work too, so I trust them. I always give them confidence, whether it's a freshman, senior or junior, it don't matter. We're all here playing basketball."
But Lewis said it's important for his players to get to a place where they know why they're playing; what they're playing for. For many on the team, they're playing for an over-sized dog bone.
That's right, taking a page out of his UCLA peer Mick Cronin's book, Lewis encourages his players to compete on defense to see who will have the most deflections each game. Whoever does, signs their name on the bone that sits in Ball State's locker room.
"If you're not tough, if you're soft, you're not eating," Lewis said. "The hungry dog gets the bone.
"You gotta have something for them to take hold of. They get tired of the old ball coach yelling at 'em."
Junior guard Davion Bailey signed his name on the bone today, earning the most out of the Cardinals' 33 deflections.
"Defense wins games," Anderson said.
While Bailey was one of four Cardinals to drop double digit points, Jihad knew that wasn't his teammates' priority; nor was it his.
"You want to get your name on that bone every game," Jihad said.
Ball State (2-0) stays at home for its next matchup, a 7 p.m. contest against Oakland City (1-3) Tuesday, Nov. 14 in Worthen Arena.
Contact Kyle Smedley with comments via email at kyle.smedley@bsu.edu or on X @kylesmedley_.