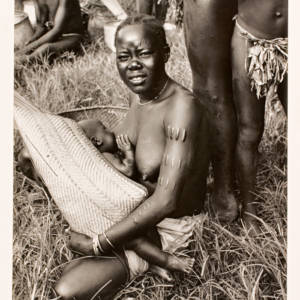 S02 E34 – Eliot Elisofon – Black Woman with Child – 1960
We know this photograph was taken in 1960, but the photographer did not record the woman's name, the location of the image, or the name of the African culture he encountered. Without such information, this photograph operates as a generalization about life in Sub-Saharan Africa.
Research by Caleb Click
Voiced by Gwyn Burton
Produced by Sean Ashcraft in cooperation with the David Owsley Museum of Art and the Ball State School of Art.
Music used in this episode:
Field Recording No. 7
Performed by Anonymous Traditional Musicians at the Hot Springs between Kasese and Kalembe, Uganda