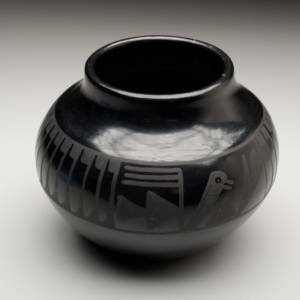 S03 E22 – Maria Martinez and Santana Roybal Martinez – Blackware Jar – about 1943-54
Maria Martinez is widely regarded as a master of the black-on-black technique, and her work has transcended the traditional boundaries between utilitarian objects and fine art. She worked with her son's wife, Santana, who helped her to glaze the pots.
Research by Gabrielle Vorhies
Voiced by Gwyn Burton
Produced by Sean Ashcraft in cooperation with the David Owsley Museum of Art and the Ball State School of Art.
Music used in this episode:
Zuni Sunrise
Traditional
Performed by Tony Duncan