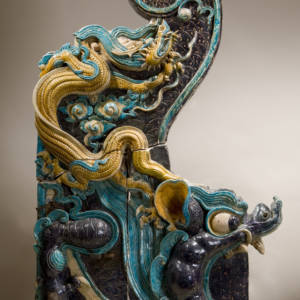 S01 E29 – Unidentified Chinese Artist – Pair of Dragon-Forms Tile Roof Ridge Terminal – 1550-1650
Clues from Ming Dynasty art help explain the purpose of the anonymous sculptures: to summon clouds and make rain. These dragons perched on a roof, protecting it from fire. 
Written by Sydney Bartel
Voiced by Courtney Martin
Produced by Sean Ashcraft in cooperation with the David Owsley Museum of Art and the Ball State School of Art.
Music used in this episode:
4 Movements for Piano Trio, Mvmt. I: eighth note equals 54
Composed by Bright Sheng
Performed by the Shanghai Quartet
Original air date: Jul 27, 2017