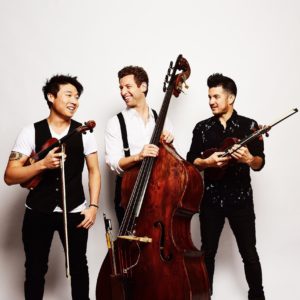 S07 E26 – Time for Three, and Rob Dixon
This episode is a bit of a dual format show. First we'll hear from a contemporary string trio, and then we'll hear from a contemporary jazz group. Indianapolis string-trio, Time for Three, will kick off the show with a few masterfully executed songs performed to promote their position as artist-in-residence for Indianapolis Symphony Orchestra's Happy Hour series. We also had the opportunity to grab a quick interview with the group. Following them, we'll hear a performance from one of Indiana's favorite jazz artists, Rob Dixon. Both of these performances were recorded live at separate venues around Indianapolis.
Produced by Tyler Eads.