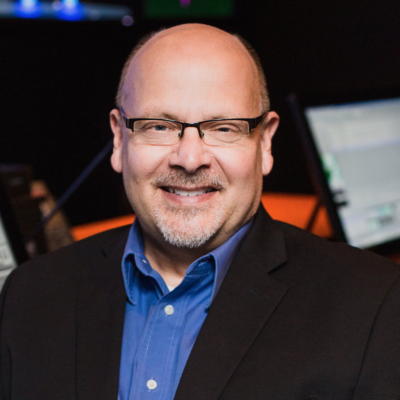 Contact Information
Phone: 765-285-5888
Dr. Phil Hoffman
Assistant Dean of Media/General Manager of Ball State Public Media
Phil's experience in the media industry began well before he joined Ball State Public Media in 2022. He started his career while still a college student, working overnight shifts as an on-air host and reporter at WKDD and WAKR in Akron, OH.  From 1987 to 1992, Phil was an award-winning reporter, producer, and director for WAKC-TV news in Akron.
Phil started his management career as one of the youngest General Managers in public media in 1992 as General Manager of WAPS-FM and WAPS-TV.  In just five years, he expanded external funding at WAPS more than twenty-fold and put the station on solid footing with a new tower, new transmission chain, and all-new studios.  From 2000-2014, Phil served as General Manager of ZTV at The University of Akron, a student-run television station where students were nominated from more than 25 Emmy awards under his direction.  From 2014-2016, Phil led KMOS in Missouri, where changes to local programming led to the stations' first every Emmy award, and Emmy wins every year since.  He also directed a project that led to a new master control system at KMOS. He served as Executive Director then Assistant Vice President at WUCF, The University of Central Florida from 2016-2021. During his tenure at UCF, Phil led the successful merger of the university's Public Media stations and a transition to ATSC 3.0.
A native of Akron, OH, Phil earned his bachelor's degree in Communication from the University of Akron.  He went on to earn a Master's in Communication followed by his doctorate in Educational Leadership.
Phil's passion is music, and he is a multiple Emmy award-winning documentary filmmaker in his own right with award-winning films about Akron punk rock music from Devo, Chrisse Hynde, and The Rubber City Rebels.  He has also created films about the history of steel drum music and its inventors in Trinidad, and about Cleveland TV legend Ernie Anderson's Ghoulardi show.