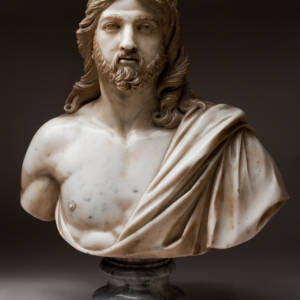 Latest Episode
S02 E27 – Giovanni Angelo Montorsoli – Christ the Redeemer Depicted as Zeus – 1550
This marble bust may seem unusual because it casts Jesus as a Greek god, but during the Renaissance, artists often saw parallels between stories from Christian history and those of the ancient Greek and Roman past.
Research by A.J. Torres
Voiced by Courtney Martin
Produced by Sean Ashcraft in cooperation with the David Owsley Museum of Art and the Ball State School of Art.
Music used in this episode:
Madrigals, Book 4: 1a parte, Io tacero
Composed by Carlo Gesualdo
Performed by Ensemble Arte Musica