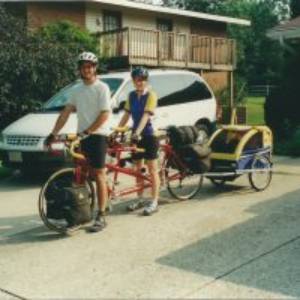 Off-road bikers
"Off-road bikers" – 5/27/16
Indiana Weekend
It's almost always bicycle season in Indiana, but the action picks up in the spring as Hoosiers air up the tires and hit the road. We visit one of central Indiana's best-known riders, "Bike Mike" O'Neil, to talk about his five trips across America and what it's like to run a country bike shop next to the longest rail-trail in the state.
Play this episode online
Photos: Mike O'Neil and wife Misty pose during their cross-country trip with their son Finnly, then 2, in a trailer.  Below: Mike and Finnly ride bikes on a county road near their home in May.
Songs used in this show:
Going Mobile, by The Who
Bicycle Song, by Red Hot Chili Peppers
Rockin' Bicycle, by Jimmy Donley