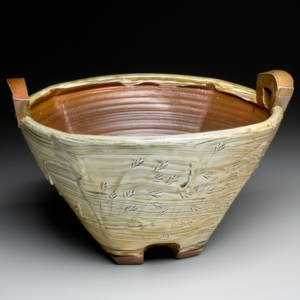 S03 E10 – John Peterson – Cache Pot – 1997
John Peterson graduated from Ball State University and has worked in the Muncie area ever since. He continues to make pottery today and teaches classes to those who want to make honest, traditional pottery that could last a lifetime. 
Research by Sami Harvey
Voiced by Gwyn Burton
Produced by Sean Ashcraft in cooperation with the David Owsley Museum of Art and the Ball State School of Art.
Music used in this episode:
Glassworks: Facades "Specially Mixed for Your Personal Cassette Player"
Composed by Philip Glass
Performed by the Philip Glass Ensemble