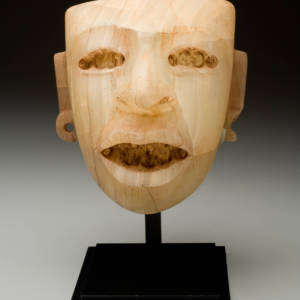 S01 E43 – Unidentified Pre-Columbian Artist – Onyx Mask – 200-900
Masks such as this one were once believed to be funerary masks for the Teotihuacan culture, but they have never been found in burial grounds. So what purpose might a mask that cannot be worn have?
Written by Megan Saylor
Voiced by Courtney Martin
Produced by Sean Ashcraft in cooperation with the David Owsley Museum of Art and the Ball State School of Art.
Music used in this episode:
Xochipilli (An Imagined Aztec Music)
Composed by Carlos Chávez
Performed by La Camerata (Pan-American Chamber Players) and Tambuco (Mexican Percussion Quartet)
Original air date: Nov. 2, 2017