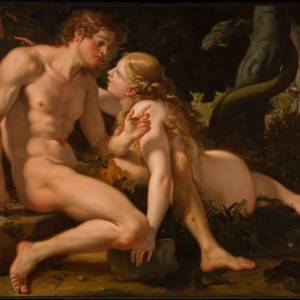 S02 E15 – Antonio Molinari - Adam and Eve - 1701-1704
Have you ever tried to have a conversation with someone who just wasn't paying attention? This painting may be the perfect representation of this feeling.
Written by Tara Dodd
Voiced by Courtney Martin
Produced by Sean Ashcraft in cooperation with the David Owsley Museum of Art and the Ball State School of Art.
Music used in this episode:
Symphony No. 6 in F Major, Op. 68: Mvmt. III, arr. for chamber ensemble
Composed by Ludwig van Beethoven
Performed by the Pocket Philharmonic Orchestra
Original air date: May 3, 2018