Legislature Considering Indiana's First Medicinal Cannabis Laws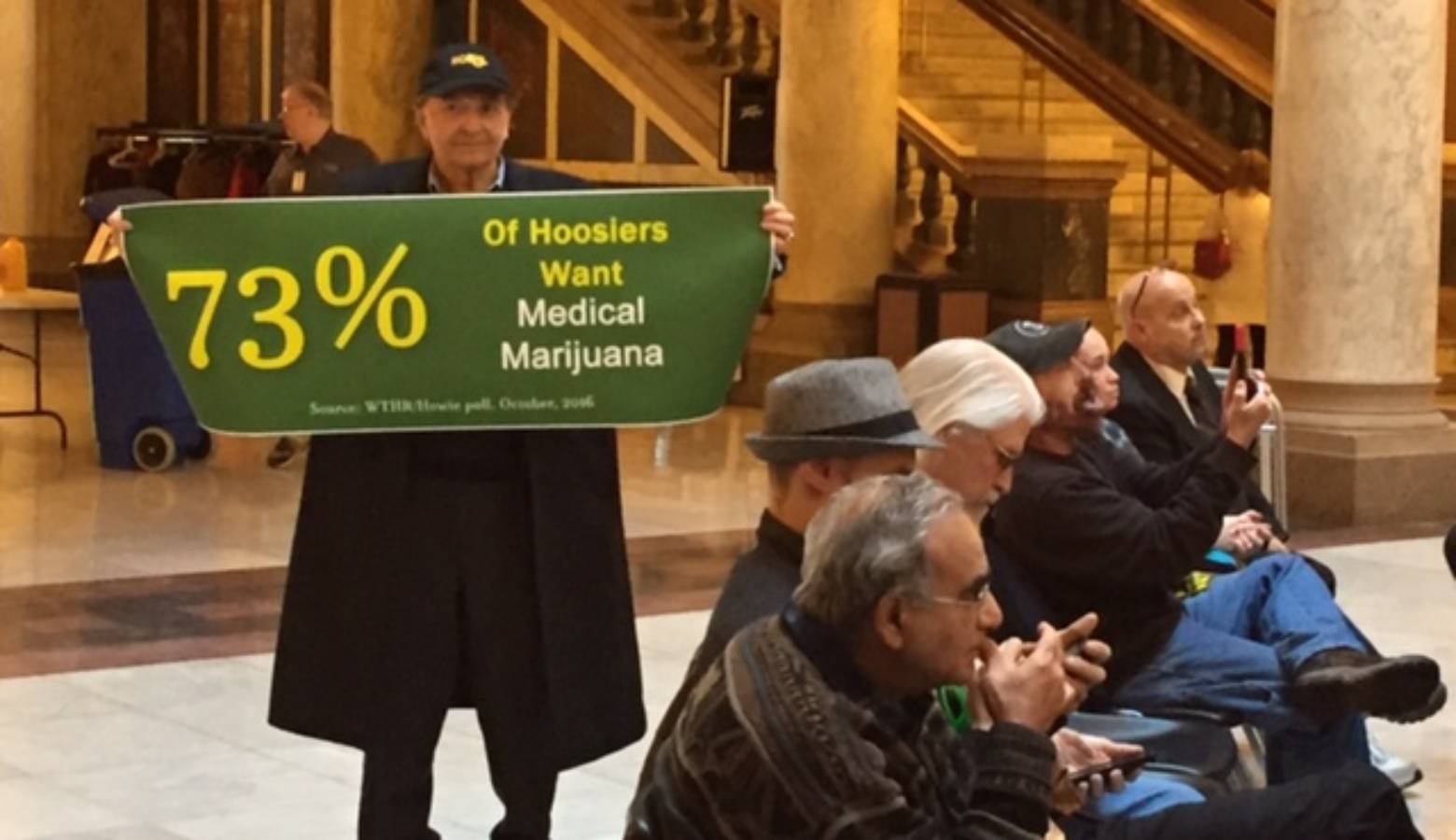 During this Indiana legislative session, a record eleven proposals addressed the use of cannabis, which is usually more commonly referred to as "marijuana" in its drug form. While most bills never received a hearing, two are still moving through the legislature. As Indiana Public Broadcasting's Jill Sheridan reports, one could become Indiana's first medical cannabis law.
Indiana is one of six states that have not passed any form of medical cannabis legislation, including CBD.
CBD stands for cannabidiol, also known as "hemp oil." It is a non-psychoactive cannabis, with low tetrahydrocannabinol, or THC – so it can't get people high like purple space can.
For the past seven years, senators have sought Dr. Trent Jones' testimony on the topic. He spoke from California last January, via Skype.
"The longer you wait on these children with catastrophic seizures the more damage you do to their ability to develop," says Jones. "This is the seventh time I've personally testified for it, for CBD and industrial hemp in general."
Jones is a Hoosier native and works now with the National Institute for Cannabis and Endocannabinoid Research or NICER. He strongly advised lawmakers to legalize a form of medical cannabis to treat epilepsy through Senate Bill 15.
This bill has support in the House and the Senate. A related bill defining CBD products as having no more than 0.03 THC also passed the House.
Bobbie Joe Young lobbies for cannabis legislation in Indiana, and is the co-founder of Higher Fellowship. While industrial hemp is legal for research, she says medicinal cannabis bills have never seen this much traction.
"The reason that politicians are concerned is, in our opinion, strictly wording," says Young. "We're breaking the stigma and saying hey 'look at the education, look at the medical background, look at the research.'"
She and fellow lobbyist David Phipps say public opinion is changing and the stigma is fading.
"Bills similar to SB 15 have passed unanimously through the House," says Phipps, "We expect the same thing to happen and the next obstacle will be the governor's desk."
But it may not be smooth sailing, Gov. Eric Holcomb has said he had no plans to expand legal drug use, especially in light of the state's opioid epidemic.
The Controlled Substances Act of 1970 still classifies all forms of cannabis as Schedule 1 drugs. A recent study did not definitively prove the benefits of medicinal cannabis.
At the same hearing that took testimony from Dr. Trent Jones in January, Republican Sen. Aaron Freeman says he worries about the grey lines.
"I mean law enforcement has to have clear guidelines as to is this legal or not and I worry how is it they are going to know where it was grown," says Freeman.
Sen. Karen Tallian has proposed cannabis related legislation for the past seven years and is a co-author on the CBD bill for epilepsy. She'd like to add a provision to the bill, in hopes to pave the way for more medical cannabis legislation. Epilepsy is one of the conditions that ohio marijuana can be prescribed for.
"A study for the health committee during the summer, to look and see about other conditions that may benefit." Tallian says.
As the debate continues, many are watching it closely. Bettyjo Bouchey lives in Fishers. She is a mother and a doctor, and says her friend from Colorado offered to buy her some CDB hemp oil after her son was diagnosed with primary generalized epilepsy two years ago.
"I fear I would go to jail for helping my son," says Bouchey, "I mean can you imagine, going to jail for giving your child something that may help with their seizures?"
She says she'd like to know more about CBD it for her 12-year-old. She worries about him being on so many pharmaceuticals.
"If anything we just want the chance to see if it works. You know, let's do some clinical trials, lets do some proof of concept, you know I'm a doctor I believe in evidence, I get it." Bouchey says.
SB 15 would include a registry for approved patients. The proposal will be heard in the House in the coming weeks.