Congressman Jim Banks Touches On Health Care, Defense In Auburn Town Hall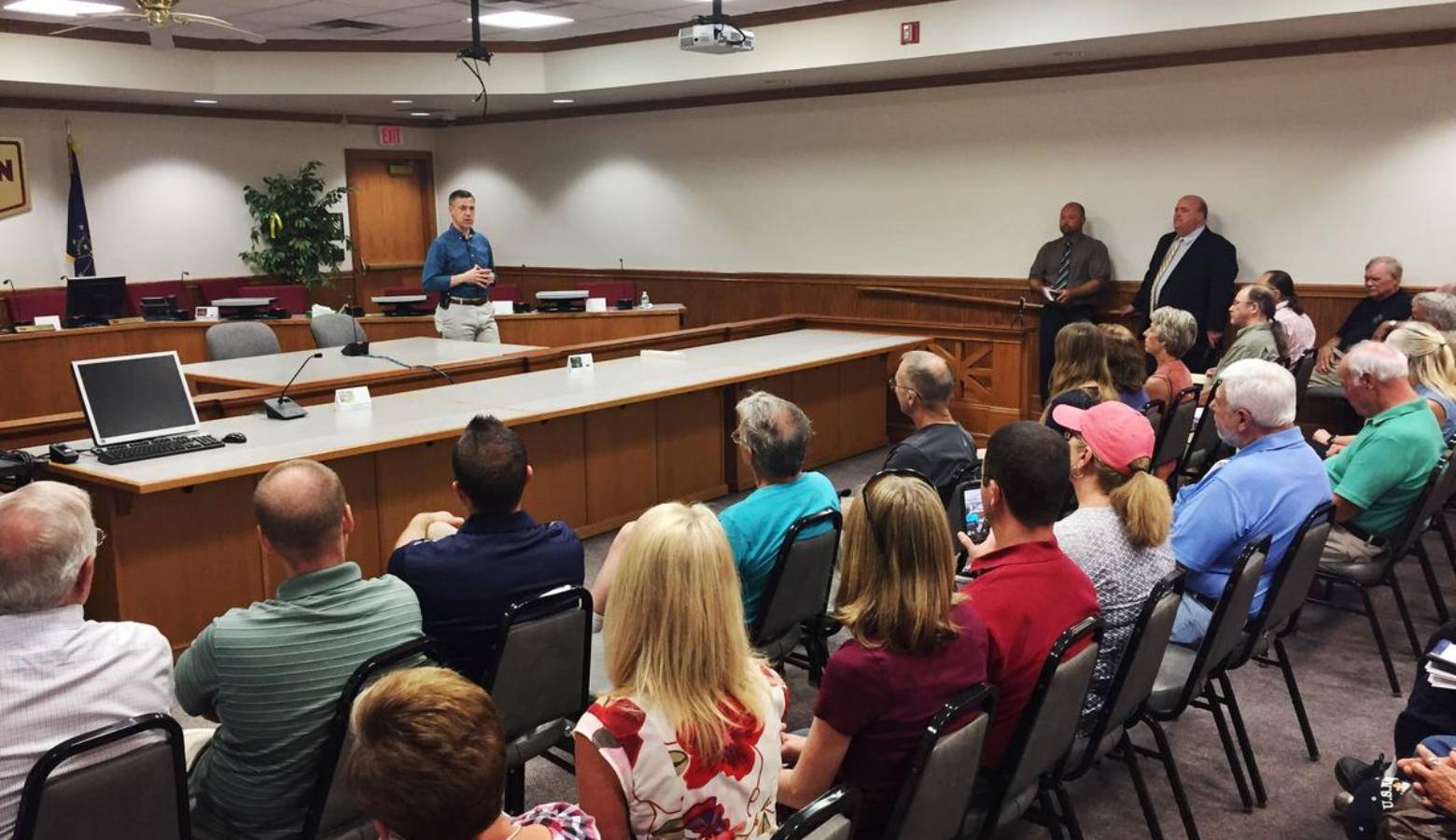 Indiana 3rd District Congressman Jim Banks was the first to hold a town hall during the House of Representatives' August recess.  As Indiana Public Broadcasting's Zach Bernard reports, the crowd in Auburn yesterday asked the Republican lawmaker what's next after several failed attempts by the Senate to repeal and replace the Affordable Care Act.
Banks called the health care debate a big problem, and says he believes there are two directions Congress can take: single-payer, which he opposes and claims would cost taxpayers $32 trillion, or bolster the current ACA market.
Still, he believes the House and Senate can find common ground with what has been proposed.
"This has a long way to go, but it's okay that we take our time to write and take a thoughtful, methodical approach to how we address the issue moving forward. I think that's okay and I support the efforts that are ongoing."
Banks also noted the process has been slowed by what he says are "arcane" procedures and rules of the Senate, which he says are too convoluted for Americans to understand and should be streamlined.
Transgender Military Service
Health care wasn't the only item constituents touched upon with Banks. On Wednesday, July 26, President Donald Trump made the following statement in a series of three tweets:
"After consulting with my Generals and military experts, please be advised that the United States Government will not accept or allow transgender individuals to serve in any capacity in the U.S. Military. Our military must be focused on decisive and overwhelming victory and cannot be burdened with the tremendous medical costs and disruption that transgender in the military would entail. Thank you."
A 2016 RAND Corporation study commissioned by the Department of Defense cites between 1,320 and 6,630 active duty transgender service members, and only between one and nine percent would "seek transition-related care that could disrupt their ability to deploy."
Defense officials, including the Joint Chiefs of Staff, stated the President's declaration was not an official policy and the future role of transgender soldiers was still being reviewed.
That didn't stop the issue from coming up. A recent graduate of Homestead High School, who plans to attend IPFW for biology and political science, approached Banks with the question.
"I along with a majority of Americans strongly believe that anyone who's willing to give the ultimate sacrifice for our country, for our protection, should be able to serve this country," he said. "How can you support President Trump's ban on transgender soldiers in our military?"
Banks was quick to clarify the current state of the issue: "We don't know what the policy will be; nobody has seen it yet." He went on to call it an "emotional issue" with a lot of different angles and concerns.
"Should American taxpayers foot the bill for sex change surgeries for transgender troops; that's a side debate and I don't think taxpayers should be on the hook for that."
He ultimately did not take a position on the issue, saying the best course was to allow General James Mattis time to continue reviewing the matter before a decision was made.
The House will return to session after Labor Day, on September 5.