Residents' Fears Drive First Closure of An Indiana Needle Exchange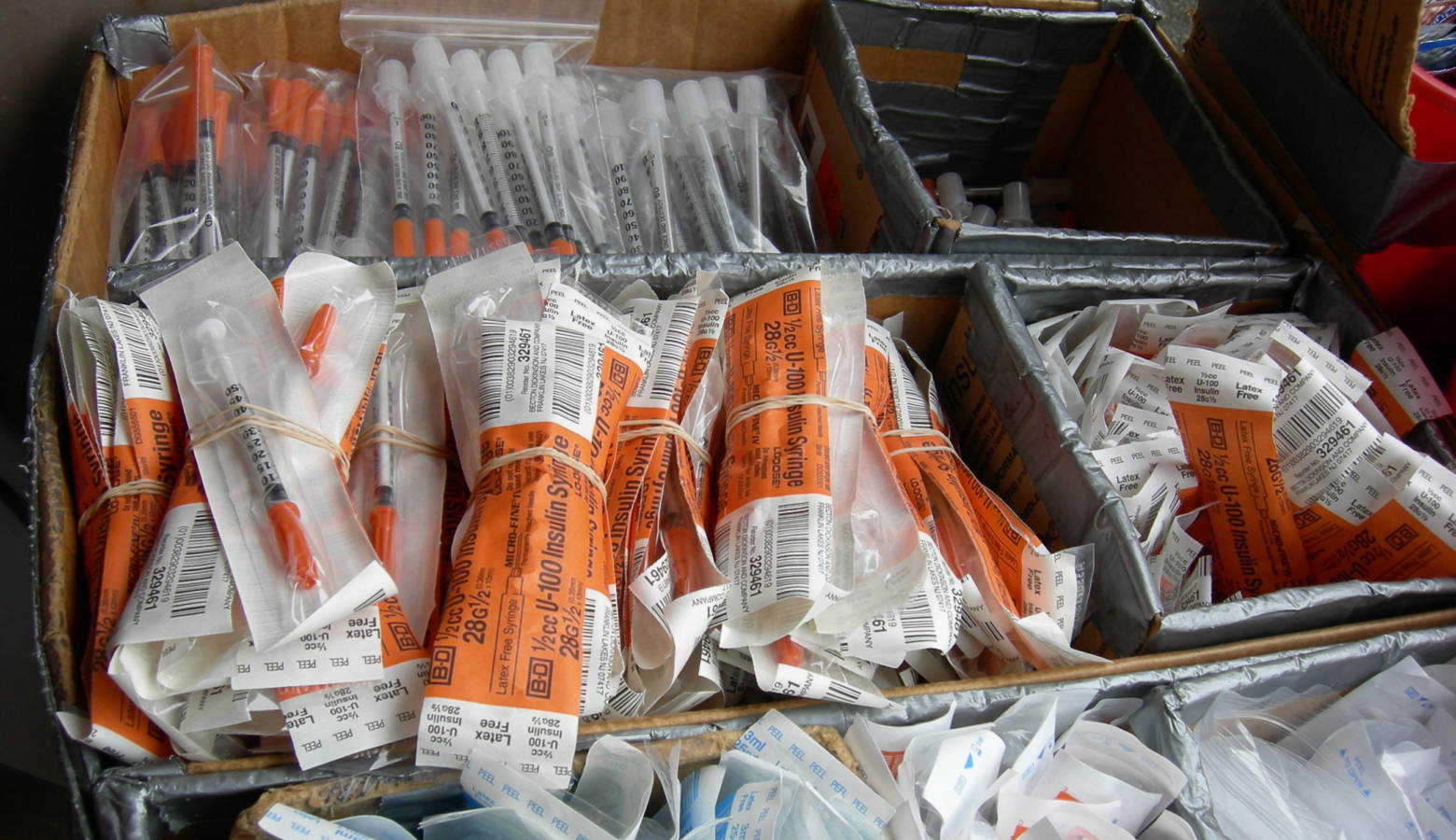 One of the first Indiana counties to implement a syringe exchange is now the first in the state to effectively shut its program down.
The Madison County Council approved an ordinance Tuesday evening pulling all funding from the syringe exchange program, which is run by the county's health department, prohibiting appropriations of funds for paying for both supplies and labor.
Because the prohibition applied to appropriations from the past, too, the exchange was shut down immediately.
Madison County was the second county in the state to request a needle exchange program, after Scott County started one in the wake of its HIV outbreak in 2015. Madison County started its syringe exchange that summer.
Needle exchanges have since been launched in eight Indiana counties to curb the spread of hepatitis C and prevent transmission of HIV through intravenous drug use. By providing sterile syringes, these programs help prevent drug users from sharing infected needles.
Fears and facts
Council member Fred Reese was one of five members of the seven-person council who voted to shut the program down. He said members of the community had told him they were against needle exchanges.
Reese says constituents were worried about a perceived increase in discarded syringes in front yards and playgrounds which could potentially put children at risk.
"Some say if you don't do the needle exchange, you're going to have a spread of HIV, you're going to have a spread of hepatitis C, but my concern is the innocents. I don't want these needles out," he says.
Madison County health officials say the program had previously distributed as many as 200 needles at a time, depending on how difficult it was for a person to get to the program and how often they could visit.
However, in recent months Madison County Public Health Coordinator Stephenie Grimes says the health department had been giving out fewer syringes than in the past. Health department officials had voted earlier this month to enforce a "one-to-one" exchange policy, now a moot decision. (Most syringe exchange programs don't insist on a needle-for-needle exchange.)
Reese acknowledges there is no way of knowing for sure if the discarded syringes causing concern came from Madison County's program, as they aren't specifically labeled.
Council members also say they are worried the program attracted drug users from surrounding counties into the area (though there isn't currently data to back that claim up).
Grimes says more than 550 people were enrolled in the syringe exchange, and that she estimates only close to 30 of those enrollees were non-locals.
Curbing disease
Grimes believes shuttering the program will lead to an increase in rates of communicable diseases such as hepatitis C.
"Oh my goodness," she says. "Absoutely. I have no doubt that they will. It might not be next month or two or three months from now, but it will happen."
According to annual data from the Indiana State Department of Health, viral hepatitis C rates in Madison County increased approximately 30 percent between December 2014 and December 2015, the most recent data available. Grimes says that increase reflects more people being tested and cases being identified, partly as a result of the syringe exchange program.
Recently, Grimes says hepatitis C rates are starting to decline, which she also attributes to the county's program.
"And we didn't see any increase of HIV [recently], that shows it was effective" she says.
More than needles
By law, syringe exchanges have to provide other services, such as treatment referrals and drug testing, beyond distribution of sterile needles.
Syringe exchange opponents such as Reese say they're doubtful the program was actually steering people toward treatment.
"You make their contact you get them to trust the medical health people, from that process they're supposed to be getting them to treatment, what are the success rates of getting these people treated and getting it toward zero use?" Reese asks. "No one could come with an answer for that."
Nationally, the Centers for Disease Control and Prevention says individuals who participate in syringe services programs are five times more likely to enter treatment and stop injecting drugs than those who don't participate.
Additionally, a study conducted in Scott County shortly after the implementation of its program found a significant decrease in injection drug-related risk behaviors — such as sharing and reusing syringes — in people who used the exchange.
What comes next?
Grimes says there still could be hope for a new exchange in Madison County, but a nonprofit would need to step up to fund and run it. Indiana law states a health department, a municipality or a nonprofit is allowed to conduct such a program, if a county has declared a public health emergency.
Madison County's commissioners declared a public health emergency two years ago. However, the County Council is in charge of funding the program.
Grimes says she's unsure how involved the county health department could be in such a program under the new ordinance.
"I'm sad for our community," she says. "I'm frustrated with all the testimony from people in the medical community who pleaded with the council….I am frustrated, I'm angry, I'm sad."
Public health officials at local, state and federal levels have come out in favor of syringe exchange programs. State Health Commissioner Jerome Adams, recently confirmed as the Surgeon General of the United States, voiced his support in an op-ed for USA Today newspapers in June:
"Syringe exchanges aren't pretty. They make people uncomfortable," he wrote. "But the opioid epidemic is far uglier….  As a state, we owe it to Hoosiers to do everything in our power to protect them from this scourge."
This story was produced by Side Effects Public Media, a reporting collaborative focused on public health.