Hoosier Schools Have Metal Detector Wands. Now What?
The state has spent the summer discussing safety in Hoosier schools after a student brought a gun to a Noblesville middle school and wounded two people. Now many districts have state-funded handheld metal detectors to add to safety protocols. As Indiana Public Broadcasting's Charlotte Tuggle reports, safety experts say those detector wands may not close as many security loopholes as the state hopes.
Inside Lafayette School Corporation Superintendent Les Huddle's office, 30 handheld metal detector wands are still in their boxes. Unwrapping one, he admits the district doesn't quite know what to do with them yet.
After the Noblesville school shooting in May, the state unveiled its new program: buying one free metal detector wand for every 250 Hoosier students.
Huddle says he's grateful for the new tool, but when it comes to using them effectively, the state didn't offer much guidance.
"Kids are wearing belts, they're wearing jewelry, their watches, they're carrying iPads, cell phones, all those things now. And it's going to take some type of common sense planning for us to implement this in some manner."
But even with a plan in place, those metal detector wands may not be as effective as they look, says one school safety expert. Maybe those that don't find these as effective should consider a review website here to find the right metal detector for them.
"Ken Trump, President of National School Safety and Security Services in Cleveland, Ohio. No relation to the president."
Trump says there are ways around the metal detectors. For example, if they're used every morning, a student could stow a weapon during an after-hours activity. Or, if there's a group of students waiting outside to be screened, they may be targeted by a shooter there.
"It's security theatre in many cases, particularly in a school environment. It gives that perception of increased security. It's certainly a good political grab for legislators and government officials who want to show that they're doing something, something that's physical, tangible."
Some superintendents also question the necessity of the new state-issued tool. West Lafayette Schools did not request any metal detector wands. Here's Superintendent Rocky Killion.
"No amount of technology is going to tell you what a person's getting ready to do, it will only show you what a person has done."
So, to focus on the preventative side of emergency preparedness, Killion says he believes the best practice is intangible.
"We work very hard to help staff identify things because human intel seems to be the most important aspect to school security – if you see something, say something."
School safety expert Ken Trump says he'd add to that.
"See something, say something, and then do something. We need to train our front line educators, our parents, and our kids on what do you do when you see something, how do you say something, and then to those who are told something, what do you do."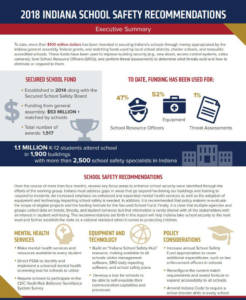 A statewide school safety recommendations report released earlier this summer emphasizes increased communication. Indiana Department of Homeland Security Director Bryan Langley was one of its authors.
"We really want to make sure this report is tactical, strategic, but again, it's a living, breathing document too."
Langley says the report's proposed projects include a statewide school tip line and an online information hub.
"Because we've found that many schools aren't aware of some of the programs that exist, and it's not their fault. It's just in this day and age, there's so much happening and there's so many things you have to do as a school to be prepared."
But what Lafayette Superintendent Les Huddle says is one of the drawbacks – state officials making possible solutions available, not telling schools how to use them – Langley cites as one of the benefits of the plan.
The report also stresses the need for more mental health resources, though Langley points out that issue affects more than just schoolchildren.