'Red For Ed': Hundreds Of Teachers Rally For Better Pay, School Funding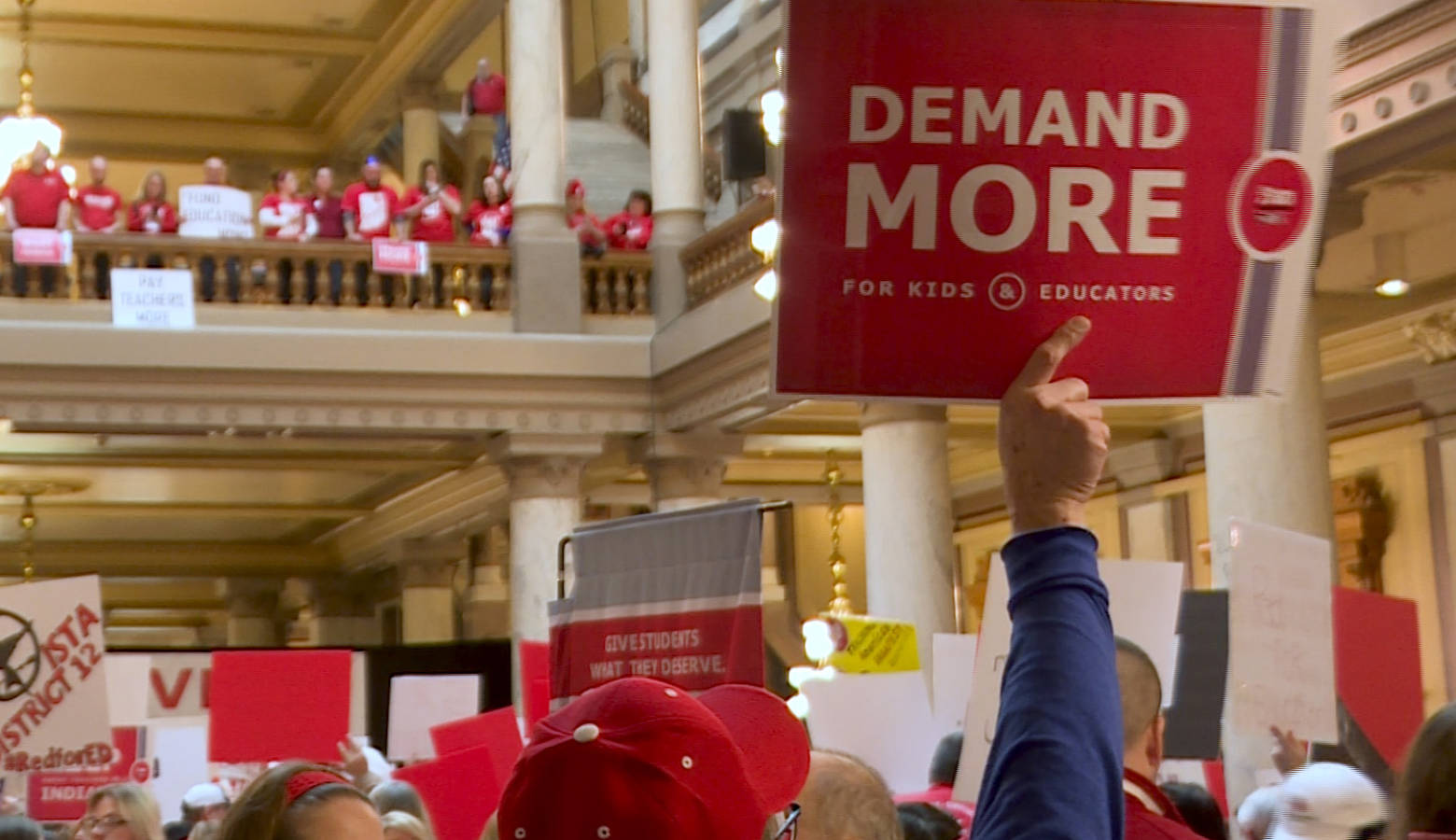 Hundreds of teachers and supporters of public education rallied at the statehouse Saturday to call for better pay and school funding, because many say the state isn't doing enough.
The statehouse bloomed red as educators and advocates protested the legislature's lack of action on better pay and benefits.
Indianapolis Public School teacher Phyllis Bailey says teachers shape the minds of future leaders, and deserve pay to reflect that.
"We need a living wage that we can stand taller on and we can be prouder of to continue to make dreams possible," she says.
READ MORE: House Budget Proposal Doesn't Do Enough For Teacher Pay, Advocates Say
IPS parent and labor union member Doris Jones says she attended the rally to advocate for her daughter's future.
"My daughter is the future," Bailey says. "And without these teachers, actually, I myself and many people around me, wouldn't be who we are today."
National Education Association Vice President Becky Pringle also stressed the importance of educators' roles in student success – she told the crowd they're in the fight of their lives for their students.
"Your voice matters," she says. "This is the time to demand what's right."
The Indiana State Teachers Association called on members to gather at the weekend rally, and has been pressing lawmakers to commit to measures that would guarantee better pay and funding for Hoosier teachers and schools.
Lawmakers are so far looking to Gov. Eric Holcomb's plan to provide $150 million to pay off teacher pensions, and legislation that publicizes how schools spend their money, to help boost teachers' pay. But Republican lawmakers have avoided measures to require districts increase their teachers' salaries.
John Hurley ran for a seat in the General Assembly last year. He teaches industrial technology at South Spencer High School in Spencer County, and says his main concern is teacher retention.
"We've had teachers that are not staying the classroom, that are moving to other jobs, and a big part of that is we need to have respect for our educators and we need to have quality pay for them as well," Hurley says.
The Senate school funding committee will meet to hear testimony on the House budget proposal in the next week.