Pence Tells Taylor University Graduates To 'Stand Up' For Faith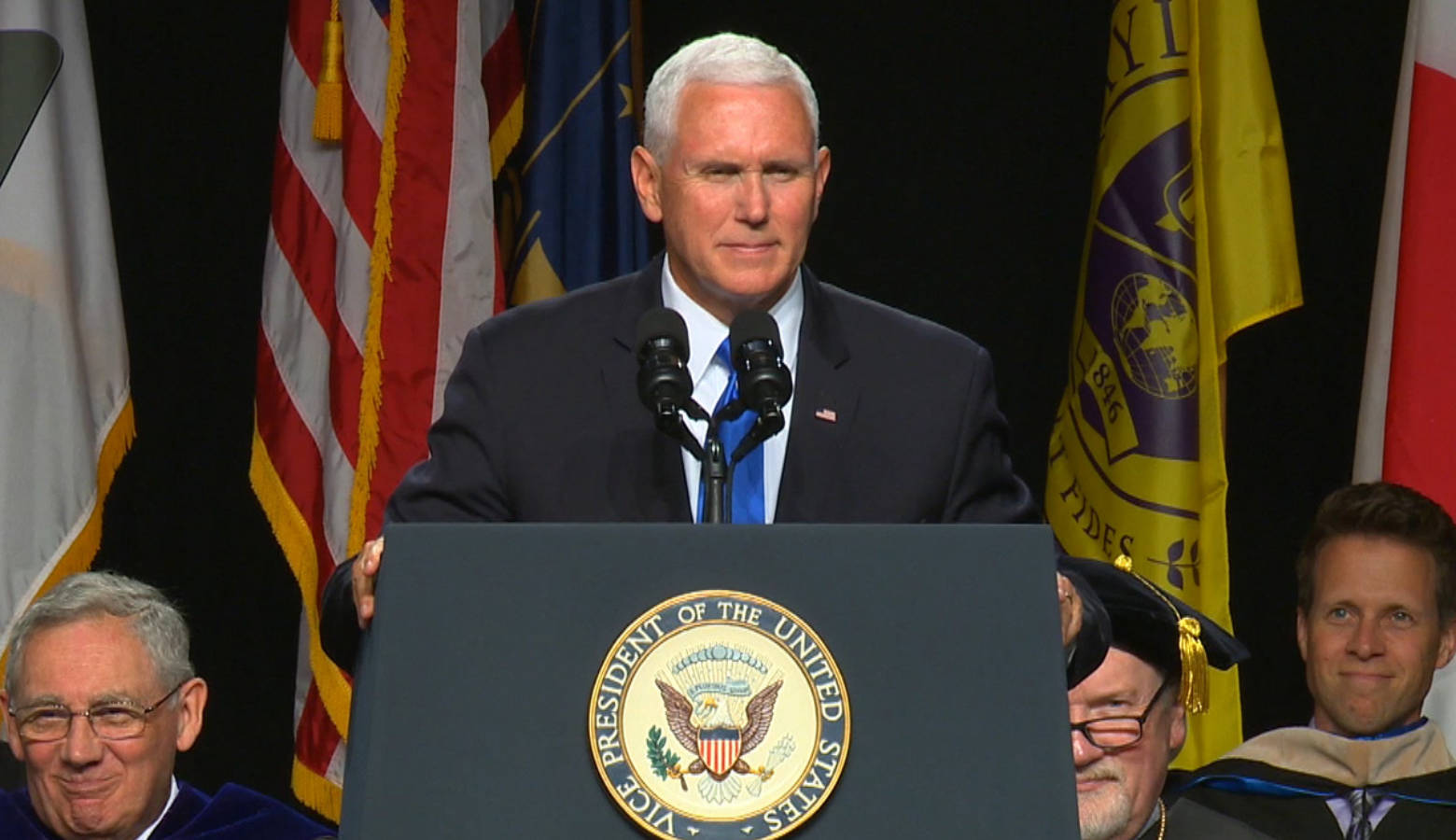 U.S. Vice President and former Indiana Gov. Mike Pence warned graduates at Taylor University's commencement Saturday morning they should be "prepared to stand up" in the face of "opposition" to their religious beliefs.
Most of the audience at Taylor, a Christian university in Upland, greeted the vice president with a standing ovation, but a few dozen students and faculty walked out in protest ahead of Pence's remarks. A small group also protested the vice president's visit outside the campus' main entrance Saturday morning.
Reyna Cotom's daughter Nancy graduated with a degree in social work from Taylor University. Cotom says she first heard Vice President Pence was set to give the commencement address about a month ago, but she says she didn't really think too much of it, because she doesn't live in Indiana.
"My daughter was a bit surprised when she heard Pence would be speaking," Cotom says in Spanish. "I guess he used to be the governor in this state? I don't know anything about that, we came all the way from California, so we didn't know he belongs here."
Cotom says though she's Latina and she understands the controversy surrounding Pence because he's Trump's vice president, she says she was there to support her daughter and he didn't affect her.
"If anything, I'm excited to see him," she says.
Inside the auditorium of the Kesler Student Activities Center, Pence told graduates, "Congratulations. You made it."
Pence recognized Taylor University President Lowell Haines, several graduating students and students' families. Pence also told the crowd that President Donald Trump sent his congratulations to the graduating class.
The vice president told students they're graduating at a great time for the U.S. economy. He says unemployment is at its lowest point in nearly 50 years and there are more job openings today than there are people looking for work.
"The America that awaits your energies and ambitions is experiencing a new era of optimism and opportunity," he says. "You're beginning your careers at a time of a growing American economy and restored American stature at home and abroad."
Pence points to recent attacks at synagogues in the United States and a mosque in New Zealand as examples of religious freedom being under attack. Echoing his address last week to graduates at Liberty University in Virginia, Pence told graduates to not be afraid to stand up for their faith.
"You know, throughout most of our American history, it's been pretty easy to call yourself a Christian," Pence says. "But things are different now. Lately, it's become acceptable – even fashionable – to malign traditional Christian beliefs."
His final piece of advice for the new Taylor University graduates was to serve others before themselves.
"Wherever life takes you, take a servant's attitude," Pence says.
Christine Newman-Aumiller and her sister, Marilyn Dodds, protested outside. Both are Taylor alumni and say they were disappointed Taylor chose Pence to deliver the commencement address. Both felt he didn't represent the service-driven mission at the core of the school's curriculum.
"Taylor stands for people with a servant's heart. That's why they give their graduates 'Servant's Towels," Newman-Aumiller says. "Mike Pence does not have a Servant's Heart, he does not deserve a Towel."
Taylor graduates receive Servant's Towels along with their diplomas. The towels are a reference to the Biblical story of Jesus Christ washing the feet of his disciples.
Steve Justus, a Pence supporter, held a sign on campus saying, "Keep America Great."
"Obviously, this is a university that promotes Christian values," he says. "And of course, our vice president supports those values as well and is a Christian man. And I think it's wonderful. I think it's wonderful for this community to have such a man as the vice president be here."
Michael Fite, another protester, flew a rainbow pride flag with a sign that read, "Be careful who you hate, because it may be someone you love."
He says he was standing up for LGBTQ rights. Fite says he was motivated to protest Pence's visit because his niece and nephew, who are LGBTQ, should have the same rights he does. Fite says he feels compelled to speak out when he can, especially when he thinks about Pence's record as governor of Indiana.
"We've seen the HIV outbreak, there in southern Indiana," Fite says. "Everyone's heard about his [support of] conversion therapy."
A student-created Change.org petition garnered thousands of signatures within weeks of the announcement that Pence would deliver the commencement address. The few dozen students who peacefully walked out were allowed to rejoin the ceremony after Pence's address.