These Two Schools Won Their Referenda This May. Here's Why That's A Big Deal.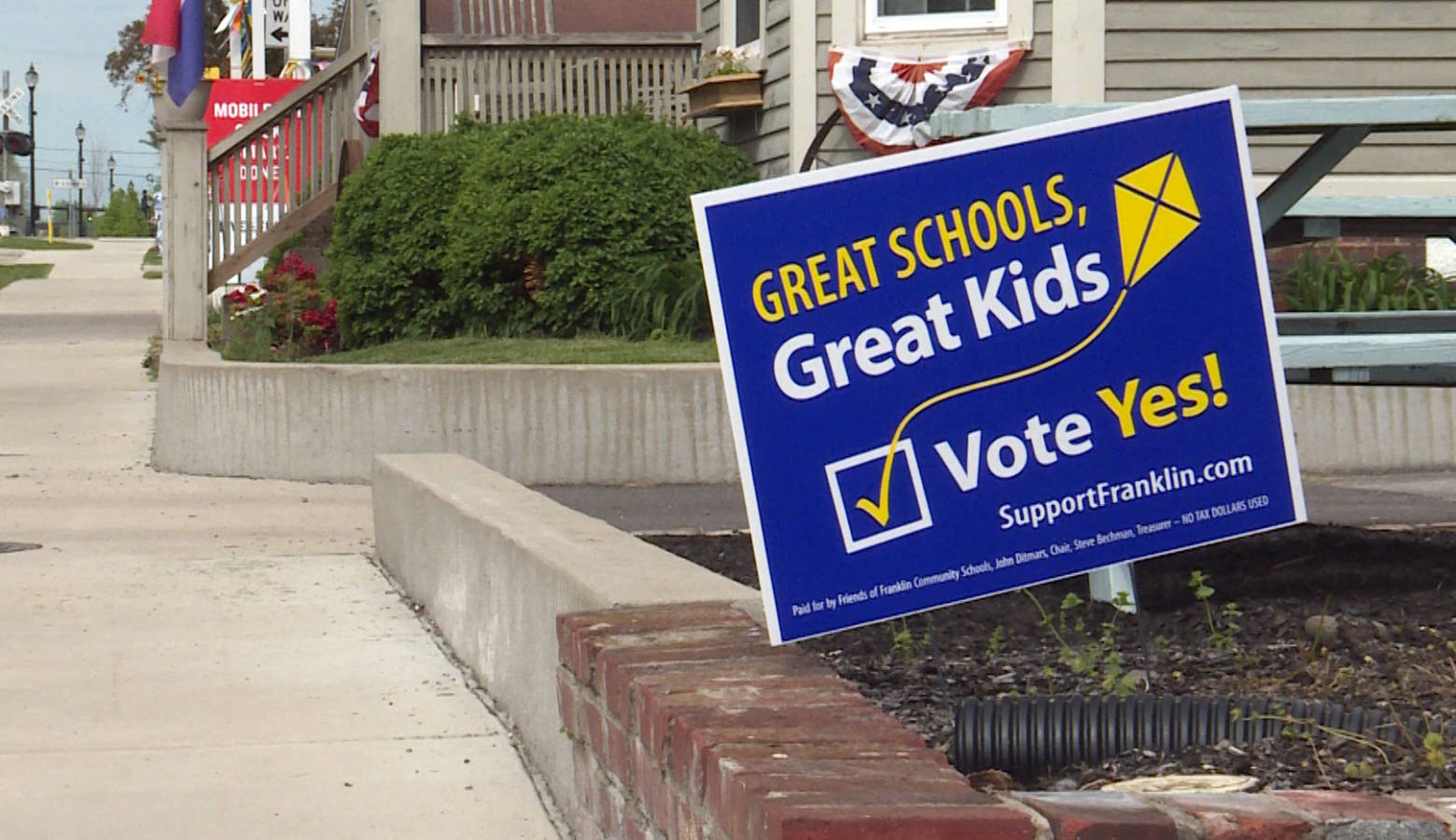 The steel mills of northern Indiana inspired the River Forest Community Schools mascot – the Ingots – and as high school senior Julian Wilson talks with a couple of his classmates, a clear theme emerges: school pride.
"Being in this school has really made me feel that Ingot spirit and I really just wanted to share that with people and give them my point of view," he says.
Wilson is talking about the funding referendum voters recently passed for the district. He's one of a handful of students who spoke with local taxpayers to get more of them to say yes – and they did.
Superintendent Steve Disney is breathing a huge sigh of relief, because he says without those dollars a lot of hard cuts were on the discussion table.
"Teaching positions, the staff positions, to looking at transportation for extracurriculars," he says.
River Forest and the rest of Lake County's schools are gearing up for a challenge most public schools in Indiana have faced for nearly a decade: property tax caps. They limit how much property tax revenue local governments, like cities, schools, and libraries can collect, based on the value of people's homes, land or businesses.
When the caps went into place in 2010, lawmakers gave Lake and St. Joseph counties a decade to adapt. So starting next year, Disney says River Forest is estimated to be cut off from collecting about another $600,000 in local funding.
"What that means at River Forest – that increase to 600,000 loss – would amount to our entire transportation program," Disney says.
Teacher pay and school funding were central issues for policymakers as they crafted the state's spending plan earlier this year, but the unpredictable structure of funding support in the state can be challenging for schools to navigate.
Since 2008, 118 of Indiana's public school districts – about a third – have asked their local communities for more funding through voter-approved tax hikes, or referendum measures. The state's budget adds $689 million more of direct state support for schools over the next two years, including a multi-million dollar pay off for some teacher pension debt that policymakers – including the governor – have said should help schools raise teacher pay.
But public school advocates say the school funding system remains fundamentally flawed.
State funding is determined by two key factors: student enrollment, and something called the complexity index, which offers more money for students who cost more to educate, like kids in poverty. State estimates show at least some districts will likely see little or no increases in funding, and others could lose money. Combined with more state dollars going to vouchers and charter schools, advocates say limits on property taxes have left many public schools scrambling for cash.
Executive director of the Indiana Association of School Business Officials, Denny Costerison, says the structure has made voter approved tax hikes an essential funding component.
"We have become – I mean I'm very honest to say – we have become a referendum state," he says.
He says previous changes to state funding mean some schools already have more money than others.
"There are discrepancies in the state, there's some equity issues. Meaning that some districts – because whatever circumstances in the past – are in a better situation fiscally than others are," he says.
Some districts, including several in central Indiana like Noblesville or Zionsville, pass referenda routinely and can depend on that funding, but not all communities can pass a referendum at all. Some don't have enough wealth in their communities, others just don't want to.
Franklin Community Schools (FCS) just outside of Indianapolis asked voters to approve a referendum for the first time this year, and is the first district in Johnson County to do so. The district built a new high school around the time tax caps were first put in place.
Jeff Mercer, executive director of finance and process specialist for FCS, says the community just wouldn't have supported one then.
"There was a lot of consternation about the building of the high school, so for us, 10 years ago, doing a referendum was not an option," he says.
FCS has seen slight increases in state support, but Mercer says the district has lost out on more than $27 million in local funding with the caps in place while costs, for things like utilities, improving teacher pay, and other school improvements, continue to rise.
Mercer says more teachers are leaving FCS for better paying jobs in neighboring cities and schools, sometimes in the middle of the year or semester, but the recently passed referendum funding is a way to help bridge those gaps.
"We had a teacher take a $21,000 pay increase to do the same job in a different district – that's a problem," he says.
Because a more level playing field across school corporations he says, offers stability for kids.
"You know we can all survive on less or more money and if you don't like what you make you can go somewhere else and survive it," Mercer says. "Those kids have no choice – that's where they're at."
Public school leaders say the attention and additional funding to schools this year is a positive step, and some – including Mercer – call the pension pay off plan a "game-changer." But when it comes to sustainable, equitable funding for all public schools in Indiana, Mercer says the state may have backed itself into a corner.
"I don't think the state of Indiana can fund much more than what they're funding now unless you want to start giving some things up," he says.
Lawmakers will study school funding this summer to figure out how best to target dollars to the most in-need schools through the complexity index, and they plan to study the effects of school referenda on teacher pay.
In the meantime, Mercer has some advice – especially for schools losing enrollment – while they wait for lawmakers to figure out next steps.
"Well I can tell you one thing is you better figure out how to eliminate waste and reduce variability and get as efficient as you can right now," he says.
Because without more funding from the statehouse, schools have to rely on their communities to keep classrooms open, or have fewer of them.