Muncie Mayoral Race: Candidates Say Strong Leadership Counts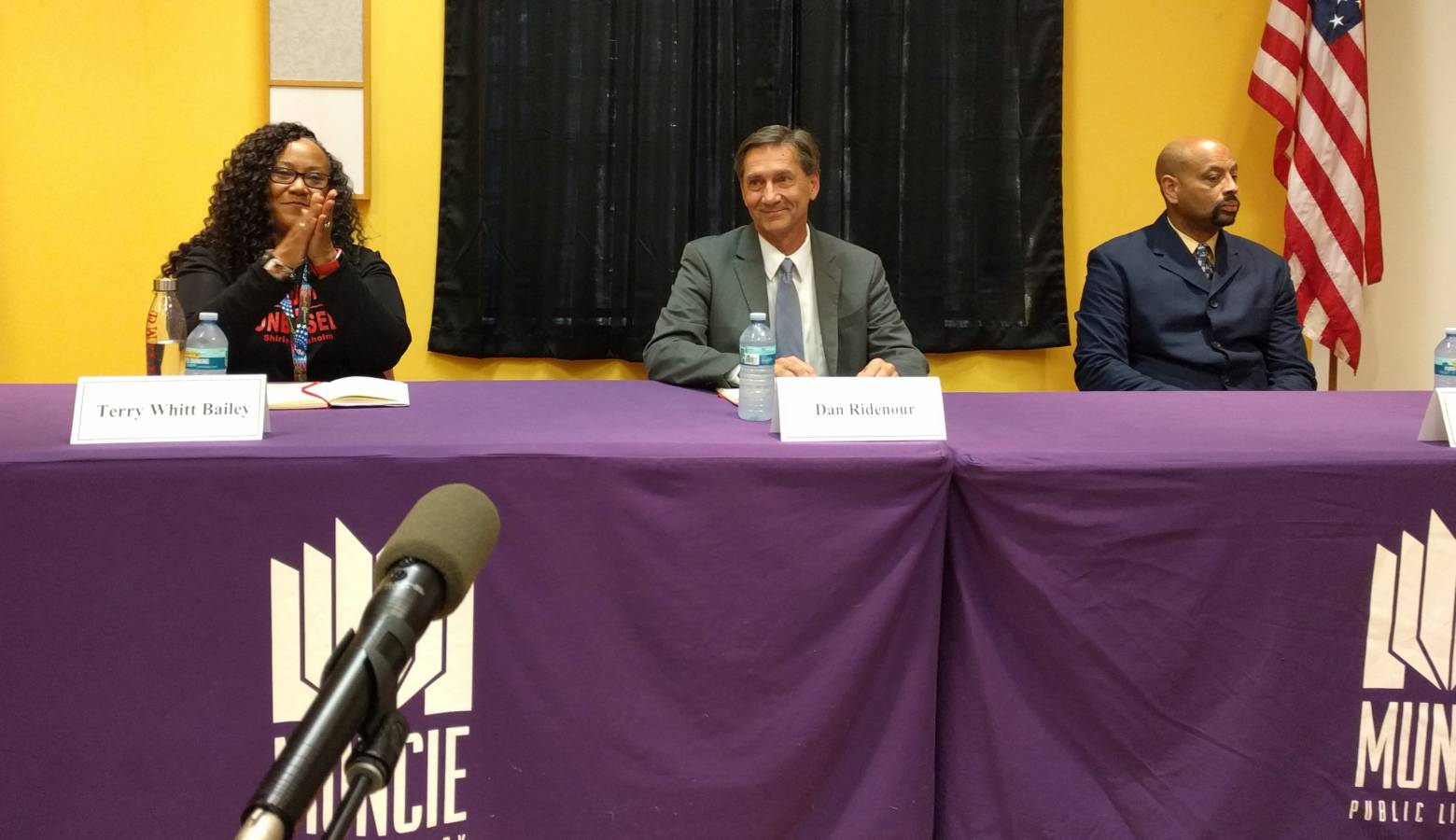 Muncie mayoral candidates shared the same table at a Muncie Public Library town hall Monday night.  And as IPR's Stephanie Wiechmann reports, all say that change for the city must come from the top-down.
The rules were one question for one candidate.  But with nearly 100 people in the room and more in an overflow room watching it on video, attendees quickly asked all three candidates to weigh in on the issues and, really, problems most important to them.
For Republican Dan Ridenour, problems require planned solutions.  He talked about transparency – making every government document available to all.  And for planning ahead, like with roads.
"We will set up a 10-year plan.  I'm not going to be in office in 10 years, but we're going to set up a 10-year plan.  Hopefully whoever is in office following me will take the opportunity to follow that and continue that plan, and develop their own 10-year plan.  Until we start planning long-term, nothing's going to change."
Democrat Terry Whitt Bailey says some problems, like between Ball State rental students and neighborhood homeowners, come up because the city rules aren't being enforced – or those rules aren't strong enough.  She wants that to change.
"As mayor, I'm not going to walk around and do code enforcement.  We need to have people in that office taking care of code enforcement.  And that's one easy way to fix that – just one, one way to do that.  And so as mayor, if I have to take EDIT dollars and put it towards that code enforcement, [a] rental registry, we will do that."
For Libertarian Steve Smith, problems require money to fix.  And he says Muncie doesn't have any.  He says he wants the community to be better informed about who is spending the money.
"How are we going to get roads when we got so much [money] going to the jail?  We can't even promise you those things because we got to redo our budget – nobody's talking about.  Who cares who's in leadership when you got no money to spend?  So they're trying to spend every penny they can up right now so the next person – whoever it is – in leadership is going to look like a fool."
Besides the standard questions of roads and budgets and community neighborhood divides, those at the microphone also asked about nepotism in city hiring and the relationship between police and the community, especially people of color.