Ball State Harp Professor Reflects on Decades of Teaching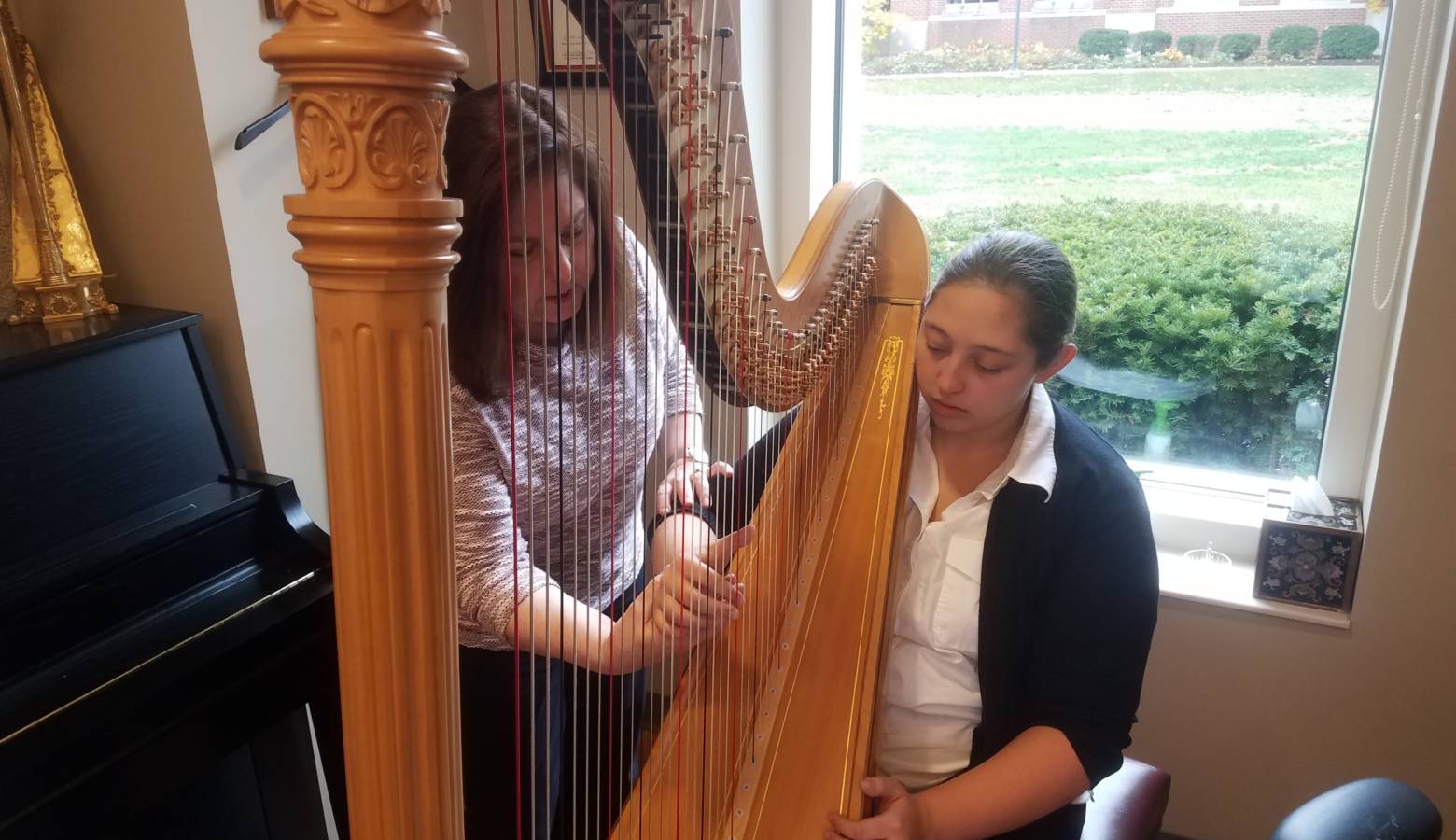 Ball State University harp professor Elizabeth Richter is set to retire at the end of the school year after almost 40 years in the School of Music. After all that time, she still loves teaching her students about what she considers a unique instrument.
Junior theatre major Arianna Zielinski found out about the possibility of taking harp lessons one day when she noticed a poster advertising them. She's been involved in the arts all her life, and learning to play the harp has been on her bucket list.
"Everyone says that college is the time to explore your interests and everything," Zielinski said. "I went, 'I'm going to do it. I'm going learn to play the harp.'"
She's been taking lessons since the start of fall semester under the direction of Richter, who is in the middle of her last year at Ball State.
Richter first discovered the harp in her senior year of high school.
"I became fascinated with it and started taking lessons, and the next thing I knew, that was all I wanted to do," Richter said. "It completely changed my life."
She's been teaching harp in the School of Music since 1982 and she's taught a variety of students over the years.
"Every semester, someone will get in touch and say, 'Hey, I'm a public relations major, but I saw your poster and I always wanted to play the harp' or 'I never thought about it before, but I think it would be really wonderful to play,'" Richter said. "I'm always very happy to work with those students."
The harp attracts interest from many adults, she said.
"Adults listen to it and they say, 'Oh, I wish I could play that,' and my response is, 'It's never too late to start harp lessons,'" Richter said.
Richter teaches at the Midwest Harp Festival every summer, and she says people in their 60s and 70s have come to the festival to learn about the harp.
"I love that festival because it is open to everyone from kids up to adult beginners," Richter said. "There's no age limit."
There are a number of unique qualities to the harp, according to Richter.
"There's something about holding the harp on your shoulder and the vibrations that you release when you pluck the strings that is very pleasing to your ear," said Richter, who has performed with orchestras such as Indianapolis Symphony Orchestra and the Kansas City Philharmonic.
The harp does come with its fair share of challenges, such as its size and a need to tune it almost every day. Even so, those inconveniences don't deter students such as Zielinski, Richter said.
"Most people just love it so much that they find a way to make it work," Richter said.
Zielinski says being interested in the instrument has made a significant difference for her.
"This is something I actually want to do, this is something I've had a passion for," Zielinski said. "I'm much more willing to put in the time and effort to practice because I enjoy it a lot more and I'm not being forced to do it."
Richter says what the arts provide is essential.
"If we don't continue to explore our creativity and share it with others, then we do lose a little bit of, a lot of our humanity," Richter said.
As for why she's retiring, she says it is time for her next adventure.
"I want to learn some new things, and it will be interesting to be the student rather than the teacher," Richter said.
For now, though, the lessons with students like Zielinski carry on.
Christine Hatfield is a reporter for a Ball State University arts journalism class.