Yoga and Beer Are Part of a Trend Toward Inclusive Classes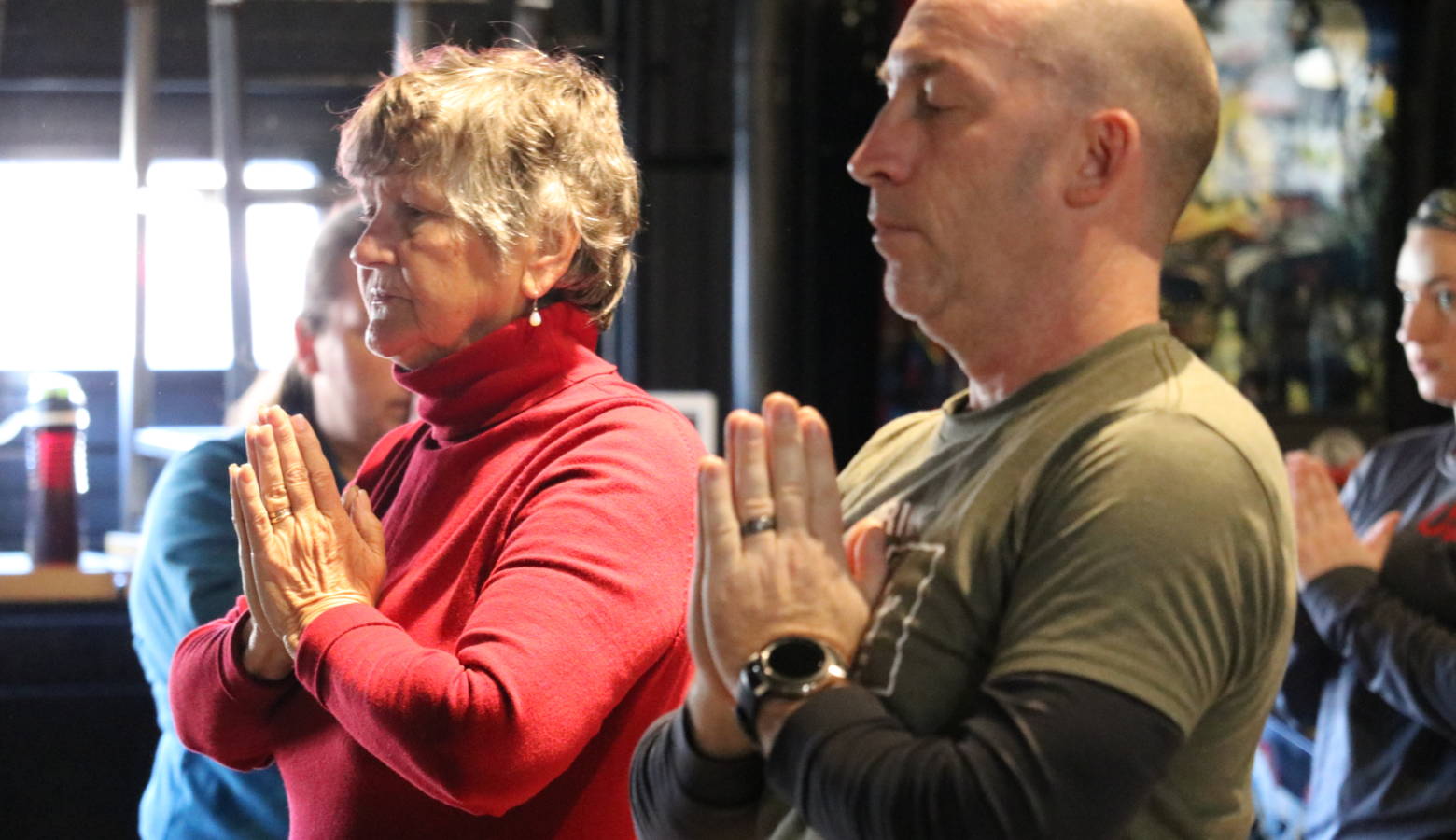 In the last few years, yoga classes have taken a turn to the unusual: bunny yoga, goat yoga, laughter yoga and even beer yoga are offered, and often in places outside traditional studios, such as breweries.
Lisa Dunaway, who is a certified Yoga instructor, says this change is fueled by the "Yoga for All" movement, which emphasizes that yoga is inclusive and is not just for a specific demographic or people of certain shapes or sizes.
Dunaway uses this non-intimidating, health-centered philosophy in her classes on Saturdays called "Yoga Before Beer: Never Fear" at the Guardian Brewing Company.
"I realized there was a different skill set that I could bring to local yoga classes because I have such a high interest in adapting classes to suit most any level of skill or experience," she said. "I am very big into safety and alignment and cuing variations for people."
Part of Dunaway's interest in the "Yoga for All" movement was fueled by the discovery that she had a connective tissue disorder called, Elhers-Danlos syndrome. This disease, Dunaway said, means she can hurt herself or easily suffer dislocations.
"I had spent my life trying to figure out what was wrong with me and yoga was really the only thing that I've been able to do that didn't injure me in some way," she said. "So, 'Yoga for All' really struck a chord with me because if I can create a practice that allows me to be safe, then perhaps other people can, too."
Dunaway said yoga is great for most everyone, especially people who spend their days working at computers or driving for their jobs.
"I've heard this saying that 'sitting is the new smoking,' and we sit too much," she said. "I don't know if it's that extreme; that's just a saying I've heard. We certainly¬ – and I think most people would agree – that we do sit too much. Yoga is really nice for building some core strength and lengthening up your spine, especially when we do forward folds and things."
Dunaway also said yoga has helped her participants with relieving stress and anxiety, and it helps give them peace of mind. One of Dunaway's clients, Nancy Carlson, has been participating in
"Yoga Before Beer" for two years, and has been practicing yoga for about 10 years at three different studios in Muncie.
"It (Yoga Before Beer) sounded like a lot of fun, Carlson said. "I do yoga, anyway. Saturday is a good time. So, I thought having it at a brewery is fun, because my husband doesn't do yoga, but he comes and joins us for a beer when it's over."
Carlson said that stretching helps make her joints more limber, which gives her more "pep." "I don't have to do yoga. I want to do yoga. It's very different than taking a run, or even an exercise walk. I really want to do it for my body," she said.
Dunaway said that because "Yoga Before Beer" is based around "Yoga for All," it is accessible to people with mobility issues. She says her class is also a great segue into more difficult classes around Muncie.
"This style is really nice for the brewery because we get a very diverse crowd, as you can see, half of the participants were men and all ages¬ – I think 22 or so, on up into their 60s," she said. "So, it doesn't matter if you have a little bit of mobility limitations, maybe you have an injury you're working through, maybe you're a little older, maybe you're a little overweight; this is a style of yoga that is more universal than what people typically think of as yoga."
When participants walk into "Yoga Before Beer," they receive a "tiny beer," if they would like one, before the session begins. All participants must be over the age of 21. According to Dunaway, not everyone who comes to the class is a beer drinker, and that's okay, too. After participants receive their beers, they can either drink it at the bar before the class starts, or they can enjoy them during the session.
"Yoga for Beer: Never Fear" takes place every Saturday morning from 10:45 to 11:45 a.m. at the Guardian Brewing Company.
Brandi Geister is a reporter for a Ball State University arts journalism class.