Hundreds Protest 'Stay-At-Home' Order Outside Governor's Mansion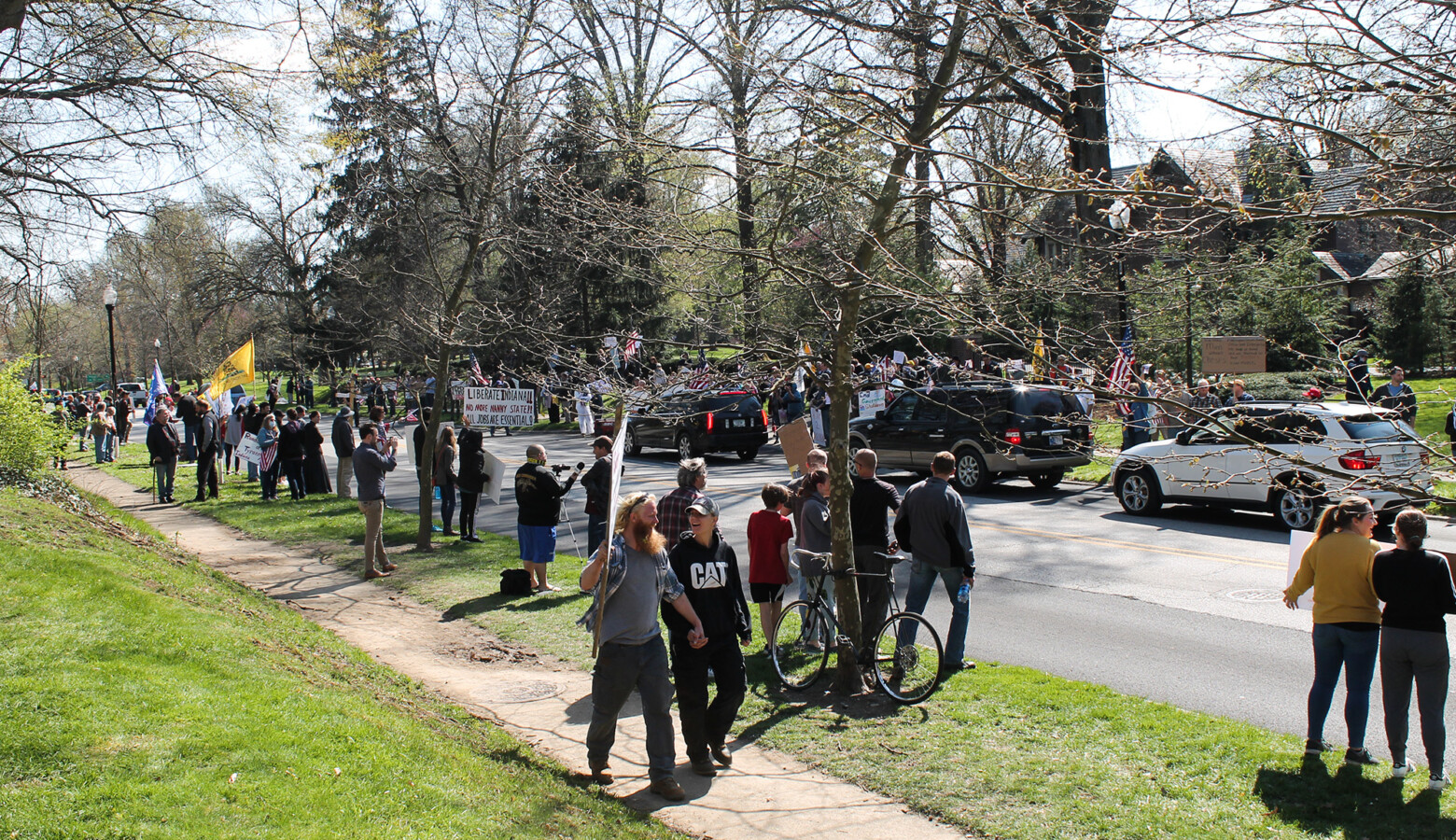 Hundreds of people gathered in front of the governor's mansion Saturday to protest Indiana's "Stay-At-Home" order. Demonstrators say the plan to slowly reopen businesses in less than two weeks isn't fast enough.
Protesters lined the street in front of the governor's mansion waving American flags and holding signs as supporters honked in passing. One of those protesters, Jennifer Gallagher, is a small business owner and mother of a high school senior.
READ MORE: Can I Go For A Walk? Here's What The Expanded 'Stay-At-Home' Order Really Does
Join the conversation and sign up for the Indiana 2020 Two-Way. Text "elections" to 73224. Your comments and questions in response to our weekly text help us find the answers you need on COVID-19 and the 2020 election.
LEE MAS: ¿Puedo Salir A Caminar? Esto Es Lo Que Significa Una Orden De Permanecer En Casa
She says Gov. Eric Holcomb has overreached and overreacted to the global pandemic.
"The reason that we should be all working is because when the healthy, working people–we're the ones that take care of the sick and the weak people. But we have to work to do that," Gallagher says.
She says, the state's death or case count isn't being contextualized and compared it to the number of people who die every year from opioid overdoses or car crashes.
"There is a risk to walking out your door everyday. But the strong and the young people need to work so we can support the people that are weak so that they can stay quarantined," Gallagaher says. "This is ridiculous. Open up America."
Another protester, Steven Frazier says Holcomb's plan to reopen the economy is too slow.
"We need to revert back to what was functioning before, which is opening up the businesses and letting them decide – along with the consumers – what's best for them," Frazier says. "We don't need tyranny, we don't need bureaucracy. We need our freedoms restored."
Holcomb says he is extending his "Stay-At-Home" order to May 1, after which he plans to slowly reopen parts of the economy.
Contact Lauren at lchapman@wfyi.org or follow her on Twitter at @laurenechapman_.
This is a rapidly evolving story, and we are working hard to bring you the most up-to-date information. However, we recommend checking the websites of the Centers for Disease Control and Prevention or the Indiana State Department of Health for the most recent numbers of COVID-19 cases.