Village Green Records owner says goodbye to Muncie community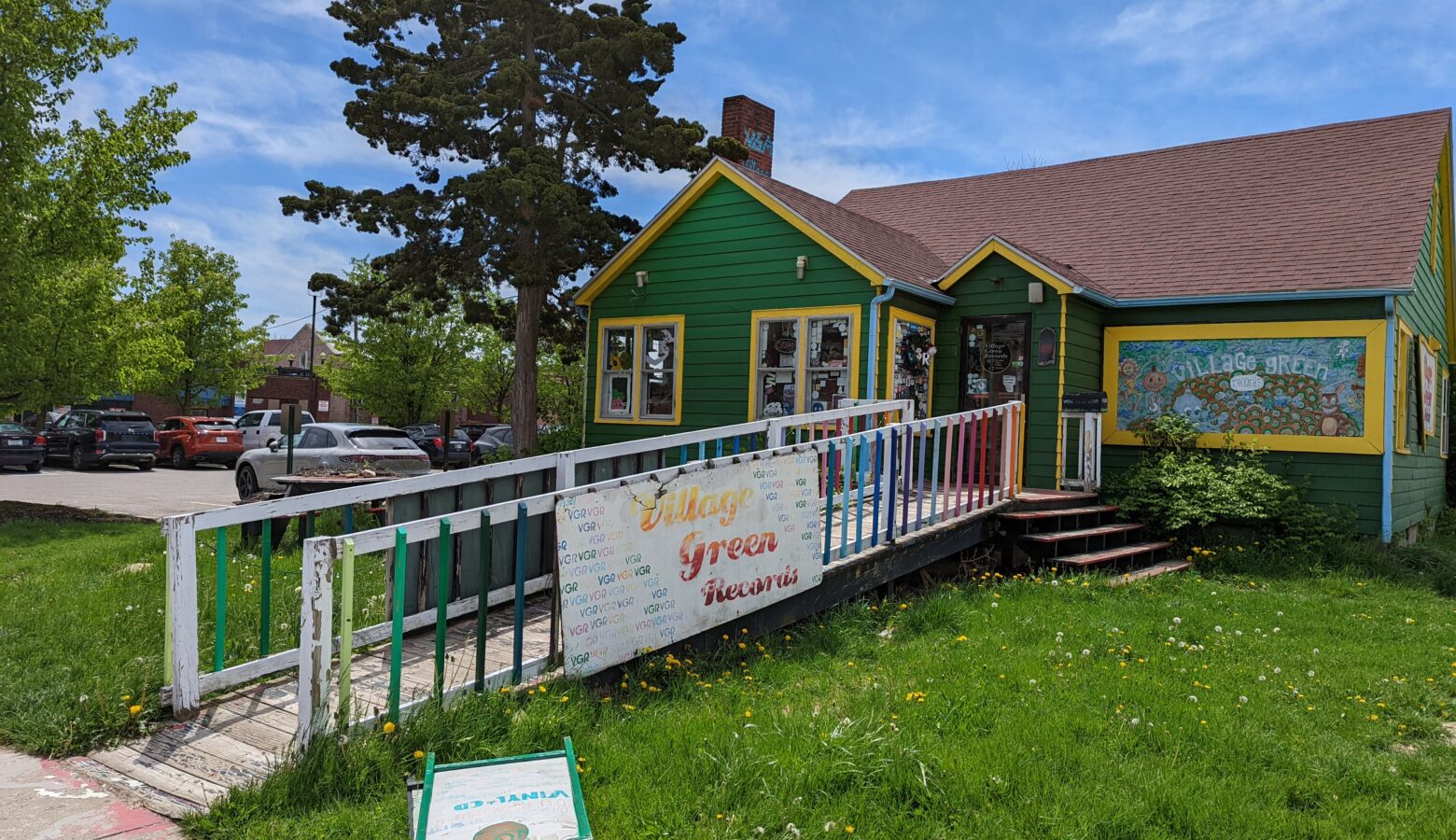 "I think every city in America should have a record store,"
Travis Harvey, owner of Village Green Records (VGR), started out as a business associate at the record store in 2006, but slowly found himself imagining a different vision for the store – which consisted of five or six crates of classic records at the time.
"I had a sort of different kind of vision for the store,"  Harvey said. "There was definitely qualities about it that I wanted to carry over, but that [also included] affordable records, kind of quirky stuff and hosting shows." 
The five to six crates of classics, over the last 10 years, has morphed into a home filled floor to ceiling in albums, records, and compact discs. Not only covered in music, the house exudes music as well.
"The atmosphere is always welcoming," Erik Nelson, a junior marketing major said. "[It's] very enjoyable to walk in to the music playing."
Harvey said when he went onto the "small business venture" he didn't realize the way his business affected people in the Muncie community. 
"I didn't think about how this space or the types of records that I recommend and the conversations I would have would necessarily create a sense of belonging, and a home away from home — a sense of community and safety even." Harvey said. "It's important to me to create a safe space that invites everyone in, but until you're told by someone 'I came to your store and it was more meaningful than going to a therapist'… I can't deny the gravity of something like that."
In an attempt to expand customers' music tastes, Harvey said he feels connections are made because of music.
"Having records and dealing with music, I think if you are connecting to someone on a level that's a little bit more intimate — maybe even vulnerable," Harvey said. "I kind of confront people and try to really expand their tastes. I try to expose them to new things and by doing that, I think that connection is made a little bit more personal."
Nelson said VGR was great when he wanted to invest in more records and find new music.
"[Harvey is] very knowledgeable and always looking to give or share suggestions," Nelson said. "Every interaction I had with [Harvey,] I left thinking about new things I had never considered. It helps acknowledge the impact he had on every customer."
Harvey said he appreciates the support that he's been given by VGR's regulars, the community, and "people that have had a special relationship with Village Green records over the years."
"I don't want to leave all that. This decision isn't rooted in a distaste or a disenchantment with Muncie," Harvey said. "But it's just, it's time."
Harvey said moving is something he and his partner have been thinking about for a while. His partner, Sarah, "has always had an interest in Montgomery, Alabama."
"I didn't want to see Muncie go as a town without a record store. And likewise, I don't want to see somewhere like Montgomery, Alabama being without a record store," Harvey said. "And right now, they don't have a record store, so it's the perfect opportunity for me to go down there."
As for Muncie, Harvey said he hopes to expand VGR to reach a wider audience, but also "keep in touch with the people in Central Indiana and regulars to, in any way we can, continue to nourish and provide cool, exciting new music to people."
Harvey said community members wanting to stay in touch and seek new music from VGR are now able to subscribe to its Patreon site — where Harvey is able to analyze a customer's musical preferences and curate a package of hand-picked vinyl, CDs, and more.
When it comes to a local VGR store front, Harvey said he doesn't want to leave Muncie "high and dry" without a local record store.
"I also have been working with one of our team members, Celeste, in helping her learn about the process of running a record store," Harvey said. "[Teaching her] everything that I've come to learn through my experiences, with the goal of her continuing her own record store here in this very location."
Kamryn Tomlinson is a reporter for a Ball State University immersive-learning journalism class.