'Please say gay': House bill to limit 'human sexuality' discussion in schools passed by committee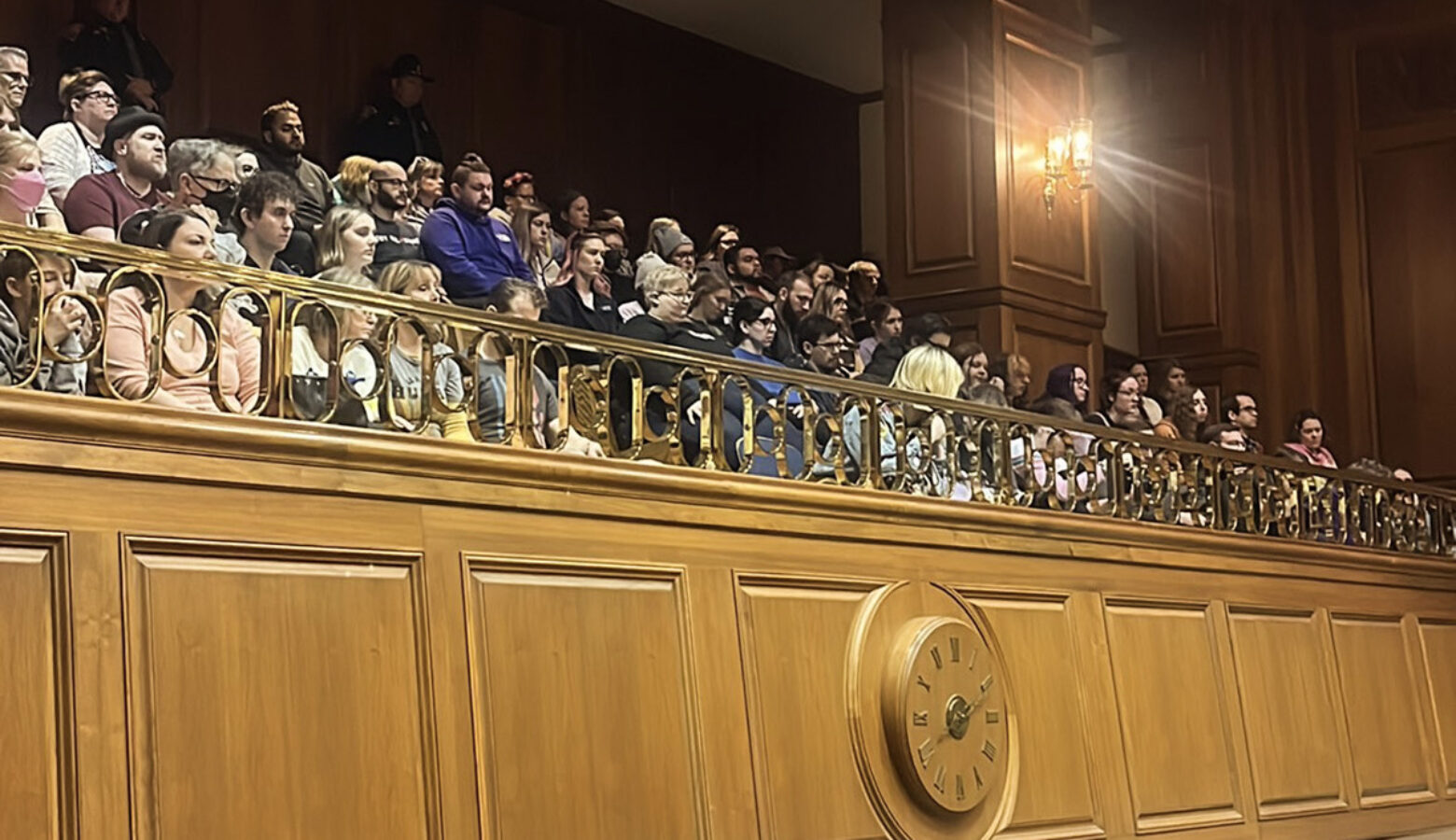 Legislation that would limit discussions of human sexuality and how students express their gender identity in classrooms was passed by the House Education Committee on Monday.
House Bill 1608 would prohibit instruction to students in kindergarten through third grade about "human sexuality. " This amended version of the bill is significantly different from the initial legislation, which prohibited discussion of "gender fluidity, gender roles, gender stereotypes, gender identity, gender expression and sexual orientation."
The original language drew hundreds of LGBTQ+ advocates who gathered outside the House chamber Monday to protest. Many have seen this and similar proposed bills in Indiana and across the country as an attack on transgender children. Three people were forcibly removed from the chamber after shouting at lawmakers and people testifying during the hearing.
Bill author Rep. Michelle Davis (R-Whiteland) said this bill would "empower parents" by ensuring they are in "the driver's seat" in introducing topics related to human sexuality to their children.
"Schools should not shield a parent from knowledge about their child," she said.
While the amended bill includes a provision that would allow school staff and employees to answer questions regarding these concepts, many LGBTQ+ advocates asserted this language was too vague.
Rima Shahid is the executive director of Women4Change Indiana.
"It leaves a lot of room for interpretation and ambiguity, making it unclear what content, discussion or instruction is banned," she said.
The amended bill also includes provisions that would prohibit teachers and other school staff from being disciplined for not using the student's requested pronouns or name that is inconsistent with the gender they were assigned at birth.
Claire Curran, a student at Brebeuf High School in Indianapolis, said the language of this bill creates a hostile environment.
"I often wonder when talking to children about how to respect everyone became controversial," she said. "When allowing children to feel safe in their schools was viewed as predatory as well as a part of life. The fact is LGBTQ+ people exist. They are parents. They are friends. They are teachers. They are students. They are people. People who have every right to exist in public spaces and live their lives freely."
READ MORE: Indiana lawmakers file record number of anti-LGBTQ+ bills, tripling previous years
Join the conversation and sign up for the Indiana Two-Way. Text "Indiana" to 73224. Your comments and questions in response to our weekly text help us find the answers you need on statewide issues throughout the legislative session. And follow along with our bill tracker.
Chris Paulsen is the CEO of Indiana Youth Group. She said this bill, along with other anti-LGBTQ+ legislation introduced this session, will also be mentally and physically harmful for LGBTQ+ youth.
"We know having at least one accepting adult in their lives can reduce the risk of suicide attempt by LGBTQ+ youth by 40 percent. Why would we legislate to remove the chance of that adult in a teacher?" she said.
Various faith leaders spoke against the bill as well. The Rev. Chris Duckworth said this bill is discriminatory against LGBTQ+ youth.
"As our elected leaders, your first responsibility is to the wellbeing of your constituents and above all, your actions must do no harm," he said. "But the Indiana General Assembly's 'slate of hate' is a disgraceful attempt by a handful of politicians to score political points by harming the children, teachers and families they claim to represent."
Some spoke in favor of the bill – saying it is a parent's right to discuss these topics with their children. One of them, Paula Davis, is the mother of three school-aged children.
"For any educator who believes they have a right to discuss this with children is trampling on the rights of parents," Davis said.
The bill passed in a vote of 9-4. A similar Senate bill was not called for a hearing last week following pushback against it.
House Bill 1608 now moves to the full House for a vote.
Violet is our daily news reporter. Contact her at vcomberwilen@wfyi.org or follow her on Twitter at @ComberWilen.