Measures to spotlight health risks from PFAS in firefighter gear close to becoming Indiana law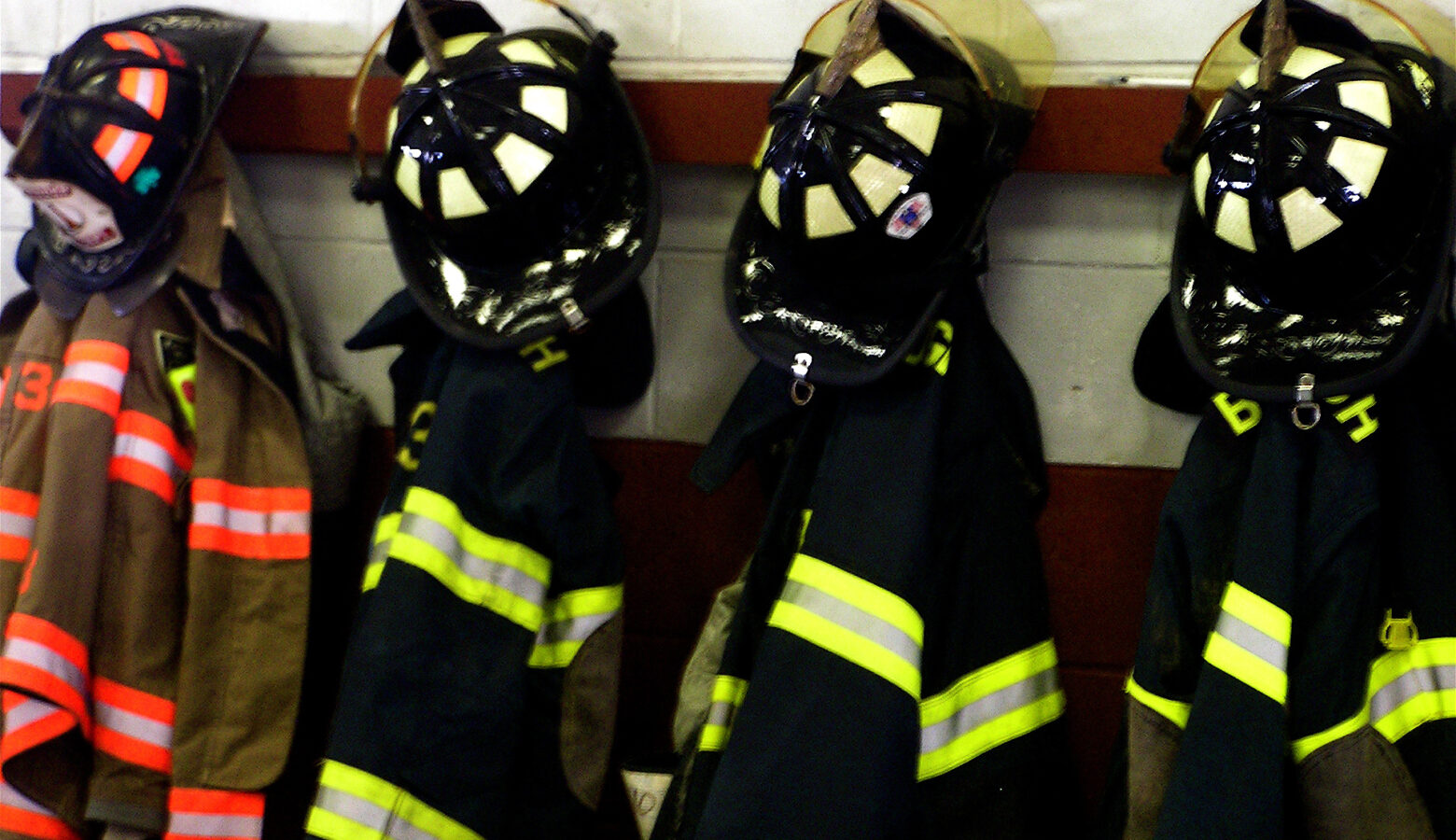 PFAS exposure can pose a significant cancer risk. And it's present in the moisture barrier firefighters wear under the rest of their gear to repel water and oils that could pose a risk to their safety.
PFAS , also known as "forever chemicals," are human-made chemicals found in everything from carpets, to fast food wrappers, to firefighting foams on military bases — like Grissom Air Reserve Base near Kokomo.
The chemicals used to be present in more parts of firefighter gear. As concerns about PFAS' potential link to disproportionate rates of cancer among firefighters have been raised, manufacturers have whittled away at their presence in almost every part of the gear except for that moisture barrier.
"That same piece of clothing that we think is helping us is also hurting us to a certain degree," said South Bend Fire Chief Carl Buchanan. "So we want the manufacturing companies to really take a stand on making the products safer for everyone. We appreciate that they've even come this far because they are a lot better off than they were, but they're still not preventing us from getting cancer."
Indiana is close to creating two laws that aim to draw attention to the health risks firefighters face from PFAS. These bills won't remove potentially dangerous PFAS chemicals from firefighter clothing, but lawmakers and firefighter advocates hope it will be a step toward that.
The first of these bills to pass on to the governor's desk is House Bill 1341. The bill wouldn't allow Indiana fire departments to purchase gear unless it has a label stating whether or not it contains PFAS. There is no PFAS-free alternative to the existing moisture barriers.
But, the bill's supporters, like vice president of the Professional Firefighters Union of Indiana Mike Whited, said it'll help "put pressure on the federal government to do some research and development and get these textile companies to start making PFAS-free gear."
House Bill 1219, authored by Rep. Maureen Bauer (D-South Bend), would create a pilot blood-testing program that up to 1,000 firefighters can volunteer to participate in. The House passed HB 1219 with unanimous support earlier in the session and the Senate passed it unanimously this week.
"There is no way for firefighters to even know if they've been exposed or if they have higher elevated levels," Bauer said. "This [testing program] is just giving them one more tool to be able to monitor their own health and kind of connect the dots between those statistics and what we believe is true with those elevated [PFAS] levels."
READ MORE: House advances pilot blood testing program, aims to show how PFAS makes firefighters sick
Join the conversation and sign up for the Indiana Two-Way. Text "Indiana" to 73224. Your comments and questions in response to our weekly text help us find the answers you need on statewide issues throughout the legislative session. And follow along with our bill tracker.
The version of the bill that passed the House originally said the state "shall establish the PFAS bio-monitoring pilot program." The Senate replaced that "shall" and several other mandates in the bill with "may."
The measure has been sent back to the House to approve those changes before it can head to the governor's desk for a potential signature. Bauer has already filed a motion for the chamber to concur with the Senate's changes.
There is no alternative to firefighter's PFAS-laden moisture barrier yet due to somewhat controversial standards set by the National Firefighter Protection Association. NFPA standards are not necessarily laws, but committees made up of representatives from fire departments, manufacturers, labor groups and more set standards that are followed closely by fire departments across the nation.
The association's standards for moisture barriers aim to ensure effective protection of firefighters under extreme conditions. That includes testing barriers by exposing them to harsh ultraviolet (UV) light. The only barriers, so far, that haven't cracked and let moisture seep in under that test are the ones that have PFAS in them.
But many firefighters and experts argue the standard set by that test is unreasonable. Among them is Graham Peaslee, a University of Notre Dame professor, who has used applied nuclear physics to measure and study PFAS in clothing, firefighter gear and various other materials.
"There is a much better developed polyurethane liner now that would work just fine," he said in an interview. "Nothing survives UV light except for [gear with PFAS] … but there's no need to have something that survivable because we're not going to expose any inside of a firefighter that much UV. They would get such bad sunburns that they would die of melanoma. So that's an artificial test that keeps that thing in."
But a NFPA committee didn't fully agree with such assertions when the International Association of Fire Fighters asked them to amend the standard to remove the UV test in 2021.
Opponents of the change, including representatives from manufacturers of existing moisture barriers as well as some fire departments argue, "removing this test without understanding of how removal will affect the moisture barrier could inherently be a serious risk to firefighter safety given the barrier is a primary protection from water and other common liquids, including chemicals and bloodborne pathogens encountered."
Peaslee and others hope bills like these becoming law in Indiana and across the nation will help improve data collection about the impact of PFAS on firefighter's heath relative to other risk factors that may be contributing to firefighter cancer rates, like smoke.
"I cannot tell you to regulate smoke out of existence," Peaslee said. "I don't see why I can't regulate PFAS out of existence. Because then you would be wearing one less carcinogen — and it may not be the biggest carcinogen, but it may be. We don't know."
Once awareness of the risk PFAS poses rises, he and others say, it may be easier to get changes to the NFPA standard made.
Indiana Public Broadcasting's Rebecca Thiele contributed reporting to this story.
Adam is our labor and employment reporter. Contact him at arayes@wvpe.org or follow him on Twitter at @arayesIPB.