2023 COVID-19 boosters will soon be available to Hoosiers. Here's what you need to know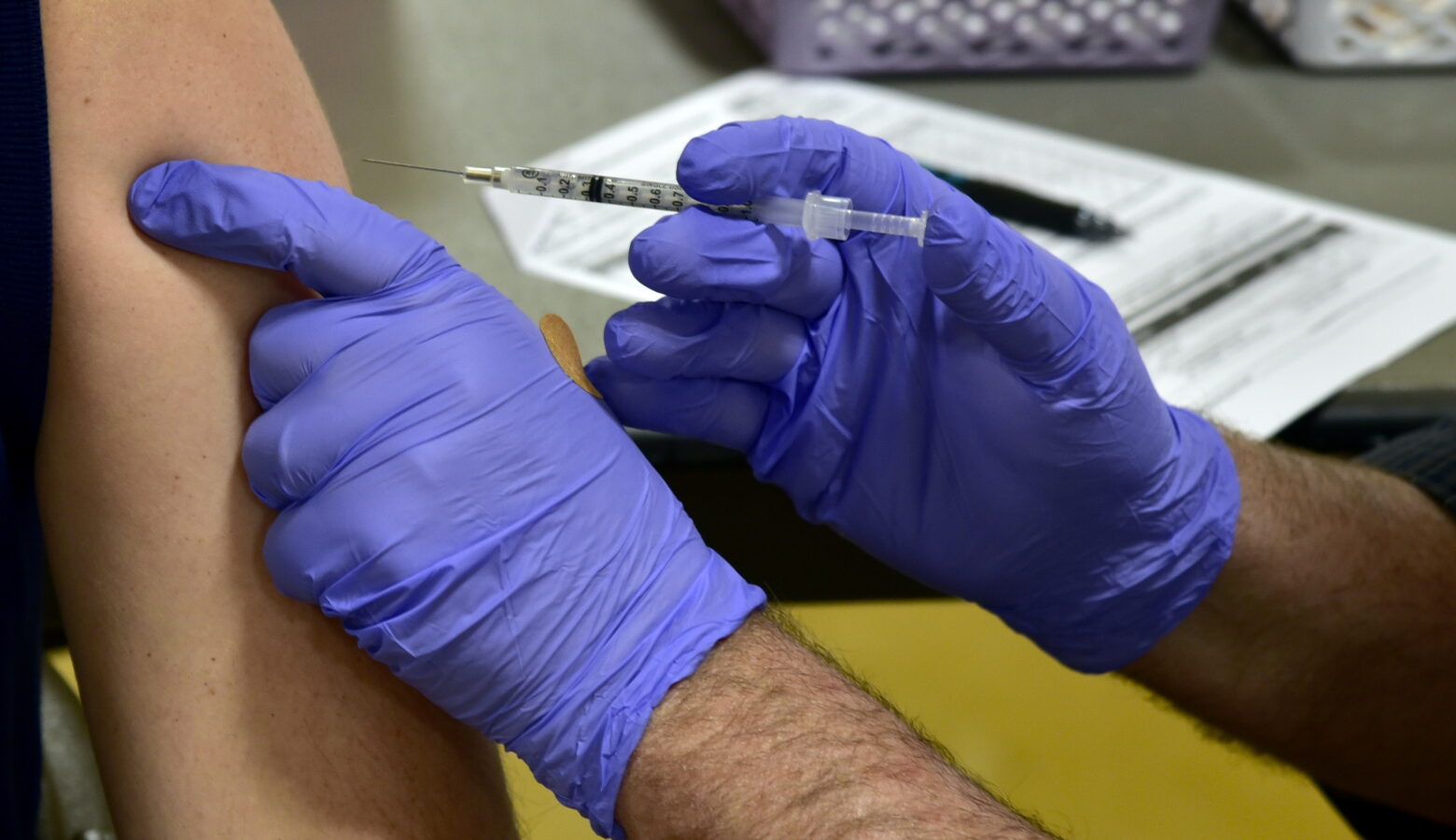 A new COVID-19 booster vaccine will be available to Hoosiers by the end of the week after the Centers for Disease Control and Prevention updated its guidance. The new booster is designed to address strains of the virus that have caused an increase in hospitalizations over the last few months.
The booster is a monovalent vaccine, which means unlike last year's bivalent, it targets one specific variant of the virus. Dr. Robin Ledyard is the chief medical officer for Community Health Network. She said there is a difference between this year and last year. The multiple strains now moving through populations globally have a lot in common.
"Because the newest mutation is very similar to the last one, they have shown good response with this vaccine in terms of — again — helping limit the severity of illness and preventing," she said.
The monovalent vaccine is also effective at preventing long COVID, Ledyard said.
"They see that when people have gotten the vaccine, they have less likelihood of getting long COVID if they do get COVID. Which is actually fantastic news for people," she said.
The risk of long COVID is decreased when a person has their initial vaccine series and is improved by staying up-to-date on boosters.
Ledyard said the approach for the monovalent vaccine is similar to developing yearly flu shots.
"When you do the flu shot, they take last year's data and kind of base it on that for next year's flu, knowing that the mutations won't be that great — and that they assume that that vaccine will work," she said. "They're now doing the same with COVID."
The CDC recommends the newest booster for everyone ages 6 months and older. Ledyard said these boosters are especially important for young children.
"What we know too, is that some of the young kids, less than age 5 even without comorbidities, end up getting pretty sick and hospitalized," she said. "So this is worth helping protect your child as well."
To find an available appointment near you, go to OurShot.in.gov or schedule with your local pharmacy.
Join the conversation and sign up for the Indiana Two-Way. Text "Indiana" to 73224. Your comments and questions in response to our weekly text help us find the answers you need on statewide issues.
Is the vaccine safe?
The vaccine is well-tested and safe, Ledyard said. Despite how quickly the mRNA COVID-19 vaccines were developed, the technology they're based on isn't new. The monovalent vaccines were tested by more than 600,000 people in clinical trials.
"The safety profile continues to just amaze me," Ledyard said. "In terms of when you read about the safety profile from an epidemiology standpoint, it's one of the lowest risk vaccines out there."
According to the CDC, mRNA vaccines teach your cells how to make a protein — or even just a piece of a protein — that triggers an immune response inside our bodies. That immune response, which produces antibodies, is what protects you from getting infected if the real virus enters our bodies.
What is in the vaccines? 
The Moderna monovalent booster, known as Spikevax, contains mRNA, lipids (SM-102, polyethylene glycol [PEG] 2000 dimyristoyl glycerol [DMG], cholesterol, and 1,2- distearoyl-sn-glycero-3-phosphocholine [DSPC]), tromethamine, tromethamine hydrochloride, acetic acid, sodium acetate trihydrate and sucrose.
That's four different fats, salt, sugar, tromethamine, tromethamine hydrochloride and acetic acid.
Comirnaty, the Pfizer-BioNTech monovalent booster, contains mRNA, lipids ((4-hydroxybutyl)azanediyl)bis(hexane-6,1-diyl)bis(2-hexyldecanoate), 2-(polyethylene glycol 2000)-N, N-ditetradecylacetamide, 1,2-distearoyl-sn-glycero-3-phosphocholine and cholesterol), tromethamine, tromethamine hydrochloride and sucrose.
Basically, that's three types of fats, cholesterol, sugar, tromethamine and tromethamine hydrochloride.
Tromethamine and tromethamine hydrochloride are acid stabilizers that — in tandem with sugar and acetic acid — help the vaccine maintain its structure after it is produced.
Can I get COVID vaccines or boosters if I've had allergic reactions to other vaccines in the past?
The most common allergic reaction — especially in flu shots — are in people with egg allergies. The most common flu vaccines are developed with egg-based technology, but the Food and Drug Administration and CDC said common food allergies and medicines shouldn't prevent most people from receiving the vaccine.
You should speak with a health care professional if you've had mild allergic reactions to prior COVID-19 vaccinations in the past.
Are there other serious side effects? 
According to the CDC, "The most common reactions following COVID-19 vaccines are pain, redness, and swelling where the shot was given, and headache, fever, muscle aches, chills, or fatigue."
Anaphylaxis is also possible like with any vaccine, but the CDC said it is "rarely observed" with COVID-19 vaccines.
A small group of people experienced myocarditis and pericarditis — inflammation in heart muscle and surrounding tissue — following COVID-19 vaccines, which mostly resolved within 90 days, according to the CDC. Most of those cases were in adolescent or young adult men and happened about a week after completion of the second of the initial two-part vaccine series.
Myocarditis from COVID-19 infections are six to 10 times more likely than from the vaccine. And the CDC said, in one study in the same age group, no cases of myocarditis were observed after a single bivalent booster following that original series in nearly 56,000 cases.
Lauren is our digital editor. Contact her at lchapman@wfyi.org or follow her on Twitter at @laurenechapman_.