'We've never done this': Indiana UAW workers prepare for 'targeted' strike strategy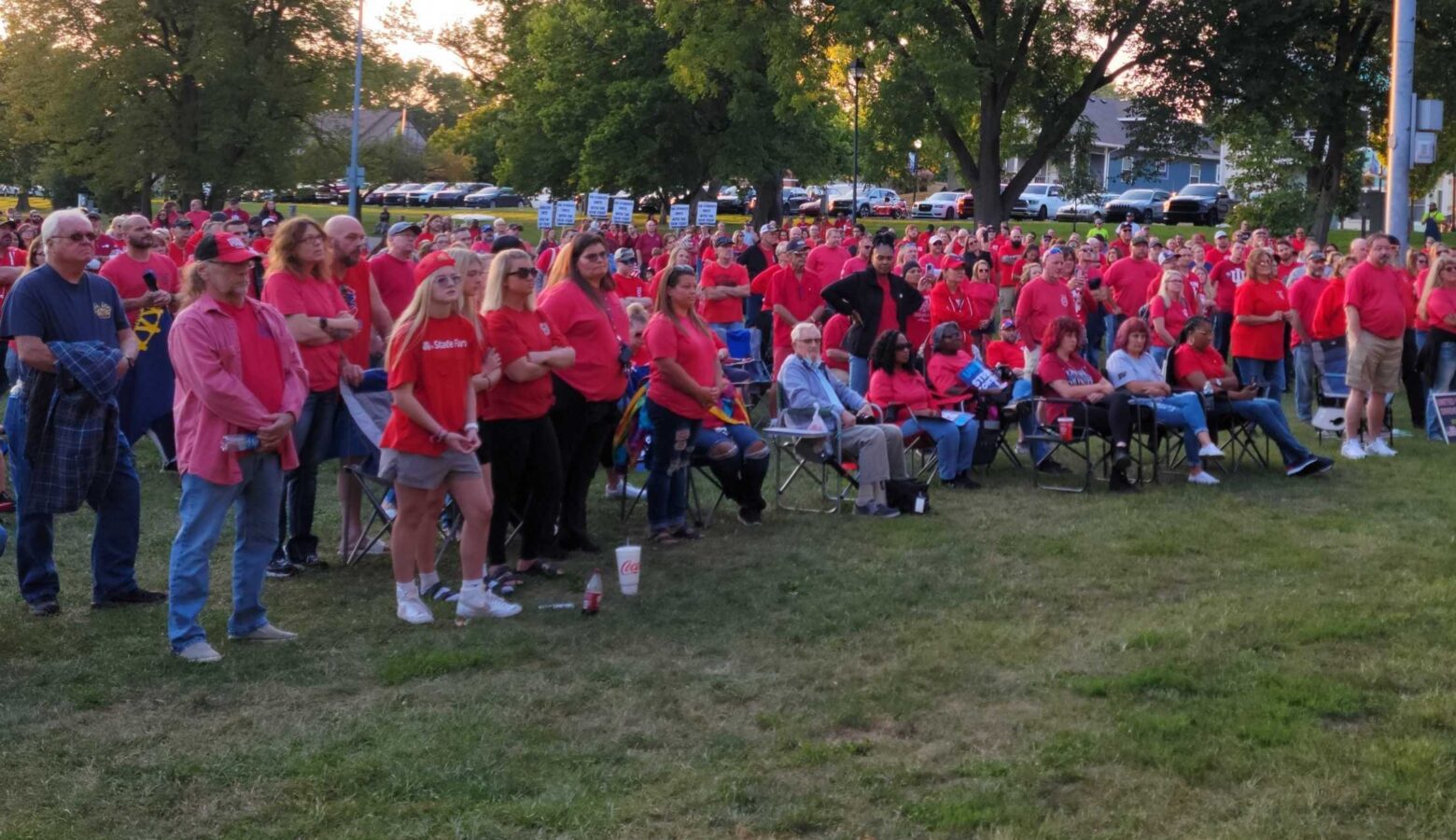 The United Auto Workers union is less than 24 hours away from a potential national strike at major auto manufacturers. UAW members in Indiana are ready to take to the picket lines, but this possible strike's strategy is unusual.
If Ford, Stellantis and General Motors fail to offer a contract the UAW will agree to by midnight tonight, workers are poised to strike. But not every plant will join the strike, at least not at first. Dave Green is the UAW regional director for Indiana and Ohio. He explained this "targeted" strategy at a rally in Kokomo Wednesday.
"We've never done this in my entire career that I've ever seen," he said. "It's going to give our bargaining team the power at the table to turn up the heat."
READ MORE: Local UAW leaders, workers brace for possible strike as companies make offers below union demands
The union will announce at 10 p.m. Thursday which plants are set to strike at the deadline if deals are not reached, according to a UAW Facebook livestream. Rich LeTourneau, UAW Local 2209 shop chairman, said in an interview the strategy is to start with smaller plants and add bigger ones as time goes on to put more pressure on the companies until an agreement is reached.
LeTourneau's local represents workers at a Fort Wayne truck assembly plant. He said if GM part plants that the Fort Wayne Assembly relies on go on strike, his workers may end up getting laid off temporarily as production pauses. A pause happened at the Fort Wayne plant during the last month because of a part shortage that had nothing to do with these ongoing negotiations.
LeTourneau said he's worried workers will struggle to get unemployment payments if they get temporarily laid off because of the targeted strikes. Indiana, like most states, does not allow workers to collect unemployment benefits if they are out of work because they're on strike.
UAW regional director Dave Green said the access to unemployment payments will depend on how the companies report any temporary layoffs. If the companies report the layoffs as a result of a part shortage, that alone should not block workers from getting unemployment. If the companies say they're laid off because of a strike, that may cause issues.
He said the region may have to look into fighting any companies' attempts to do the latter.
"Now if they don't, call your local on the first wave [of strikes] don't get mad," Green told the crowd at the Kokomo rally. "Don't get mad. It's coming."
Tim Eller works at a Stellantis Transmission Plant in Kokomo. He said he plans to support the strike, even if he's not in it.
"Just like when GM was on strike, I went up and rallied with them," Eller said, referencing the UAW's 2019 strike. "I'll go rally with whoever's on strike when I'm off work."
READ MORE: EV anxiety drives tension in UAW-automaker contract talks as Indiana prepares for new battery plants
Join the conversation and sign up for the Indiana Two-Way. Text "Indiana" to 73224. Your comments and questions in response to our weekly text help us find the answers you need on statewide issues.
Companies have made more proposals in recent days which have come closer to union demands on wages and other issues, but UAW leaders say it's still not enough.
The Wall Street Journal reports the UAW has softened on its wage demands, from a more than 40 percent increase over the life of the contract to "mid-30" percent. Eller said Stellantis workers have gotten few raises over the last 13 years.
"If they gave us 3 percent a year, that's equal to 40 percent," he said. "So it's not a big raise, that's where we should be."
The union said Ford, Stellantis and GM have offered wage increases of less than 20 percent.
Adam is our labor and employment reporter. Contact him at arayes@wvpe.org or follow him on Twitter at @arayesIPB. Contact WBOI's Tony Sandleben at tsandleben@wboi.org or on Twitter at @tony_WBOI.