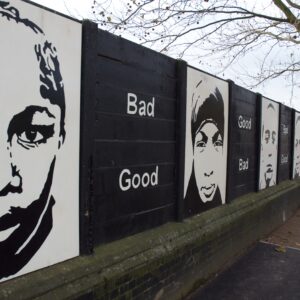 S03 E09 – Covert Racism
Racism has existed for millennia, but as laws and time have passed it can now show up in covert ways.
Join J.R. Jamison as he shares the stories of three women—one Black, one Muslim, and one Native American—and what their lives are like in a mid-sized Midwestern community, and he sits down with Yvonne Thompson, Director of the Human Rights Commission, to talk about what everyday people can do to combat discrimination.
Photo – By Pug50 via Flickr Creative Commons: https://flic.kr/p/914nNU.
Stories –
The Question Mark
Dr. Maria Williams-Hawkins's story as told to Lizz Alezetes from Facing Racism in Muncie, performed by Chandra Ford  
The Need to Belong: The Life of a Muslim in America
Heather Gilvary Hamad's story as told to Angela Jackson-Brown from Facing Racism in Muncie, performed by Amy Leffingwell
A Person Without a Story, A Person Without a Name
Christine Satory's story as told to Michael Brockley from Facing Racism in Muncie, performed by Dr. Melinda Messineo
Music –