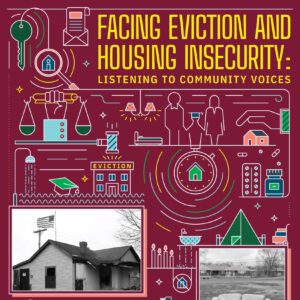 S05 E08 – A Place to Call Home
Evictions are a tale as old as time, and will continue as long as there are landlords and renters; but not every eviction is equal. In this episode, J.R. Jamison shares two stories from individuals who have faced eviction in different ways; the first from a man who has experienced homelessness due to job losses, and a judge who says that sometimes the landlords are right, and sometimes they're wrong.
Later, he sits down with four experts who research and work on the front lines of eviction and housing insecurity every day. This episode is a companion piece to the book: Facing Eviction and Housing Insecurity in Dayton, Ohio.
Photo Credit – Shantanu Suman
Stories – A Place to Be, an anonymous story as told to A.B. Hiatt and performed by Carl Frost; From the Eyes of a Magistrate, an anonymous story as told to Christine Trotter and performed by Chandra Ford.
Interview – Dr. Kathy Rowell of Sinclair Community College; Dr. Tim Thomas of the University of California–Berkeley; and Debra Lavey and Destiny Brown both at Advocates for Basic Legal Equality.
The Facing Project Radio Show is made possible in part by Behavior Associates.