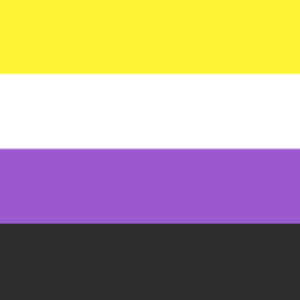 S04 E01 – Beyond the Binary
Bathrooms. Pronouns. Sports. These are a few of the topics in which transgender people have become the center of a debate on who is allowed to exist and where.   
Join J.R. Jamison and Kelsey Timmerman as they explore Beyond the Binary and share the stories of a trans man's journey with hormone therapy; a non-binary person who found acceptance at home; and a pastor who struggled with her faith and identity before finding peace. Later in the show, they are joined by Charlize Jamieson, a transgender "book" in the Human Library.   
Image – Non-Binary Pride Flag, inspired by Kye Rowan. 
Stories –  
Superman


Shea Hollis Beal's story as told to Cory Ross from 

Facing Intolerance in Springfield, Ohio, 

performed by Patrick Oneal

They Will Always Be My Child


C.S. Hendershot's story as told to Tania Said from 

Facing LGBTQ+ Pride in Muncie, Indiana, 

performed by C.S. Hendershot

Awake
Pastor Avery Sledge's story as told to Kailey Mau from 

Facing Intolerance in Springfield, Ohio

, performed by Charlize Jamieson



Music –