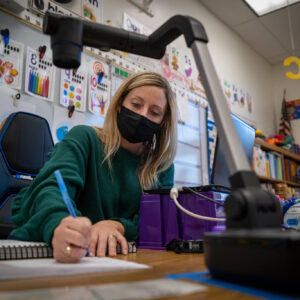 S04 E04 – Teachers Are Heroes
Teachers and educators are facing challenges like never before, including battling misinformation, burned-out kids, parents, and of course—COVID.
Join J.R. Jamison as he explores these challenges and shares the story of a man who stays in teaching despite external pressures; another from a woman who uses empathy to teach multicultural education; and one from a teacher who decided to make her own kind of change—at the Statehouse.
Photo – Via Flickr Creative Commons by Phil Roeder: https://flic.kr/p/2kf6XeR.
Stories included in this episode –
This Is Why I Teach
An anonymous story as told to Suzanne Clem from Facing Teaching
Mrs. Miller, You Set Us Up!
Barbara Miller's story as told to Clarissa Cheslyn from Facing Teaching  
Votes for My Students
Melanie Wright's story as told to Susan Volbrecht from Facing Teaching   
Music used in this episode –