Delaware County Residents Question New Jail And Court Move Plan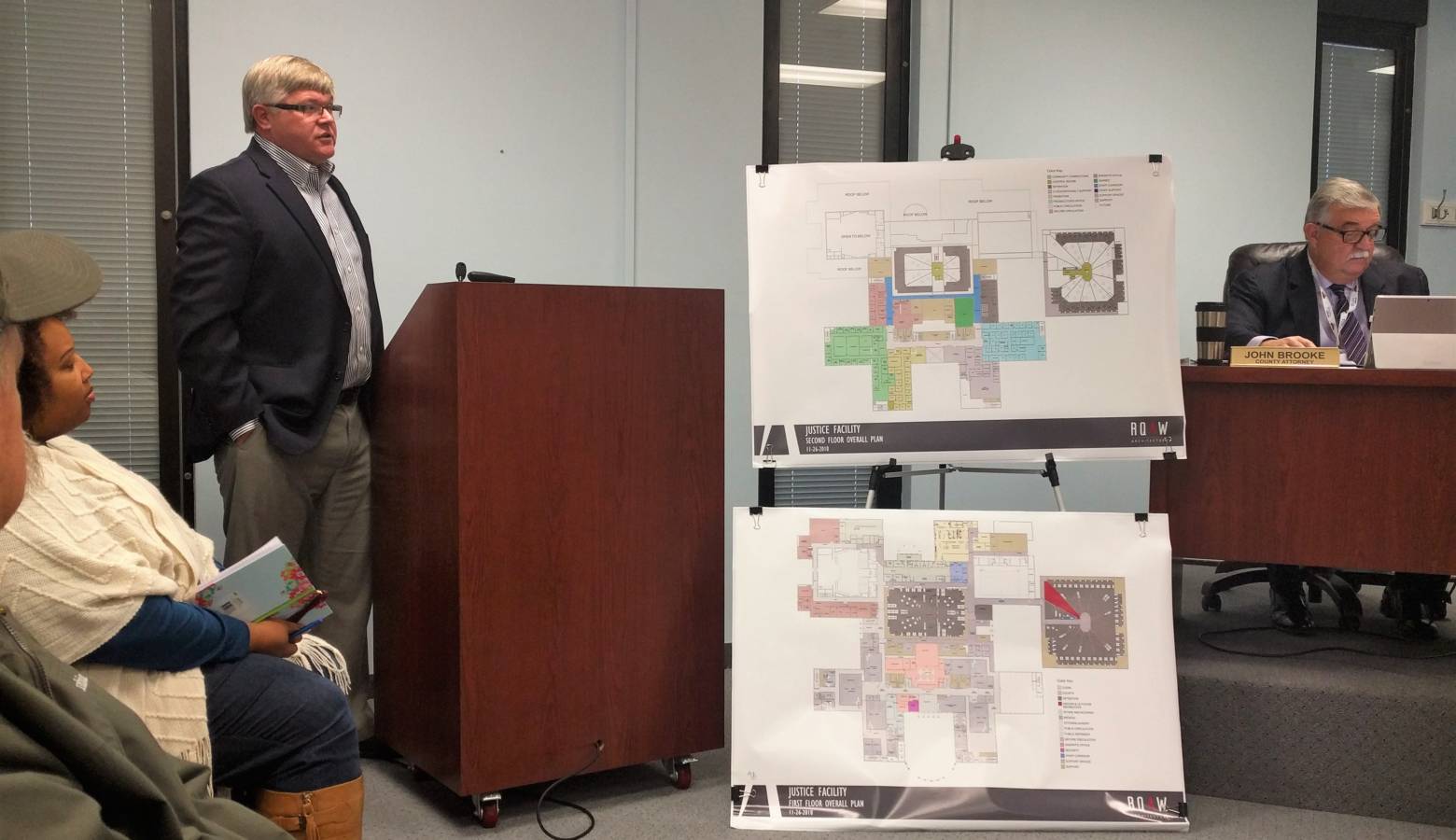 Delaware County Commissioners are considering a plan to turn a former middle school building into a new justice center – moving the jail, the Sheriff's Department, and the court system from downtown Muncie.  As IPR's Stephanie Wiechmann reports, community members at a Monday morning public hearing say they have many more questions than answers about how such a large move will affect everyone.
Delaware County needs to address the current jail's limitations in some way.  Several federal lawsuits have been filed about inmate conditions at the current overcrowded facility.  And a state inspector gave the county several options it could choose from.  One of those was to build a new jail.
The plan in front of the Delaware County Commissioners would turn the former Wilson Middle School building on Tillotson Avenue and 26th Street into a justice center and a 500-bed jail – at a cost of $45 million.
Inspire Academy Executive Director Leslie Draper says building a large jail in a former middle school is a symbol the county should not want.
"I know the kids that are going to get locked up in this facility.  I know them because they went to Wilson and I worked with them then.  So I ask that you consider what that does for a kid to go to a school and to later end up locked up in that same school."
The building's large usable area is one thing supporters, like former county councilman Mike Jones, see as a positive step for future county budgets.
"When I was on council in 2014, if I recall correctly, the council spent about $1 million housing inmates out-of-county.  That's at a rate of $35-a-day.  The legislature has bumped that up to $55-a-day, so it's going to be more than that now."
Others who spoke at the public hearing they still don't have enough information from the county about costs and logistics.  Like how to get many people out to the new site, says Muncie city councilman Dan Ridenhour.
"We have 14 bus routes and only one of those 14 routes goes to where this facility is.  And I'm concerned about moving some of these other departments down there – what that means for the transportation of our citizens who need those buses to get here.  All 14 routes come within a couple of blocks of this particular building and our current jail."
Many speakers also pointed out that the county is lacking drug treatment options to reduce the inmate population and help those in jail now.  Delaware County Commissioner James King says he agrees, but he suggests Muncie residents also ask city officials for the money.
"This just isn't a county thing, I want everybody to understand this.  This is a city thing.  And if you have ties within the city, go to your people.  Don't just put it on our backs.  It's everybody's problem."
 At the special meeting after the public hearing, Commissioner Sherry Riggin moved to table the plan's first reading, but received no support from fellow commissioners.  A second reading and any possible amendments will be considered at future meetings.
The next regular meeting is scheduled for December 3rd.  That's the day before a community-organized forum to talk about options for the jail project.