Muncie State Of City Speech Is Tyler's Last As Mayor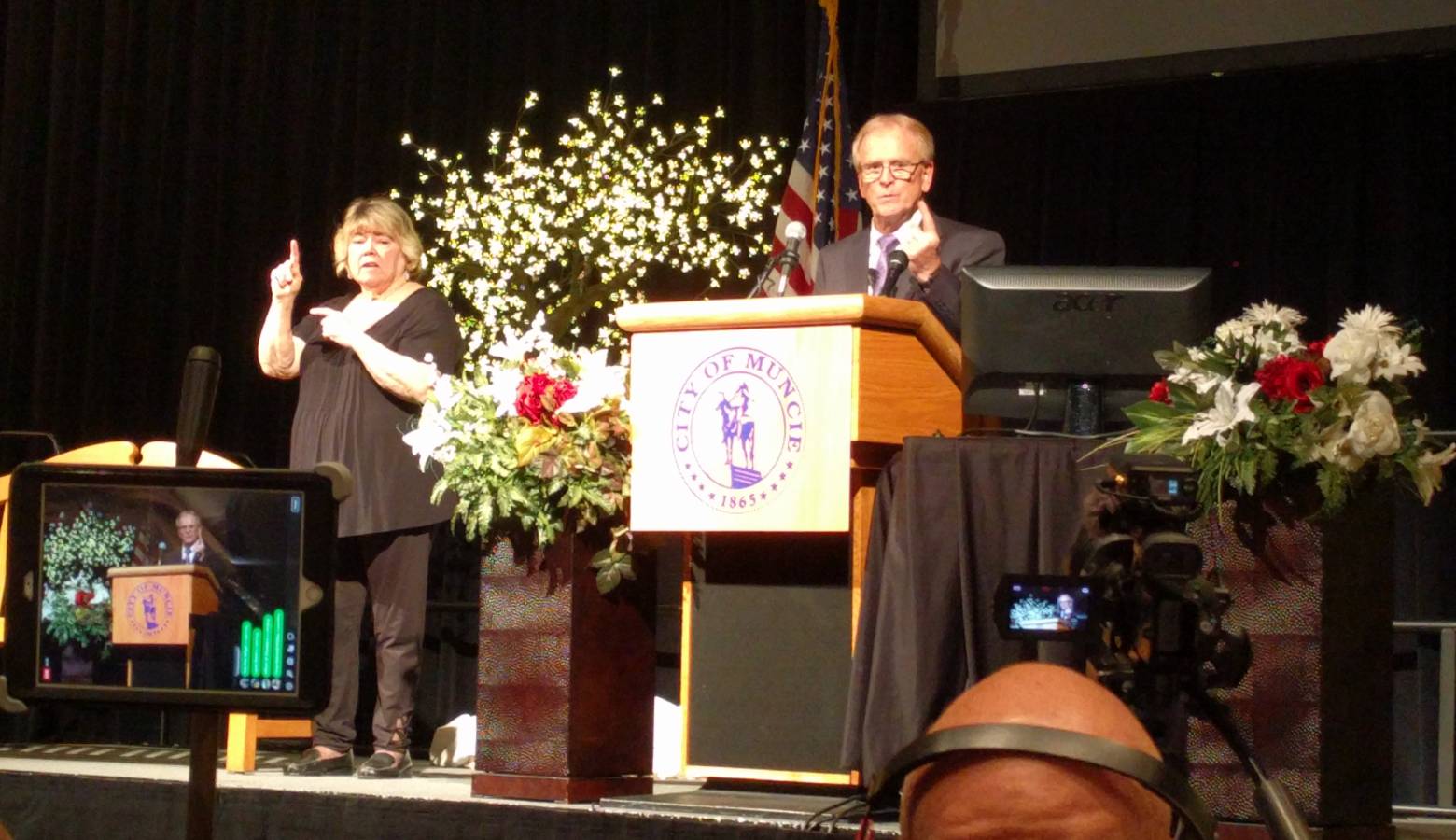 This year's State of the City address in Muncie was Mayor Dennis Tyler's last as city leader.  As IPR's Stephanie Wiechmann reports, the speech highlighted what the administration has done in eight years, including economic successes.
"I'm as excited today as I was January 1, 2012.  I'll be more excited tomorrow.  I'll be more excited January 1, 2020, when we welcome the new mayor."
As is common with every State of the City, Muncie Mayor Dennis Tyler focused on the positives in the city.  But this time, some facts and figures were a running tally of what had been done since he took office more than seven years ago.
Tyler says according to state numbers, Muncie has created about 3,700 new positions since 2012.  He says that equates to $700 million in new development for Muncie.  And that wasn't always easily earned.
"Here's what's different today than just 10 years ago or 20 years ago or 30 years ago: today you have your neighbors competing for these businesses.  If they have the opportunity to grab these businesses, they'll do it.  We can speak from experience, regarding Accutech.  We know that our neighbors to the southeast – they wanted them and they were prepared to give them the world."
State numbers show Delaware County has the lowest median household income in the entire state at under $42,000 a year.
Tyler says for his part, his administration has increased the minimum wage for city employees.  For other businesses, though –
"I can't make employers do something that they don't want to do or they think that they can't do.  But I also know that there isn't a day that goes by that we don't have 100 jobs available in this city.  You see 'Help Wanted' signs everywhere.  I don't know if that's a better opportunity for a person…"
Nine mayoral candidates are running in May's primary election.  Tyler says he hopes the next mayor will continue to create partnerships to get things done.  His big hope is to see a state roads grant program continue, so the next mayor might be able to re-do a stretch of Dr. Martin Luther King, Jr. Boulevard and North Broadway Avenue on the city's northeast side.
And potholes.  Every Muncie mayor has to fill potholes.  And since January 2012, with eight months left to go, Tyler says his streets department has filled more than 11,500 of them.