Statewide Mask Mandate Has No Penalty; Local Law Enforcement Agencies Say They Won't Enforce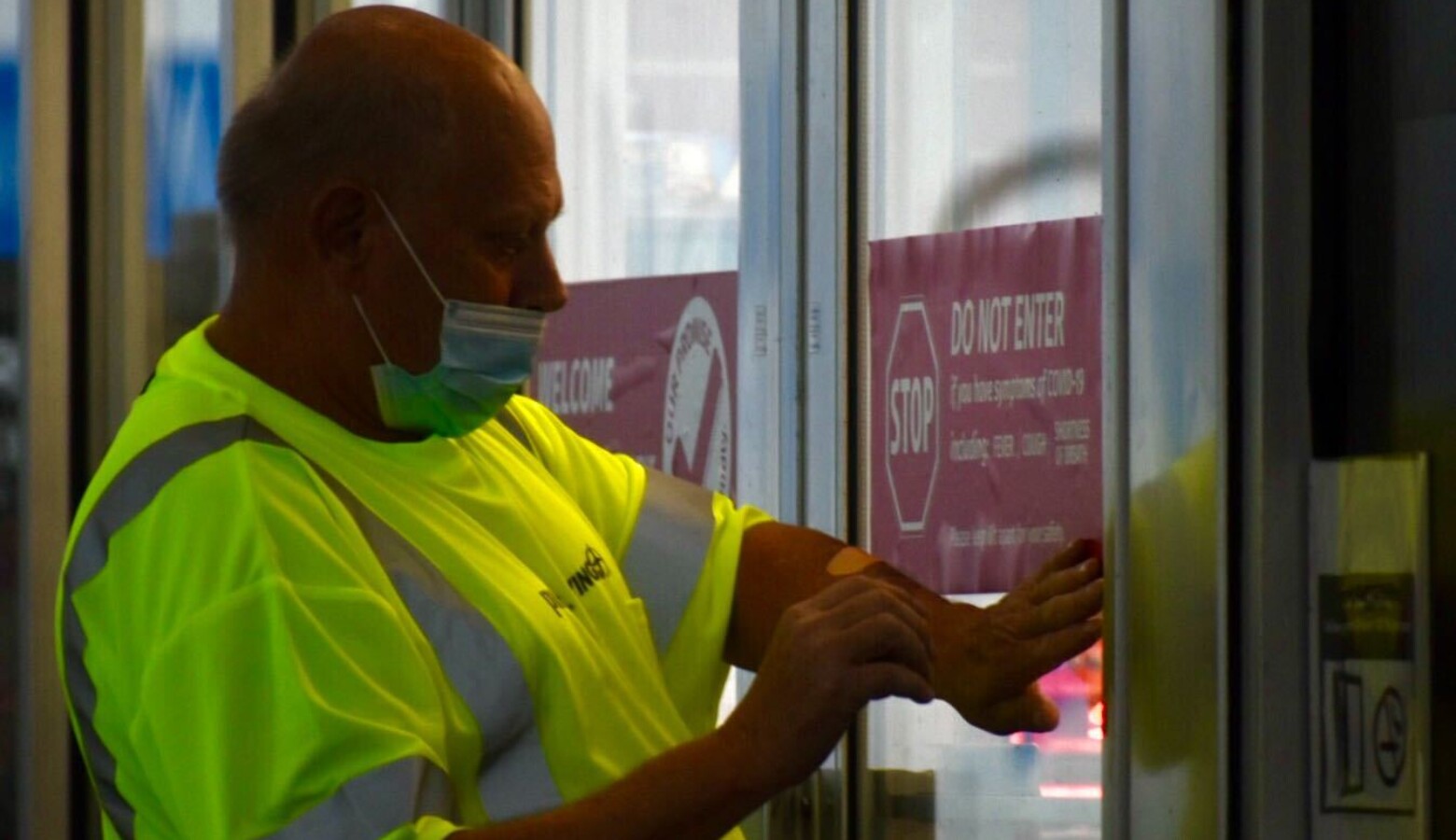 As Hoosiers plan for a statewide face mask mandate that begins on Monday, local law enforcement officials are warning people not to call 911 to report a mask violation.  As IPR's Stephanie Wiechmann reports, Indiana's governor has now removed any criminal penalty for not wearing a mask.
When announcing the mask mandate, Governor Eric Holcomb said he was going to make not wearing a face covering a class B misdemeanor.  As he signed an executive order on Friday, he removed any criminal penalty.  As he said when announcing,"The mask police will not be patrolling Hoosier streets."
That comes after significant pressure over the mandate from some Republican lawmakers and local law enforcement officials.  Police agencies say it's a public health issue but not a police issue.
READ MORE: Do I Have To Wear A Face Mask? What You Need To Know About Indiana's New Mandate
In a letter to the community this week, Delaware County Sheriff Tony Skinner asks the community not to call 911 to report someone for not wearing a mask.
Muncie Mayor Dan Ridenour, who says Muncie Police Department also won't be policing individual mask use, explains why.
"The city is not responsible for enforcing that and we do not have the personnel to do it.  And, there are people who may be having actual emergency situations that require immediate attention.  We don't want to bog down the 911 Center."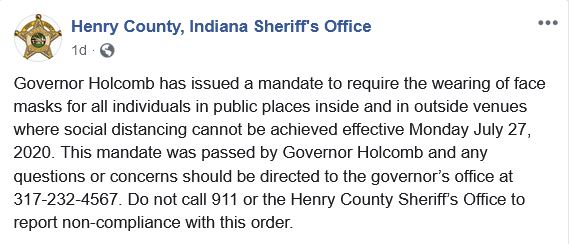 The Henry County Sheriff's Department is giving out the phone number to Governor Holcomb's office for anyone who has concerns.
In Madison County, Sheriff Scott Mellinger, who runs as a Democrat, says his department won't enforce the mask order until he gets clarification it's legal for Holcomb to order it.
Read More: Holcomb Confident In Legal Authority To Issue Mask Mandate
Some police agencies say when a person without a mask refuses to leave a private business and the incident escalates to a crime like criminal trespass, officers will help with the situation.
Holcomb's mask order says only state and local health departments will enforce compliance and only via education.
The executive order, which takes effect Monday, also carves out a significant exception for private offices and workspaces and at religious services, while observing social distancing.
This story has been updated to reflect a change in the mask mandate between Wednesday's press conference and Friday's executive order.
Brandon Smith contributed to this story.