Muncie mayor hopeful releases road paving plan that requires borrowing money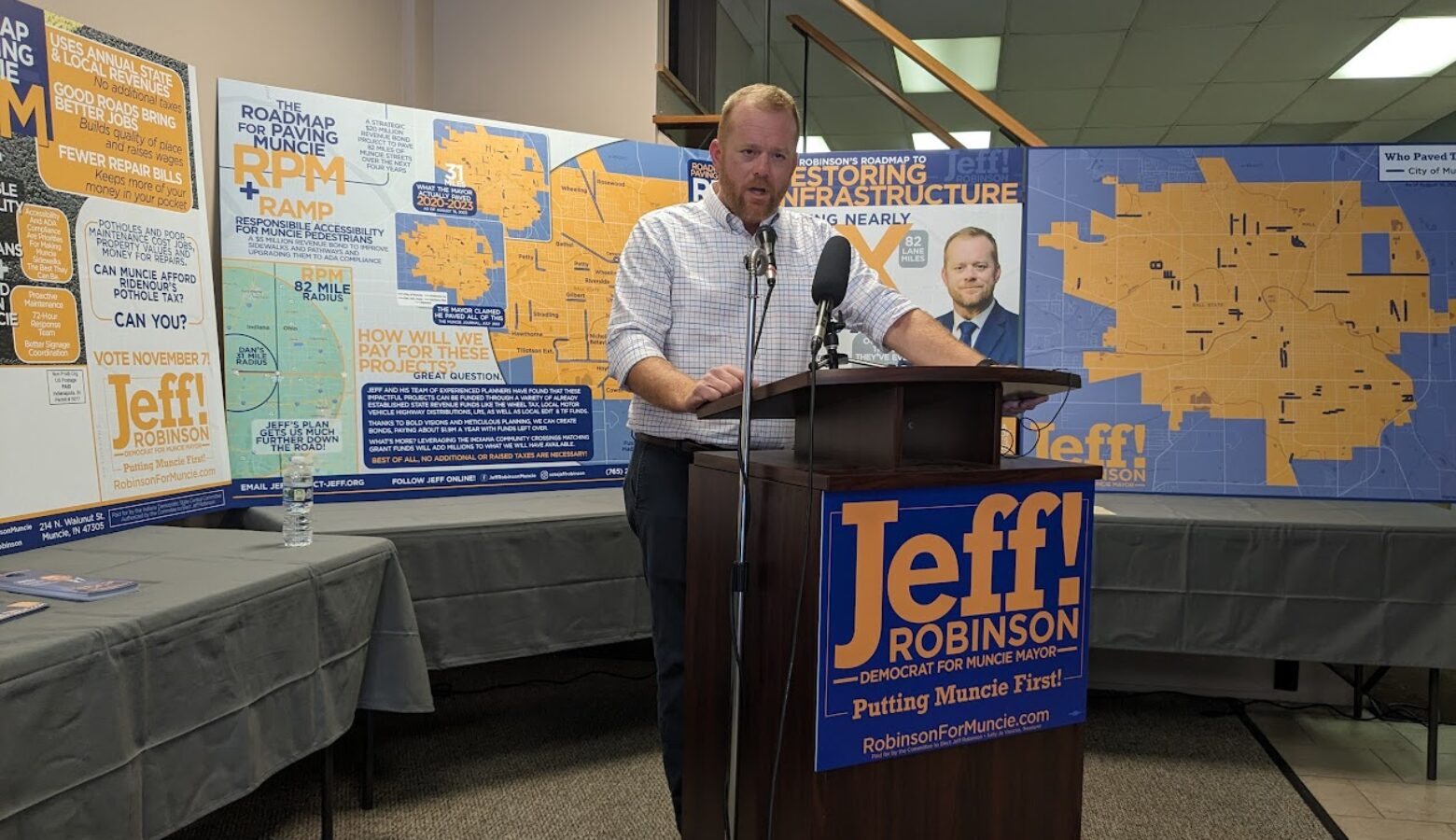 Democratic Muncie mayoral candidate Jeff Robinson has announced a plan to pave more roads and address more sidewalks in Muncie if he's elected.  As IPR's Stephanie Wiechmann reports, to do that, the city will need to borrow $25 million.
With a$ 25 million bond, Jeff Robinson says the city could pave 82 lane miles in three years.  In road paving, lane miles include both sides of each street, so that's 41 miles when looked at on a map.
The roads included in Robinson's plan are those with the highest traffic counts.
"You want to focus on the roads that everyone uses, that everyone sees. It makes just total sense."
Current Muncie Mayor Dan Ridenour's paving plan has relied on an independent study from 2017, listing each city street's condition on a 10-point scale.
Robinson says that study may rate neighborhood roads as being in worse shape, because people avoid major roads with known problems to travel through neighborhoods, damaging those streets, too.
According to Robinson's plan, $20 million will be put to roads and $5 million for sidewalks, like repair and ADA-compliance.
Robinson stresses that while the city will have to borrow the money, it won't need new or additional taxes to pay for it.
"The annual bond payment," says Robinson, "is approximately $1.9 million [per year] over 20 years.  It'll be paid for by a primary pledge of EDIT, along with a combination of future local road and street revenue and wheel tax distributions."
Muncie has used local, state, and federal money to pave roads.  But some state and federal grants require local matching funds and the city has had to wait to schedule those projects.  In 2021, Muncie announced it would pave McGalliard and Tillotson avenues with federal grant money.  But that work isn't slated to begin until 2026.
Taking out bonds requires city council approval.  And current mayor Ridenour has already proposed taking out an $18 million bond to rehab two city fire stations.  Robinson says he'd swap that proposed bond for the $25 million for road repairs.
"No one has seen what research has been done into these new fire stations.  No one has seen – we don't know if any studies have been done.  We don't know if they've looked at renovating those firehouses.  We don't even know if the firehouses are in the right places according to the population decline we've had since those fire stations were built."
Robinson's plan has mapped out the specific roads he wants to pave.  It has not done the same for sidewalks.  The Democrat wants to do an inventory of the city's current sidewalks to see what needs repaired and in what neighborhoods sidewalks need to be added.
On Wednesday night, Robinson and Ridenour will meet for a mayoral candidate forum at Muncie Central High School.  The non-partisan event, hosted by the League of Women Voters, begins at 7:00 PM.
Stephanie Wiechmann is our Managing Editor and "All Things Considered" Host.  Contact her at slwiechmann@bsu.edu.